Mario + Rabbids Sparks of Hope, let's find out who the three legendary composers are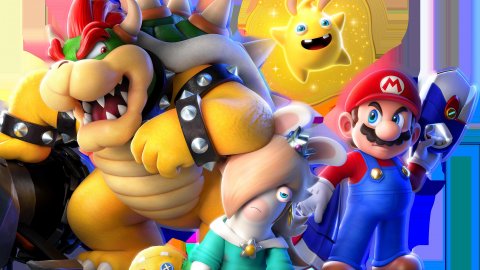 Mario + Rabbids Sparks of Hope
Mario + Rabbids Sparks of Hope, arriving on October 20 exclusively (obviously) on
Nintendo
Switch, developed by
Ubisoft
in collaboration between Italy and France (and beyond), and supervised by Nintendo in Japan, is the sequel to the successful Mario + Rabbids Kingdom Battle of 2017.
Presented last year, the release date was recently announced during the last Nintendo Direct, which was followed by an in-depth video conducted by Davide Soliani himself, creator and project director.
With the brilliant and bearded Italian game designer we recently talked about Mario + Rabbids Sparks of Hope and, in the past, about his career and personal tastes. Davide is, among other things, a great music lover (rock and not only). Also for this reason he appeared radiant to announce that in the soundtrack of his next child they would participate, in addition to the "usual" Grant Kirkhope, with whom on social networks he forms a sort of comic duo (with Grant ironically bullied, in most cases), two other illustrious musicians: Yoko Shimomura and Gareth Coker.
We have written this in-depth study to illustrate the past of these three talented composers, who will shape the musical identity of Mario + Rabbids Sparks of Hope.
Grant Kirkhope
Mario + Rabbids Sparks of Hope: Mario and Bowser will fight together Grant Kirkhope is the oldest of the three, will turn sixty in 2022, and is by far the one with the CV more "nintendoso". Perhaps even his approach, versatile in instrumentation and composition, is the one that comes closest to the soul of Japanese society. It is no coincidence that he worked for a long time exclusively for Nintendo, at the time of the glorious Nintendo 64 Rare.
Kirkhope was born in Scotland in 1962, but from an early age he moved to North Yorkshire, where he grew up: apparently he starts playing the guitar (the only one of the three, because the other two started with the piano) at the age of eleven and subsequently has a classical training with the trumpet: from here his vocation for multi-instrumentalists is already evident. He was hired by Rare in 1995, at the age of thirty-three, starting his career rather late than the other composers featured in Sparks of Hope.
Yooka-Laylee: one of Grant Kirkhope's recent creations Here he gains international fame , as well as his greatest hits. It wasn't long before the first memorable work arrived, namely GoldenEye 007 (1997). Even more surprising is the next soundtrack, that of Banjo-Kazooie (1998), an extraordinary 3D platformer: full of different instruments and brilliant sound effects, it has melodies still famous among video game fans. The golden moment continues with Donkey Kong 64 (1999), and especially with Banjo-Tooie and Perfect Dark (1999). During this period he received BAFTA, ASCAP and IFMCA nominations and awards. At the beginning of the 2000s Rare was bought by
Microsoft
and the company initially suffered a lot both in quality and in production rhythms: Kirkhope nevertheless found a way to shine with Viva Piñata (2006), also nominated for BAFTA awards.
Viva Piñata: one of the best soundtracks for Rare under Microsoft From this moment he leaves the glorious British company, but continues to work on his own, and gains other personal glories with Civilization: Beyond Earth (2014) and, above all , with Mario + Rabbids Kingdom Battle (2017) and with Yooka-Laylee of Playtonic Games, a small studio made up of ex-Rare members. Unlike many other old colleagues, Kirkhope does not thrive on nostalgic glory, but continues to churn out work of the highest quality. If that wasn't enough, in 2015 he started working as a composer for cinema, starting with short films, to arrive (in 2022) in "The King's Daughter" by Sean McNamara.
To this great career is added a humble and self-deprecating character, with which he endures the oppressions of Soliani, and thanks to which he churned out vocal performances that are anything but solemn: Grant Kirkhope in fact was also the voice of Munbo Jumbo, of the Jinjos (both of Banjo-Kazooie) and of Donkey Kong.
Yoko Shimomura
Mario + Rabbids Sparks of Hope: how will Shimomura contribute? Yoko Shimomura was born in Japan in 1967. Without detracting from the other two, she is probably the most renowned and prestigious composer of the trio. Yoko begins playing and taking piano lessons between the ages of four and five, showing precocious talent, and early composing.
Shimomura graduated from Osaka College of Music in 1988, receiving - it wasn't clear - a prestigious education, which could lead her to excel in cultured music; despite this, she Shimomura is a passionate player and she can't resist the sirens of the companies that scout in her institute. Against the advice of parents, family and teachers, for whom the music of video games is not respected and respectable enough, Shimomura joins Capcom as soon as she finishes her training. She stays here only five years, in which however she collaborates on the music of two heavyweights such as Final Fight and, above all, Street Fighter II.
Kingdom Hearts: one of
the most important
works of Yoko Shimomura In 1993 she was hired by Square Enix (which at the time was not called that, of course) and almost immediately she was entrusted with the direction of the soundtrack of a project , Live A Live, which will soon be re-launched (as you know) on the Nintendo Switch. We cannot cite every single work of Shimomura, because they are many and prestigious: we brutally summarize her career by saying that she is proceeding at full speed, before definitively exploding with the soundtrack of Kingdom Hearts, which projects her among the most important video game composers in the world. . Shortly after, in 2002, she became freelance (and founded Midiplex). However, the relationship with Square Enix has not deteriorated, collaborations continue, one of the most important is the soundtrack of Final Fantasy XV.
Xenoblade Chronicles: one of the moments in which the paths of Shimomura and Nintendo crossed Shimomura considers Street Fighter II (understandably), Super Mario RPG and Kingdom Hearts as the most important creations of his career, both in qualitative and professional terms. Her personal favorite instead of hers is that of Legend of Mana. Her curriculum is not primarily linked to that of Nintendo, however the raids are certainly not lacking: as we have already said she has dealt with Super Mario RPG, but also with the Mario & Luigi saga and, more recently, with the memorable music of Xenoblade Chronicles .
In 2008 Drammatica was released: The Very Best of Yoko Shimomura, a collection of his best compositions, favoring those most suited to being orchestrated. Among her major influences, and could not be otherwise given her education, she cites Beehotven, Chopin and Ravel. Video game enthusiasts must be happy that in 1988 he opposed the opinion of his parents, and chose this world as his creative territory.
Gareth Coker
Mario + Rabbids Sparks of Hope: what instrumentation will use Gareth Coker? Gareth Coker was born in 1984, and at thirty-eight he is clearly the youngest of the three composers of Mario + Rabbids Sparks of Hope. Also for this reason he is the one with the least substantial curriculum, which could turn into an extra motivation to prove himself up to the level of his colleagues. He too, like Kirkhope, is British; like Shimomura, he plays the piano from an early age. He studies at the Royal Academy of Music, participating in parallel to both an orchestra and a jazz band. He then moved to Japan for three years, where he teaches English and, above all, expertly studies some local instruments. From there he moves to Los Angeles, where he alternates video game composition with the study of film, at the University of Southern California. As main inspirations to pursue this career, he cites the soundtrack of Forrest Gump, by Alan Silvetri, and that of Star Wars: X-Wing vs. TIE Fighter.
Ori and the Blind Forest: the game with which Coker's career exploded Gareth Coker's career took place in 2015, when Ori and the Blind Forest was released, for which he made the soundtrack. From the beginning of development he collaborates with programmers and designers, and engages in daring instrumental research, selecting the most suitable sounds for individual areas, varying a lot. For this work he receives various awards, including a BAFTA for best music; for the one related to the successor, Ori and the Will of the Wisps, he obtained the SXSW Gaming Award for Excellence in Score (in 2021). Other notable and recent experiences, following the success achieved with Ori and the Blind Forest, are ARK: Survival Evolved, Immortals: Fenyx Rising and Halo Infinite.
It is not
yet clear how the roles will be divided within Mario + Rabbids Sparks of Hope, if Kirkhope will remain the lead composer and the others will join him for some particular scene, or will it actually be a trio of equally present composers. One thing is certain: the level of talent involved is very high.
Have you noticed any mistakes?