Star Guardian, let's discover the Riot Games event with the Narrative Producer and the Lead Composer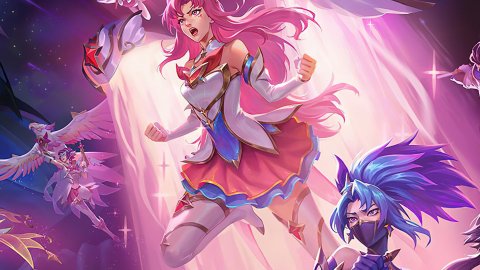 Star Guardian
The summer of Riot Games usually embraces players with events dedicated to deepening or revisiting the lore and side-stories dedicated to the Runeterra universe and therefore of the champions who tread the land of
League of Legend
s and Wildrift, as well as the tables game of Legends of Runeterra. This year we returned to visit the Star Guardian universe which tells, according to Majokko's stylistic features, the fantasy adventures halfway between school desks and the magical clashes with evil opponents that our heroes will find beforehand ready to upset the balance of the world. .
Between skins, songs, visual novels and mini games, a Riot event is a multimedia and multidimensional moment that encompasses an incredible artistic work. We took the opportunity to interview Stephanie Bedford, Narrative Producer and Brendon Williams, Lead Composer of Star Guardian, and thus delve into the artistic, narrative and musical aspects that surround this massive creative effort.
Star Guardian is a single large project born from the ideas of many
Artwork from the Star Guardian event in League of Legends: Wild Rift It was difficult to keep the many aspects of the Star Guardian event consistent, as it involved games with different rhythms and artistic dynamics? What were the biggest challenges? What are the solutions?
Stephanie Bedford - Creating a cohesive experience across the various games and mediums that tell the Star Guardian universe has been a challenge, but it's something we've set out to accomplish from the start. Within the thematic development, we always adopt the approach according to which there are some "fundamental" aspects to be maintained both in the style of the skins and in that of the samples, which remain constant regardless of the artistic direction or the universe in which we find ourselves and for Star Guardian it was the same. On the production side, we set up a progress process focused on working together between teams to make sure we find divergences early and focus on the issues that would cause more problems (e.g. chronological storytelling or
the statue of
Lux always in the city center). It is a process that requires creative flexibility to work with everyone, balancing individual goals and product needs. Communicating at every stage is the most effective "solution"!
Splash Art by Star Guardian Syndra Prestige Brendon Williams - It was definitely a challenge, albeit fun and creatively rewarding! From the beginning, one of the Star Guardian team's goals has been to give the campaign an eclectic vibe - with emotionally intense moments contrasted with moments of lighthearted fun, many artistic styles in just as many different versions, and so much more. It was clear that the music should also support and reflect this. The challenge, then, was figuring out how to express so many styles and feelings without making the music seem like a random collection of unrelated songs.
We addressed this problem by thinking that Star Guardian music fell into two different musical categories. : the main soundtrack that tells
the story of
the Star Guardians and the music that the characters themselves could hear at Valoran High.
Frame from the teaser trailer of the Star Guardian event The first category is what we consider the main music by Star Guardian: Everything Goes On, the orchestral theme, soundtracks for movies, game music, etc ... For this category, we have kept the sense of cohesion by covering the melodies written by Porter Robinson for Everything Goes On as the "main theme". For this reason even though the orchestral theme is in a completely different musical style and is much more cinematic and dramatic, it still feels completely connected to the backbone due to the use of the same basic melodies. This whole part focuses more on the emotional aspects of the campaign and the storytelling of the characters.
Image from the video of the song Everything Goes On The second category is Sessions: Star Guardian Taliyah! This is an even more eclectic blend of styles written by a variety of artists, all inspired by Star Guardian. As I mentioned, this was treated as the music that exists in the Star Guardian universe that the champions themselves hear. Aside from the release of Sessions, you'll hear these tracks in various Star Guardian videos to capture the more carefree and fun side of the adventure.
Star Guardian between origins and creative freedom
One of the team Star Guardian On the narrative level what were the aspects to which you had to remain faithful? Where did the most creative aspects lie?
S.B. -A champion must always remain true to who he is, regardless of the "parallel story" in which he appears. This does not mean
that it is
identical with its original version, but Jinx, for example, is always Jinx, no matter if it is a basic Jinx, Jinx in Arcane, Jinx in Odyssey, Jinx in Heartseeker or Jinx in Star Guardian!
There is a constant visual reading and, likewise, there are fundamental narrative elements that should always emerge unambiguous. Changing these fundamentals could make a champion no longer recognizable and no longer in resonance with our players. Some examples of these things are: their personality, important interpersonal relationships, sexuality, gender and motivations. We really see skins and thematic development as one of our biggest spaces of narrative opportunity because we can explore
a lot of
different worlds and how these champions would react if placed in a different environment, with different rules and atmospheres.
Splash Art Akali Star Guardian This means that while we can imagine what a champion like Akali looks like in Star Guardian, things like her independence, youth, rebellion and self-confidence remain the same even though she
is no longer
a Kinkou murderer, but a young girl struggling with the trauma and burden of what it means to take the Star Guardian oath and protect her friends and loved ones.
A small easter egg from the tease trailer of the event The narrative team certainly has a close relationship with all the other teams. Which ones are easier to work with? Are there mutual stimuli for the development of these stories?
S.B. - We fictionalists have had a lot of fun this year working closely with so many other Riot Games ops for this Star Guardian campaign to make sure we see everything as a specific storytelling tool. We always try to have the different arts support each other creatively and much of Riot's "secret sauce" is this idea of ​​recognizing that together you can achieve better results than alone. Great ideas can come from any team and we try to have intuition supported by related skills and knowledge.
There have been
so many moments where the teams have been able to build on each other's work, starting from planting traditional Easter Eggs in the backgrounds of the artwork and footage to the manga that were read by Senna in the pre-launch Vlogs. br>
Discovering Riot Games Music
A frame from the Everything goes on music video What is it like to work on a large project like Riot Games Music? Specifically what about Star Guardian?
B.W. - One of the best parts of working as a composer on Riot is being able to get your hands on many musical genres and collaborate with a diverse multitude of amazing musicians! This was particularly evident for Star Guardian: not only did I have the great opportunity to collaborate with Porter Robinson on a heartfelt pop song (Everything Goes On), but I also wrote anime-inspired cinematic music with the Orchestral Theme, which was recorded live at Warner Bros. with the full orchestra. And these were just 2 of the many musical compositions for this year's campaign. The best part, though, is seeing how meaningful this is to Star Guardian fans.
Big returns in the Star Guardian event "Riot Games Music is a project beyond video games" what's yours point of view on the matter? What is the strategy for such abundant and always fresh production?
B.W. - This is a very important concept for us at Riot in general, not just those of us on the music team - we want people to have memorable and meaningful experiences with what we create - be it through a music video, movie or show, on your smartphone while on the go or while playing. All of these feed off each other to create deeper experiences for people, whether they are gamers or non-gamer fans participating in the emotional journey of our music and stories.
Star Guardian Kai'Sa La key to our production is that we have a fantastic team of in-house composers with a wide range of experience and expertise across many musical genres. We all support each other and regularly share tips and feedback to make sure everything we post is of the highest quality possible. Plus, we have a fantastic support team that facilitates anything other than the creative process.
The efforts behind Star Guardian
Star Nemesis Morgana, an event villain Given the size of the Star Guardian project, how long did it take you? How many people worked in your section?
S.B. - This campaign has been in the works for over a year and has involved hundreds of people in the company, as well as supporting external companies. The summer event is really important for us and our players. All the people who worked on it may not have started out as fans, but we sure are now. The League and Wild Rift Narrative game development team was made up of over a dozen people and all of them helped in some way, whether it was overseeing the narrative cohesion of the campaign, editing the scripts, developing Visual Novels, descriptions of skins, characters or family biographies, world building and more. Plus, we couldn't have done it without the collaboration of other narrative teams within the company, including our LoR team and global marketing. The development of the game requires a huge number of people, especially when it comes to something of this scale and we couldn't have done it without all the Narrative teams and all the other divisions. I can't omit that we wouldn't have made it without our fantastic localization team, which allowed us to make the Star Guardian event truly global for all of our players!
Kai'sa being helped by friends Star Guardian B.W. - Making an event like Star Guardian requires a lot of planning by many different people in various disciplines across the company. At this juncture I can only speak for the music; Our first planning discussions took place in late 2021 and then work began in early 2022, starting with Everything Goes On with Porter Robinson. Everything else originated from there, with Riot Music working on dozens of other releases in the meantime. I was Riot's main in-house composer who worked on Star Guardian this year, but there were many other important people involved on all fronts: company producers, artist interfacing, lawyers, other in-house composers who provided. advice and support, Porter's management team, our friends at Hollywood Scoring who have brought us music contracts, recording, music editing, as well as collaborators who have helped us with music activities such as mixing, mastering, orchestration and more.
Artists beyond art
Can you tell us an anecdote that you remember with pleasure?
S.B. - I think what matters most to me right now is when one of our sound designers accidentally introduced a bug with the audio placeholder when it turned out that it was actually Chiizu's (Sona's familiar) surprise noise. ). He thought he took a random sound to use as a temporary patch and it turned out that he ended up choosing what we dubbed "the most annoying sound in existence", especially when played repeatedly every time a key is pressed. The best part is that it hasn't been fixed for a couple of builds and so we pestered our internal testers with a "crazy bird-like chirp". We haven't stopped laughing since then. And as a result the metagame team is enjoying all the Chiizu memes!
B.W. - One of my favorite moments was when we first shared the Star Guardian 2022: Official Orchestral Theme with Porter Robinson. While Porter was visiting us in Los Angeles, one of my colleagues started playing the demo for Porter as he hadn't heard it yet. The Orchestral Theme was based on Porter's main melodies written for Everything Goes On, so I was so nervous that he was listening to it that I had to leave the room! When I got back, he was so happy with what I wrote that he couldn't stop talking about it and he immediately asked me to listen to it again. His face lit up with genuine excitement at the work being done, in a way I don't often see in person, especially in someone known as Porter. He has very strong opinions and really knows his field well, so I knew that if I could win him over, I was sure I could do it with the players too!
Did you notice any mistakes?