Games out in August 2022 on PlayStation, Xbox, PC and Switch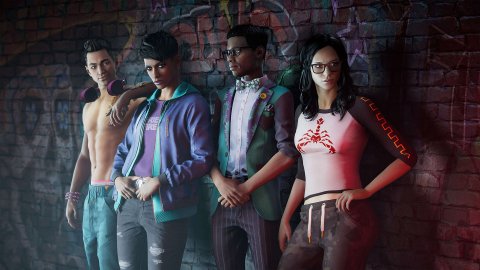 Games out in August 2022 on PlayStation
What games will we be able to play in August 2022 on PlayStation, Xbox, PC and Switch? This month's releases undoubtedly feature the intriguing reboot of Saints Row, which reinvents the lore of the famous action series by putting us in the shoes of a low-ranking criminal determined to make a name for herself on the streets of Santo Ileso. >
However, the debut of Marvel's Spider-Man Remastered on PC is particularly important, another PlayStation exclusive that opens its doors to the
Windows
platform and does so by trying to push to the maximum on a technical level, thanks to support for ray tracing , with superior quality effects and a couple of exclusive features that could make a difference compared to what we saw on
PS5
.
There are also potential surprises: from the fascinating Hard West 2 to the cute Two Point Campus, from the 'original Cult of the Lamb to the bullet-based stunts of Rollerdrome, passing through the mech battles of SD Gundam Battle Alliance, a couple of remakes, a collection of classics and two adventures that definitely promise b ene: Soul Hackers 2 and IMMORTALITY.
Hard West 2
Hard West 2, a turn-based combat sequence Released on PC August 4th
Set in one A different western scenario, full of disturbing supernatural elements, Hard West 2 tells
the story of
Gin Carter and his companions, determined to strike the coup of their life only to realize that the train they wanted to attack is actually controlled by a demon. Maybe that's why everyone called it "ghost train"?
The gang is thus struck by a terrible curse, but if there is a way to go back these skilled gunslingers and fighters will find it, as part of a strategic campaign of great depth and complexity, in which they will have to face increasingly dangerous situations making the most of their skills and available equipment.
Two Point Campus
Two Point Campus, a giant gastronomy course Out on PC, PS5,
PS4
, XSX, XOne and NSW on August 9th
After the success of the excellent Two Point Hospital, the Two Point Studios development team has seen fit to give life to a real franchise that could explore different themes and situations. And so, after the hospital rooms, it's a surprise to the universities of Two Point Campus: a very different scenario than what fans expected, but equally full of a potential that has so far remained unexpressed.
This time we will in fact have to deal with managing and developing a university campus, going not only to customize the aesthetics and functional aspects of the various structures, but also and above all to distribute in the best possible way the budget available for the various courses, inevitably weird and peculiar. While waiting for the review, take a look at our trial of Two Point Campus.
Cult of the Lamb
Cult of the Lamb, an official artwork Coming out on PC, PS5, PS4 , XSX, XOne and NSW on August 11th
Able to arouse genuine curiosity from the moment of the announcement, Cult of the Lamb puts us in command of a little lamb that was about to be sacrificed in order to foil a disastrous prophecy, but that at the last moment he is possessed by an evil demon and therefore manages to save himself. Not only that: his new condition requires him to create a real cult that converts and determines the extinction of all other religions.
How? The gameplay of the title developed by Massive Monster is divided into two parts: the first is distinctly action, made up of fights that are somewhat reminiscent of Hades and in which we will have to face increasingly stronger enemies while unlocking new devastating powers and abilities; the second of a managerial type, which will see us assigning tasks to the followers and gradually increasing our following. More details in our tried-and-true Cult of the Lamb.
Marvel's Spider-Man Remastered
Marvel's Spider-Man Remastered, the protagonist in a plastic pose Out on PC August 12
The extraordinary tie-in signed by Insomniac Games also debuts on PC in August, as part of a well-established path for PlayStation exclusives. Marvel's Spider-Man Remastered introduces a number of substantial improvements over the 2018 PS4 original, including increased resolution and frame rates, as well as more sophisticated effects that also include ray tracing and ... a new face for Peter Parker. , apparently for technical needs.
The new version goes even further, inserting higher quality presets than PS5 in terms of graphics adjustments, supporting NVIDIA DLSS technology for performance improvement and widescreen where present. The game is also fully compatible with the DualSense controller and its peculiarities, which we can therefore also exploit on the Windows platform.
All aspects that point to a visually extraordinary experience, but let's not forget the substance. As we wrote in the review of Marvel's Spider-Man, in fact, we are faced with a passionate and spectacular transposition, which brings to the screen a convincing Spider-Man and a story in which many different situations and traditional villains find their place.
Rollerdrome
Rollerdrome, an acrobatic firefight Released on PC, PS5 and PS4 on August 16
Rollerdrome is the new title of Roll7, the authors of OlliOlli and Not a Hero, and not surprisingly, it mixes mechanisms and solutions successfully used by the English team over the years to create a decidedly different arcade shooter experience, a sort of single player based Laser League with cel shaded graphics and a a disproportionate amount of aerial acrobatics.
With an almost 70s cartoon aesthetic, the game catapults us into arenas that we will have to clean up of the opponents as we push at great speed from a ramp to the the other, armed to the teeth and endowed with the ability to slow down time to create sensational bullet times in which we kill our enemies in style: we talked about this
and more in
the Rollerdrome trial.
Saints Row
Saints Row, an acrobatic moment for The Boss Out on PC, PS5, PS4, XSX and XOne on August 23rd
Volition's popular open world action series returns with a reboot that rewrites history, characters and settings, involving us in the frantic adventure of a young street criminal determined to become the boss of Santo Ileso and to dominate the city together with her gang. In short, the Saints are not there yet, but that is the future we have imagined and that we will have to commit ourselves to achieving.
If the incipit inspires you with a more raw and realistic approach, you are wrong: right from the start the new Saints Row turns out to be caciarone and rowdy, as we go from one chase to another, from one fight to another and blow up an entire neighborhood to complete yet another assignment on the road to glory. More details in our Saints Row trial.
SD Gundam Battle Alliance
SD Gundam Battle Alliance, the RX-78 just eliminated an opponent Out on PC, PS5, PS4, XSX, XOne and NSW on August 25th
Over the past few years we have seen a comeback in style (and often absolute debuts) in terms of Mobile Suit Gundam-related productions in the Western market, and since this SD Gundam Battle Alliance point of view represents only the latest Bandai Namco project dedicated to the Sunrise series and its many declinations.
Set in an alternative universe where history changes unexpectedly and is subject to in continuous variations, called "anomalies", this captivating action RPG with super deformed characters will put us in command of a team made up of three fully customizable mobile suits: will they be enough to shed light on the mystery that dominates the world?
Pac-Man World: Re-PAC
Pac-Man World: Re-PAC, one of the many platform stages of the game Released on PC, PS5, PS4, XSX, XOne and NSW on August 26th
Remake of the platform released back in 1999 on PlayStation, Pac-Man World: Re-PAC puts us back in command of the iconic character Namco, in his humanoid version, involving us in an adventure in which we will have to save our family and friends , kidnapped by the usual ghosts and led to the fearsome Phantom Island.
This is a place full of pitfalls, puzzles and opponents to fight, using the skills of Pac-Man and engaging with revisited mechanics, which include sequences two-dimensional but also several variations on the theme and a technical sector recreated from scratch, faithful to the most recent character designs and capable of running up to 4K and 60 fps on the new generation consoles.
Soul Hackers 2
Soul Hackers 2, a fighting sequence Coming out on PC, PS5, PS4, XSX and XOne on August 26th
A new chapter in a jRPG series born in the late 90s as a spin-off of Shin Megami Tensei, Soul Hackers 2 combines in many ways the strengths of the franchises of tip of Atlus to deliver a brilliant experience, full of charismatic characters and endowed with a mature narrative sector, which in this case uses a futuristic setting while a serious threat looms over humanity.
The two protagonists of adventure, Ringu and Figue, are sent to Earth by an entity known as Aion, but are faced with an already compromised situation, with two warring factions and several dead characters. They therefore decide to bring them back to life and to create a team that can discover the origin of the evil that could destroy the world: a mission that is anything but simple, as we explained in our Soul Hackers 2 trial.
Destroy All Humans! 2 - Reprobed
Destroy All Humans! 2 Reprobed also includes an all-new environmental destructibility Out on PC, PS5 and XSX on August 30th
After the remake of the first episode, Destroy All Humans arrives in August! 2 - Reprobed, thanks to the same improvements made both on a technical and gameplay level, in this case a redesigned graphics and some important changes to the controls and the interface to ensure that the experience is in line with today's standards, even without lose its original charm.
We tried Destroy All Humans! 2 - Reprobed a few weeks ago and the feeling was that of a well-finished product, rich in content and with gameplay that is still very fun and over the top, but at the same time characterized by less marked differences compared to the remake of the chapter of debut: we'll see what the final version will tell us.
IMMORTALITY
IMMORTALITY, the protagonist in one of her interpretations Out on PC and XSX on August 30th
The new project by Sam Barlow, creator of the original Her Story, IMMORTALITY is presented as a collection of interactive films that includes three different films, all with the same protagonist: Marissa Marcel. When the actress mysteriously disappears, the works in question become the only clue
to understand what
may have happened to her, and that is why we will have to view them in search of ideas and indications.
From the adaptation of the gothic novel " Ambrosio "of 1968, in which Marissa played the role of Matilda, to the thriller" Minsky "of 1970, written by the director with the actress in mind, finally passing through the more recent" Two of Everything "of 1999, which tells the intricate events of a famous pop star and her stunt double: three films, one truth. Will we find out?
Teenage Mutant Ninja Turtles: The Cowabunga Collection, one of Konami's coin-ops Out on PC, PS5, PS4, XSX , XOne and NSW on August 30th
Shortly after the excellent Teenage Mutant Ninja Turtles: Shredder's Revenge, Konami has seen fit to ride the wave of this videogame revival of Ninja Turtles by delivering us a collection of thirteen classics that explore the adventures of famous characters over time, passing from arcades to home consoles.
Teenage Mutant Ninja Turtles: The Cowabunga Collection therefore presents itself as the traditional package for nostalgic and curious people, capable of one part of bringing our mind back to 1990 with the obstinate Teenage Mutant Ninja Turtles for the NES, on the other hand of putting us back to the battle of some of the best arcade tie-ins made by the Japanese house.
Others games in us mentions August 2022
Lost in Play, out on PC and NSW on August 10 Cursed to Golf, out on PC, PS5, PS4, XSX, XOne and NSW on August 18 Thymesia, out on PC, PS5 and XSX on August 18 Midnight Fight Express, out on PC, PS5, PS4, XSX, XOne and NSW on August 23 Yars: Recharged, out on PC, PS5, PS4, XSX, XOne and NSW on August 23 F1 Manager 2022, out on PC, PS5, PS4, XSX and XOne on August 25 Tinykin, out on PC, PS5, PS4, XSX, XOne and NSW on August 30 Inscryption, out
on PS5 and
PS4 on August 30 Phantasy Star Online 2: New Genesis, out on PS4 August 31
Have you noticed any errors?