Games to be released in July 2022 on PlayStation, Xbox, PC and Switch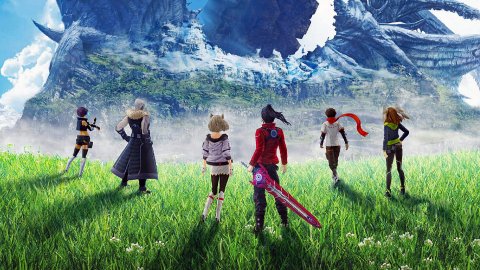 Games to be released in July 2022 on PlayStation
Nintendo Switch aims to experience the month of July 2022 as a protagonist, thanks to the debut of games such as
Xenoblade Chronicles 3
and the interesting remaster of Live A Live, without forgetting the promising atmospheres of Digimon Survive, which will also be released on PC, PS4 and
Xbox
One.
Speaking of the other platforms, we will be able to face the exciting races of the Formula One championship with F1 22, experience the peculiar atmosphere of the Monument Valley puzzle game, follow the tragic events of the protagonists of
As Dusk Falls
and finally put us in command of a cute stray cat struggling with a decadent cyberpunk metropolis in Stray.
F1 22
F1 22, a race phase Out on PC,
PS5
, PS4, XSX and XOne on July 1st
The new edition of the officially licensed FIA driving game confirms the many qualities of the system that Codemasters has developed over the years, and which once again proves capable of expressing best simc experience ade that every season involves and excites many fans of Formula One.
F1 22 unfortunately does not propose the Breaking Point narrative mode, but includes all the events of the last championship, the classic fast options and a double career, focused on the driver or the team: an equipment capable of guaranteeing sufficient content to entertain even the most ardent fans of motorsport par excellence, although the structure is starting to feel a bit the weight of the years. The review of F1 22.
Monument Valley 1 and 2
Monument Valley 2, one of the scenarios Out on PC July 12
Particularly known in the mobile field, the Monument Valley series has been a great success thanks to its peculiar graphic style and a very suggestive artistic direction, which catapult us into a world clearly inspired by the works of Escher, made of impossible architectures that intertwine and that we will have to "move", playing with perspective to create passages.
In the first chapter our intervention will facilitate the path of a princess, while in Monument Valley 2 we will have to carry out the the same operations to help a mother and her daughter reach the exit from time to time, in the context of a more articulated narrative. In both cases the result is a peculiar, suggestive, short but intense experience.
As Dusk Falls
As Dusk Falls, two of the characters from the game Out on PC, XSX and XOne on July 19th
As Dusk Falls is an adventure set in a small town in Arizona, in which we will follow
the stories of
two families through a time period of several years, with the possibility of making choices that could changing the destiny of the characters, modifying the development of events and leading us to one of the possible endings of the game.
Alone or in cooperative for up to eight participants, we will find ourselves living a wide-ranging story, which unravels through the equivalent of two books and leads us through dramatic situations, with the protagonists determined to escape an apparently merciless and already written destiny. Will they succeed? We talked about it in the preview of As Dusk Falls.
Stray
Stray, one of the scenarios that we will have the opportunity to explore Coming out on PC,
PS5 and PS4
on July 19th
Against the backdrop of a futuristic metropolis and cyberpunk atmospheres, a small stray cat finds himself the protagonist of an engaging adventure: this is the incipit of Stray, the promising title produced by Annapurna who "likes to win easy", given the great passion for felines that is expressed every day by millions of people on social and non-social networks.
Got in contact with some inhabitants of Kowloon, cyborg with a metallic body but with a human soul, the cat that we will be able to control in the game will have to explore the length and breadth of the fascinating scenario and complete a series of tasks, solving puzzles and guarding against the attack of small but treacherous life forms, the Zurks. More details in our preview of Stray.
Live A Live
Live A Live, a combat phase Out on NSW July 22
Posted on Super Famicom in 1994 but released only in Japan, Live A Live finally arrives in the West with an elaborate remaster that translates the original graphics into the HD-2D style much appreciated by jRPG fans to tell us the exciting story of eight different characters, each belonging to a different era.
We will be able to follow their stories in the order we prefer, exploring prehistory, the period of Imperial China, the Western and Japanese Middle Ages, the Wild West, the present and two types of future , closer and more distant, in all cases facing increasingly stronger opponents through a turn-based combat system with great strategic depth.
Digimon Survive
Digimon Survive, the protagonist Takuma Momozuka In u released on PC, PS4, XOne and NSW on July 29th
Produced by Bandai Namco to celebrate the twentieth anniversary of the anime, Digimon Survive involves us in an unprecedented adventure in which some students on a trip, led by Takuma Momozuka, they find themselves mysteriously projected into a mysterious world full of pitfalls. Fortunately, the Digimon are at their side, helping them overcome obstacles along the way in an attempt to get home.
Backed by a solid turn-based combat system that alternates with spectacular style sequences cartoon, the game can count on a narrative sector that is anything but trivial, indeed with dramatic implications, with situations in which we will have to make difficult choices that could determine the unfolding of events and the fate of the characters. Would you like to know more? Here is the preview of Digimon Survive.
Xenoblade Chronicles 3
Xenoblade Chronicles 3, the protagonists ready to fight Out on NSW July 29th
Without a doubt the highlight of July, Xenoblade Chronicles 3 is the new episode of a franchise now of great importance for Nintendo. In this case, the setting is the world of Aionios, where two warrior nations have been fighting each other since time immemorial using sophisticated weapons based on aether, a technology that is based on a mysterious magical power.
The deployed soldiers among the ranks of Keves and Agnus they are practically created on purpose to fight and their life repeats itself every ten years for a century, but one day the cycle is potentially interrupted by a handful of characters belonging to the two factions, who decide to join forces to face a common threat that moves in the shadows. What is it about? A few clues in our preview of Xenoblade Chronicles 3.
More games out July 2022
The Crew 2, out
on PS5 and
XSX on July 6 Matchpoint -
Tennis
Championship, out on PC, PS5, PS4, XSX, XOne and NSW on July 7th AI: The Somnium Files - nirvanA Initiative, out on PC, PS4, XOne and NSW on July 8th Klonoa Phantasy Reverie Series, in out on PC, PS5, PS4, XSX, XOne and NSW on July 8 Madison, out on PC, PS5, PS4, XSX, XOne and NSW on July 8 F.I.S.T .: Forged in Shadow Torch, out on NSW on 12 July Hellpoint, out on PS5 and XSX on 12 July Endling: Extinction is Forever, out on PC, PS4, XOne and NSW on 19 July Severed Steel, out on PS5 and PS4 on 20 July, on NSW on 21 July, on XSX and XOne on July 22 Hell Pie, out on PC, PS4, XOne and NSW on July 21 Capcom Arcade 2nd Stadium, out on PC, PS4, XOne and NSW on July 22 RimWorld, out on PS4 and XOne on July 29 Redout 2, in NSW release in July
Have you noticed any errors?