Riders Republic: 15 tracks for your adventures in the American national parks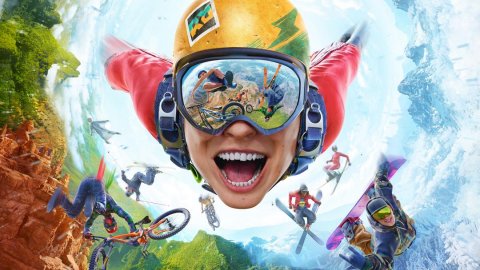 Riders Republic
Here we are again talking about music,
video games and
the inseparable bond that binds them. Each videogame production has its own specific sounds, which you may like or not, but which in any case will always remain linked to that particular reality. There are, however, certa
in video games
that allow you to bring your personal tastes into the digital world, leaving freedom of expression to the individual player. We are talking about all (or almost all) of those titles with a strong exploratory component, usually characterized by large spaces that can be explored in all serenity and at the speed that one considers most appropriate. Riders Republic, a new
Ubisoft
arcade title that takes the concept of extreme sport to a whole other level, fits perfectly into these characteristics.
If you are
tired of constantly changing the radio station in search of the pieces you like best, try to give a chance to this playlist, already "tested in the field" and, in our opinion, absolutely in line with the hyperkinetic and decidedly crazy atmosphere of the game.
So here are 15 songs for your adventures in Riders Republic.
How Riders Republic "sounds"
Riders Republic: a light-hearted and urgent playlist for a game frenetic and adrenaline It takes a few seconds to notice the obvious lightness and superficiality (term here not in a derogatory sense) that permeate the game world of Riders Republic. Everything is deliberately excessive, from the strong arcade nature, to the impossible compression of the US territory in a sort of naturalistic playground. Ubisoft's new Annecy game certainly does not seek realism (especially when you throw yourself off a cliff to land on your bicycle as if you had just stepped off the sidewalk).
So (and this is also proved by the diegetic musical choice chosen by the team), sounds that are too dark or epic are certainly not the right bread for the sharp teeth of Riders Republic. Rather, the whirlwind, sloppy atmosphere seems to call for a much lighter, but still biting type of music.
For the construction of this playlist we have tried to select aggressive music, capable of giving the charge. at any time, whether it's a descent on the bike or a controlled fall in a wingsuit.
We have been inspired by various environments and approaches to the world of extreme sports, from alternative rock to electro-punk and Big beat, up to the inevitable mix of genres, which probably lead to the most interesting and peculiar results.
"Wild Frontier" by The Prodigy
Riders Republic: Wild Frontier by The Prodigy Come don't start a music playlist for a hyperkinetic video game immersed in wild landscapes except with Wild Frontier by The Prodigy. This song, by one of the most famous and appreciated groups of the British underground scene, is ideal to start your game of Riders Republic right away with a bang (possibly figurative). Perfect for all those crazy downhill runs, whether it's due to a race or just your unbridled urge for adrenaline from crazy speeds.
"Loud" by Wulf Black
Riders Republic : Wulf Black's Loud Breathless, we continue our search for danger with Wulf Black's Loud. Featuring crudely distorted sounds and a pressing beat, the new track from the mysterious rising star of Australia's independent music scene is the cure for any accidental fall that disrupts the rhythm of the descent, be it on two wheels, on a wooden board or with an elasticated suit.
"Easier than Lying" by Halsey
Riders Republic: Easier than Lying by Halsey Let's now touch the shores of pop to find a little pearl of charge, absolutely unexpected. Easier than Lying is one of the songs born from the productive collaboration between the American singer Halsey and an exceptional duo, composed of Trent Reznor and Atticus Ross (better known as Nine Inch Nails), for the realization of the artist's most recent album, If I Can't Have Love, I Want Power. If you can find ramps while the song is playing, we challenge you not to charge yourself every time you perform a crazy stunt to the beat of the music.
"Wake Me Up" by Foals
Riders Republic: Foals 'Wake Me Up Fresh off the release, the Foals' new single, Wake Me Up, appears to have been sculpted specifically for the extreme disciplines featured in Riders Republic, as well as its over-the-top, carefree vibe. Between a half-pipe with a snowboard and a ramp on the saddle of a freestyle bike, this bittersweet anthem (characterized by the usual identifying sounds of the British band) will put you in the right mood to face the most demanding challenges of the game.
"Everybody's Home" by Layup
Riders Republic: Everybody's Home by Layup Always on the line of "exaltation with a smile" we find Everybody's Home by Layup, a musical duo born from the collaboration between singer Chris Henderson and his producer, Chad Copelin. A real lightning bolt compared to the songs mentioned above, this short song is able to hit you with its distinct (and ironically "undertone") disruptive force, useful for all those high trick rate races.
"Oh No !!!" by grandson
Riders Republic: Oh No !!! by grandson Toccata and escape in commercial territory: Oh No !!! it is probably the proposal of the canadian-american artist grandson that best suits the extreme situations of the Ubisoft videogame. This mixture of genres and sounds is ideal for accompanying the sudden and concatenated exchanges between one discipline and another. One of the songs from our proposal that is best able to link your craziest acrobatic series.
"Miracle" by Mackintosh
Riders Republic: Miracle by Mackintosh Signed by the multi-instrumentalist Mackintosh, Miracle it is one of those tracks that we most associate with snow disciplines. We found it particularly suitable for descents aboard snowboards or skis, where the carefree slalom and the scenic evolutions starting from the iron structures seem to draw energy from the dreamy, at times psychedelic, sounds of the American artist.
"False Idols" by HONEYMOAN
Riders Republic: False Idols by HONEYMOAN If you are looking for a fresh and prominent face within the independent music scene, HONEYMOAN are perhaps the most surprising proposal you will ever encounter. to find. With their False Idols, the South African group manages to inject into the veins a level of explosive vitality capable of stunning and taking you off the track (it really happened to us: there is a tree in Sequoia with the silhouette of our avatar printed on it). br>
"& Run" by Sir Sly
Riders Republic: & Run by Sir Sly Listening to the latest works by Sir Sly is like taking a time machine and going back to the early 2000s, when on
PlayStation
2 titles like Skate Attack went wild. The Los Angeles band is able to steal small and defined sounds from the cultural heritage that formed them and then adapt them to the current musical context: a job not for everyone. Among the many tracks, we have chosen for this playlist & Run, the song that most seemed to blend with the freestyle atmosphere of the game and its nostalgic reference to the great arcade
sports
titles of the past.
"Let It Go "By Jesse Mac Cormack
Riders Republic: Let It Go by Jesse Mac Cormack From Canada instead comes the disruptive and distorted music of Jesse Mac Cormack, in this playlist represented by Let It Go, a song capable since the first seconds of load the souls. Our tip: Downhill Bike, Burnt Sequoia Forest, first person. You will not regret it.
"Fortune" by Wye Oak
Riders Republic: Fortune by Wye Oak At first glance, that of Wye Oak is the least impactful proposal among the selected ones. However, Fortune is able to surprise exactly on the finish, with a real explosion, possible only thanks to the gradual construction of its intensity. If you're just taking a leisurely bike ride, at the end of the song you'll probably want to scurry down some impossible path.
"This Broken Design" by The Ninth Wave
Riders Republic : This Broken Design by The Ninth Wave Between electronic and rock sounds (which, we admit, remind us a little of Depeche Mode), The Ninth Wave are perhaps not always suited to the style of Riders Republic, but This Broken Desing is to be immediately seemed an essential choice, which could not be missing in our music playlist. His chorus, so stretched and expanded, is already soundly reminiscent of a trick maintained for a long time after taking off from a ramp. We let you imagine how lovingly it binds to the game images and our simultaneous interaction with it.
"U&ME" by alt-J
Riders Republic: U&ME by alt-J Another very recent release , U&ME by alt-J represents that mixture of sensations and emotions arising from the music that vary between totalizing sensory relaxation and mental hyperactivity. We recommend it associated with a beautiful show of style in one of the various acrobatic arenas present throughout the Republic.
"To the Grain" by Junip
Riders Republic: To the Grain by Junip On a completely different level of dreamy experience, Junips give us a silent overwhelming intensity with their To the Grain. It is certainly not the common source of energy that most people find suitable for excited situations. However, for all those who manage to grasp its expressive power, we advise you to let yourself be carried away by it and see where it can lead you, whether towards the imposing canyons to the south, or towards the snowy peaks of Mammoth Mountain, or again, in direction of the boundless valleys of Yosemite.
"Chrome Sitar" by T. Rex
Riders Republic: Chrome Sitar by T. Rex A touch of vintage never hurts. Among the boundless musical proposal perfectly adaptable to the places and atmospheres of Riders Republic that dates back to before the nineties, we opted for this style icon, Chrome Sitar by T. Rex. There is little to say: the music already speaks for itself. It's up to you to figure out how it wants to be used.
Listen to our full playlist on Spotify
These were just the top 15 songs on our Riders Republic playlist. If you are satisfied with our proposal, we invite you to listen to the other songs, selected with equal care and dedication.
If, on the other hand, you are looking for further musical advice, you can find the articles dedicated to Flight Simulator, Cyberpunk 2077 and Assassin's Creed Valhalla, among others.
We hope you enjoy this selection of 15 tracks for your adventures in Riders Republic.
Obviously , what you have read is only our personal proposal of the sounds that, again in our opinion, are better linked to the atmosphere of the game. We are waiting for you in the comments to find out about your musical choices, in order to share them with other readers.
Have you noticed any mistakes?