Mass Effect: Super Sailor Virgo's Miranda Lawson cosplay is space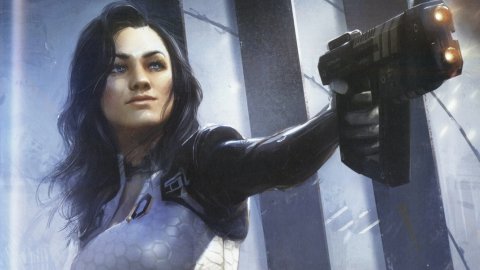 Mass Effect
A few days ago we celebrated N7 Day, the day when Mass Effect fans around the world celebrate the adventures of Commander Shepard and the crew of the Normandy. For the occasion, the cosplayers have also paid homage to the Bioware saga, what we propose is the cosplay of Miranda Lawson signed by Super Sailor Virgo.
Miranda Lawson appears for the first time in Mass Effect 2 as an agent of high-ranking Cerberus organization at the head of the Lazaraus project, which was intended to bring Commander Shepard back to life. She is a "super-woman" genetically engineered by her father, who aspired to create her perfect daughter, with superior physical characteristics and intelligence. In Mass Effect 2 she will play a leading role in the events in the game and will be one of the characters who will accompany Shepard on his travels in space to shed light on the mystery of the Collectors. The character is based and voiced by the beautiful actress Yvonne Strahovski.
The Sailor Virgo cosplay was created for the N7 Day celebrations and is dedicated to all "aliens, nerds and Mako vehicle enthusiasts". Without a doubt, the cosplayer hit the mark with her interpretation, faithful in every aspect and who masterfully represents the femme fatale look of the virtual counterpart created by Bioware.
If you liked this cosplay we also recommend that of Aela the Huntress from
The Elder Scrolls V
: Skyrim by Jannet which pays homage to the tenth anniversary of the launch of the Bethesda game. Xandrastax's Jinx cosplay, on the other hand, seems to come straight from Netflix's Arcane series.
How not to mention the cosplay of Ciri from The Witcher in an oriental version, complete with a kimono and katana, by Helly Valentine.
If you are
a professional monster hunter, you can't miss the Minoto and Hinoa cosplay from
Monster Hunter Rise
by Ruka and Hiko.
What do you think of Miranda Lawson's cosplay by Super Sailor Virgo? Please let us know in the comments.
Have you noticed any errors?
---
BioWare Celebrates 14 Years of Mass Effect
Games
Published on November 9th, 2021 | by Adrian Gunning
BioWare and EA are celebrating 14 years of the acclaimed Mass Effect series and have published a new blog post (below for easy reference) yesterday that looks back at the beloved series and features a variety of ways fans can share their fandom through new cosplay guides, a giphy page, AR lens, gear, contests and more. They even released a new infographic that shows that even as beloved as Garrus has been through the years, a surprising 15% of players didn't recruit him to their team at all!
Happy N7 Day 2021!
It's been nearly fourteen years since Commander Shepard first boarded the Normandy. Fourteen years since the opening of a huge new universe for players to explore. Fourteen years since "Ashley or Kaidan?" (But if you ask longtime BioWare vets Mac Walters and Mike Gamble, they choose neither, opting instead for Garrus and Liara respectively. Can you blame them?)
Fourteen years can seem like ages, but it can also seem like barely the blink of an eye. That's one of the reasons we celebrate N7 Day: to pause and take stock; to take a moment to appreciate all things Mass Effect. And there's a lot to appreciate! So this year, we'd like to invite you to join us on a Mako ride down memory lane as we look at Mass Effect's past and present, celebrate the wonderful community that makes it so special (that's you!), and invite you to join us in the celebration with some special N7 Day surprises below.
A DAY FOR LOOKING BACK
The thing about Mass Effect is that it can be a different game for different people. So much of the series is about the personal decisions each player makes, and how that affects the events that happen later. That is, of course, by design — because that's what we love about RPGs ourselves!
Take Mac for example, who's worked on the whole series and was most recently the Project Director for Mass Effect Legendary Edition. "It's about freedom to choose," he says. "My character. My story. My playstyle. And, naturally, dealing with all the consequences from those choices."
And Mike, who's been on the franchise for over a decade and is now Project Director for the next Mass Effect game, feels similarly…though he's more about that #renegade life. "What I love most about RPGs," he says, "is to be as morally abhorrent as possible. I want to see how the game reacts to that!"
That focus on personal choice and branching narrative has been a touchstone of the series since the beginning. Well, OK, maybe not the very beginning. In the earliest days of production, Mac says, "there was just the barest idea of what it would be. We knew we wanted a grand space opera with inspiration from '80s dystopian sci-fi films. The rest was a blank slate."
But the key elements of player choice and character development quickly became a crucial part of the game — and then of three more games, loads of expansions, and a huge remaster, over fourteen exciting years. From the first game's debut in 2007 through to the release of Mass Effect: Andromeda 10 years later, we've watched the Mass Effect universe grow from games into novels, comics, statues — even board games. And just this year we returned to the Normandy for a refreshed version of the original trilogy, in the form of Mass Effect Legendary Edition. With massively updated graphics, key control adjustments, important changes to game balance, and a ton of other improvements, the Legendary Edition brought the original trilogy to a whole new generation of players. And the response has been amazing! We've been so happy to hear how much these revitalized editions have meant to you, from first-time players to returning veterans.
A DAY FOR LOOKING AROUND
On N7 Day, we celebrate all things Mass Effect — and most importantly, we celebrate you, the fans. This universe wouldn't be much without you to explore it. You've shared with us your love for the series through art, fan fiction, cosplay, and countless other gestures of appreciation that make us feel so grateful, in turn, to have you as fans. So as a token of thanks, we'll be sharing some of your creations and your celebrations today and in the coming days.
On top of that, we've got some other fun stuff lined up for you today. Like…
Steam Stickers! If you're a Steam user, you may have already noticed the brand-new Mass Effect emoticons available in the Steam store.
Sales! You'll also find Mass Effect Legendary Edition on sale for a special N7 Day price on Steam, Origin, and the Microsoft Store — but only for a limited time, so get on it.*
Cosplay! Not only do we have brand-new cosplay guides to help you craft the perfect costume, we also enlisted renowned creator Soylent Cosplay to develop a how-to video to walk you step-by-step through one of her legendary Mass Effect costumes.
Contest! Share your best Mass Effect art and get a chance to score sweet loot. Just post on Twitter using the hashtag #BioWareGiveaway for your chance to win.
GIFs! While you weren't looking, we created a page on Giphy specifically for Mass Effect GIFs. Now the crew of the Normandy can help you say what mere words cannot.
Gear! It wouldn't be N7 Day without some swanky new accessories. Hit up our own Gear Store for replicas, prints, and apparel; the Dark Horse store for amazing prints; Graph MKT for slick street wear; PowerA for custom controllers, NZXT for the perfect N7 PC case accessory, and Idea Planet for your very own Citadel.
More Social Stuff! Want to share your love for Mass Effect with the world? Try out our new Squadmate AR lens on Facebook and Instagram.
"To find the lens:
Visit the @masseffect profile
Tap the 'Effects" icon (the three stars), and open the lens
Make sure to use the hashtags #n7day, #N7DayCelebration, #MassEffect, and/or #N7DayArt wherever you post so we can see your contributions!"
We've also been super-interested to learn what kind of choices you've been making in your own adventures while playing the Legendary Edition. A few months ago we shared some statistics and learned that "Kaidan or Ashley" wasn't an easy decision for you all either so maybe Mac and Mike were onto something with their choices; 60% of you chose Ashley, while 40% chose Kaidan. For something that makes such an impact through the next two games, that's a surprisingly close split. We also learned that Garrus was the most likely to survive the Suicide Mission — but Mordin was the least likely. And he thought you cared!
For this year's celebration we dove even deeper into how you navigated the branching pathways of the series, and we learned some interesting new details. For example, most of you elected to save the Council at the end of the first game — but at 69% to 31%, it wasn't exactly a foregone conclusion. We also learned that as beloved as Garrus has been through the years, a surprising 15% of you didn't recruit him to your team at all! Perhaps less surprisingly, you folks were not fans of Ambassador Udina; given the option to select the first human Councilor, he finished a distant third…behind "no choice." Ouch.
The results are fascinating across the board, so take a look at the whole lineup:
AND A DAY FOR LOOKING FORWARD
N7 Day has also often been a chance to talk about the future, both for Mass Effect and for the games industry as a whole. This year, looking forward is even more valuable, as we celebrate another N7 Day during a global pandemic that impacts pretty much everything about the industry and the people in it.
"I can't wait to answer fans' questions in person!" Mac says. "Whether it's panels, or signings, or BioWare Base…it's always fun to just be in the room with the fans and let them ask whatever they want."
"Meeting franchise fans is always cool," agrees Mike, "and it's good to see how the games have impacted people's lives. Personally though, I miss the cosplay. I remember at San Diego Comic Con a number of years back, how many groups of Mass Effect cosplayers there were. I want to see that continue. And hopefully we can create new characters that everyone will love and continue the tradition."
We are, of course, hard at work on the next adventure in the Mass Effect universe. Until then, please accept our most humble thanks to you for accompanying us on this journey. We know we couldn't do it without you — on N7 Day, or any other day.
About the Author
Adrian Gunning Adrian lives in Melbourne Australia and has a huge passion for gaming, technology and pop culture. He recently finished his a Bachelor of Journalism and is currently focusing on games journalism. When not writing and playing video games, Adrian can be found in Comics 'R' Us debating the pros of the DC Universe and cons of the Marvel Universe.