Rainbow Six Extraction: Story Trailer and Additional Content Schedule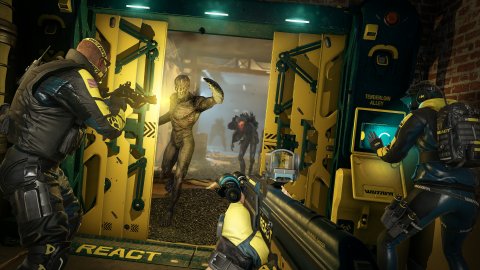 Rainbow Six Extraction
The publisher also announces the schedule for additional post-launch content.
Developed by
Ubisoft
Montreal,
Rainbow Six Extraction
will be available on January 20, 2022, as we have seen in recent days with the announcement on release date , reduced price and Buddy Pass. In the game we find ourselves taking part in Team REACT to create a team of one to three players among various Rainbow Six Siege Operators to face the mysterious alien creatures known as the Archas.
For the first time we can advance each of the 18 Operators through a new customizable level system. As we improve, we will also
be able to
permanently unlock new wastes, new REACT technology, more difficult levels, story lines and more.
Ubisoft also revealed that several post-launch content from Tom Clancy's Rainbow Six Extraction will be completely free, with a constantly evolving endgame.
Go all out in Protocol Maelstrom, an exciting weekly challenge mode with tiered leaderboards, made for the most skilled Rainbow Six players. Players face nine subzones with increasing difficulty, tougher enemies, resources that run out quickly, and allotted time that gets shorter with each stage. At each checkpoint, teams must choose whether to draw to accumulate their points. Earning points will guarantee a place for challengers in up to five classes, from Bronze to Silver, Gold, Platinum and even Diamond Class, each of which rewards players with special headgear and REACT credits.
Rainbow Six Extraction will feature a variety of exciting challenges, including Crisis Events and Assignments. Crisis events are limited-time events that modify the game with themed content, introducing a new operator to your roster or a new dangerous enemy to defeat.
Rainbow Six Extraction pits against the menacing Archai aliens In the first crisis event, Spillover, players must wipe out mass colonies of an evolved version of the Sprawl as hordes of Arks attempt to stop them. These events will feature exclusive REACT technology, new cosmetic items and new lore as rewards.
Weekly missions will feature gameplay modifiers that challenge players' skills. For example, Veteran mode has no HUD, limited ammo, and friendly fire activated. At launch, players can tackle both the Maelstrom Protocol and Weekly Assignments, with Crisis Events available shortly thereafter.
As previously reported, the Rainbow Six Extraction Standard Edition is available for pre-order at the new price of € 39.99, which includes free post-launch content and Buddy Pass tokens, which allow you to invite friends to play for free for 14 days. Any achievements that team members have achieved during these two weeks will be made available for purchase of the full game. All pre-orders will also unlock the Orbital Decay Cosmetic Pack for Extraction. The Deluxe Edition, which includes the content of the Standard Edition and three additional bonus packs, is also available for preorder for € 49.99.
Tom Clancy's Rainbow Six Extraction we previously saw the trailer starring l Pulse operator and one at
PlayStation
Showcase 2021.
Have you noticed any errors?
---
Join gaming leaders online at GamesBeat Summit Next this upcoming November 9-10. Learn more about what comes next. 
Ubisoft today announced a release date for its upcoming shooter, Rainbow Six Extraction. After the publisher delayed the survival adventure out of its original September release window, the company has now set it to launch January 20.
Extraction is a cooperative based PvE title that casts players as familiar characters from previous Rainbow titles in a battle against an invasive alien force. Preorders for the standard edition of the game are currently open, and users will receive access to the game's 12 maps and 18 operators. Each of the latter will have their own progression system.
Ubisoft originally delayed Extraction alongside Riders Republic earlier this year. At the time, the company did not give a reason for the delay, though delays in the age of the pandemic are not exactly uncommon. Extraction (or Quarantine, as it was originally — and unfortunately — titled) originally debuted in 2019 and was then delayed from its projected 2020 launch date following the tepid response to Ghost Recon Breakpoint.
In addition to the game itself, Extraction will launch with a Buddy Pass. This is basically a free pass for players to invite two friends to play the game with them for free for up to 14 days. The Buddy Pass is available on PlayStation, Xbox, Epic Game Store on PC, and Ubisoft Connect on PC.
GamesBeatGamesBeat's creed when covering the game industry is 'where passion meets business.' What does this mean? We want to tell you how the news matters to you -- not just as a decision-maker at a game studio, but also as a fan of games. Whether you read our articles, listen to our podcasts, or watch our videos, GamesBeat will help you learn about the industry and enjoy engaging with it. How will you do that? Membership includes access to:
Newsletters, such as DeanBeat
The wonderful, educational, and fun speakers at our events
Networking opportunities
Special members-only interviews, chats, and 'open office' events with GamesBeat staff
Chatting with community members, GamesBeat staff, and other guests in our Discord
And maybe even a fun prize or two
Introductions to like-minded parties
Become a member