Genshin Impact, Update 2.3: Arataki Itto, Albedo and Eula rerun, new boss and events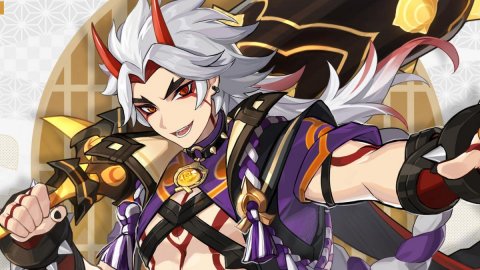 Genshin Impact, Update 2.3
During a live on Twitch, miHoYo unveiled the news coming with
Genshin Impact Update
2.3, which include the characters Arataki Itto and Gorou, the rerun of the Albedo banner, new events
The Genshin Impact update 2.3 is titled "Shadows Amidst Snowstorms" and will be available starting Wednesday, November 24th. Between one novelty and another, miHoYo has shared new promotional codes thanks to which you can get 300 Primogems and more for free. The update will see the debut of Arataki Itto and Gorou, two new Geo-type characters that will be available thanks to a new banner.
The first is a 5-star warrior and fights using claymores. The blood of an oni runs through his veins and he can summon a small fighting bull named "Ushi" to give him a hand in battle. His he basic attack combo activates a stackable buff, thanks to which he can also perform a particularly powerful Charged Attack. With his Elemental Burst Arataki Itto's standard, charged and top attacks gain the Geo element, hit speed increases, while attack increases based on defense.
Gorou, on the other hand, is a 4-star character who fights with the bow. His elemental skill causes area damage and activates the War Banner effect, which offers buffs to companions that vary based on the number of Geo-type characters in the party. Elemental Burst deals Geo-type AoE damage and activates the "General's Glory" effect. This is an enhanced version of War Banner, which also generates "Crystal Collapses" that cause AoE damage.
Arataki Itto and Gorou will arrive in the second phase of the life cycle of Update 2.3 while, in the first, there will be the reruns of the two banners of Albedo and Eula that will be active at the same time. Excellent news for those who have not been able to obtain them in the past or for
those who want to
enhance their constellations. The mechanics of the Pity are shared between the two banners of Albedo and Eula.
Arataki Itto and Gorou, the two
new characters of
Genshin Impact of Update 2.3 The update 2.3 of Genshin Impact will introduce a quest dedicated to Arataki Itto and the Hangout Events for Gorou and Beidou, as well as new weapons for the Epitome Invocation banner, including the 5-star claymore Redhorn Stonethresher.
There will also be a new world boss, the Golden Wolflord, based on the new wolves ghostly introduced with the previous update.
The main event of Update 2.3 is Shadows Amidst Snowstorms, which will see the Traveler take on a new series of quests set on Mount Dragonspine involving Albedo and Eula. Up for grabs are Primogem, a Crown of Insight, and other helpful materials. During the event there will be timed challenges with obstacles and collection of objects, as well as combat, all with original rules and slightly different from the usual. It will also be possible to create a snowman, of which it will be possible to customize each part, obtaining various rewards, including the Cinnabar Spindle sword.
During the life cycle of Update 2.3 the new event "Bantan Sango Case Files: The Warrior Dog" will also arrive, with a series of missions in which
we will have
to find missing animals and at the same time also face challenges stealth and combat. Up for grabs are Primogem and a gadget to add animals to the Serenitea Pot.
Other events include new versions of Energy Amplifier Fruition, Misty Dungeon: Realm of Light and
Marvel
ous Merchandise, with combat challenges in domain and dungeons and numerous rewards to be won.
As previously mentioned the new update "hadows Amidst Snowstorms" will be available starting from November 24th. In the meantime, you still have time to get Hu Tao and Thoma from the latest banner of Genshin Impact version 2.2.
Have you noticed any errors?
---
'Genshin Impact' Reveals Wild Double Banners For Update 2.3
Banner
Genshin Impact
Genshin Impact has just shown off bits and pieces of Update 2.3, and they've done something rather unusual. The 2.3 showcase has revealed that they are doing a double re-run banner, meaning two 5 star heroes will be available in separate banners at the same time.
Here's how this is laid out:
Phase 1 – Albedo (5 star) and Eula (5 star)
Phase 2 – Itto (5 star) and Gorou (4 star)
Banner
Genshin Impact
So, Albedo and Eula will have re-run banners going at the same time. The two banners are said to share a pity system, so if you say, wish 80 times on Eula, then switch over on Albedo, you'll be guaranteed to get a 5 star with a 50/50 shot at him (or 100%, if you've already missed).
Why is Genshin Impact doing a double banner for the first time? My guess is because the total number of heroes in the game are stacking up. So in order to make sure it isn't ages until a re-run banner comes around, while also introducing new heroes and not adding any to the base pool, the idea will probably be to do more of these multiple re-run banners so players can see their favorite heroes circle back around more often.
I do think that at some point they will have to add some older heroes to the base pool to expand it, but it's been a full year and they haven't done it yet, despite adding 14 new 5 stars to the game. Inazuma alone added a whole bunch recently, and I think the idea is that player are going to get fed up waiting say, 8 months for Venti or Zhongli or Raiden Shogun to come back around. So now we'll start seeing double-ups.
As for Itto and Gorou, that looks like a much more traditional banner, a new 5 star paired with a new 4 star, and both are Geo heroes. With Albedo also featured, this is a Geo-themed update all around it seems, and miHoYo just debuted a new story trailer, which continues features Itto and continues Albedo's Dragonspine story, which you can see below:
Anyway, fans do seem to be excited about the prospect of double banners, as I think this will make the process of re-runs a little more bearable, reducing wait time until we see heroes swing back around again. I personally won't go for either Eula or Albedo, and will save for Itto, but it's up to you what you want to make of the new system.
I believe Update 2.3 arrives around November 24, and we'll have more to talk about then.
Follow me on Twitter, YouTube, Facebook and Instagram. Subscribe to my free weekly content round-up newsletter, God Rolls.
Pick up my sci-fi novels the Herokiller series and its audiobook, and The Earthborn Trilogy, also on audiobook.