Assassin's Creed Valhalla: Wrath of the Druids: an interview with producer Fabian Salomon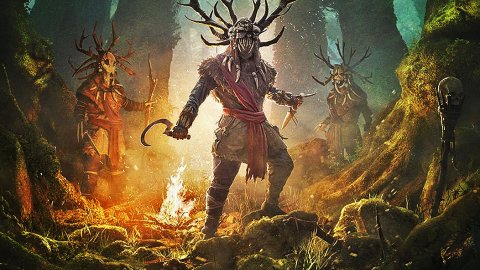 Assassin's Creed Valhalla
Eivor's adventure continues in Ireland with the Wrath of the Druids expansion. For the occasion,
Ubisoft
Italia organized an interview for us with the producer of the DLC, the very French Fabian Salomon who answered all our questions with diligence. To make things more interesting, however, we tried to vary a bit, after all the expansion review is already online and it would have been useless to delve into what you can already play. We have therefore tried to understand how this additional content is created, hoping of course that it will be of interest to you.
Happy reading!
Longevity: what's the perfect balance?
A new cast is ready to welcome you to the Irish lands ... For a long-lived game like Assassin's Creed Valhalla,
how do you
decide the timing of distribution of additional content? Are you waiting for a good percentage of players to finish it or do you have a timetable and stick to that?
It is a mix of these two options. Let's plan ahead, making sure most can play the DLC based on their progression. We want to keep the quality as high as possible, so if it is needed, based on the data collected, we can modify the output accordingly without major problems.
Could you tell us how many players have finished Assassin's Creed Valhalla at the moment?
I'm sorry but I don't have this data at my disposal.
We ask why the biggest criticisms of the latest Assassin's Creed relate to its alleged excessive duration.
Do you think
this is a core value for the series? Does a game like this have to last until its gameplay ideas run out, long enough to tell a good story, or until it justifies its price?
This is a really good question. First of all I think most of the users are enjoying our latest game. Conversely, when a stock is too short, many complain about longevity, asking for more. Valhalla is still a role-playing game, there are many characters, numerous narrative interlocks and so on, also the map is very very large and I think all this justifies its length. It takes about 80/90 hours to finish it but if you like to complete each challenge it obviously takes a lot more.
Don't tell me I'm a very slow player, I'm about halfway through the base game and I have to to say that up to now I can be satisfied.
In Valhalla there are many hidden things to discover, beautiful places to see, so you are pushed to play again and again and it can take a very long time.
The need for a new map
No Roman ruins but Celtic, new colors, new surprises and many new secrets in Ireland of The Wrath of the Druids Don't you think that these beautiful virtual worlds, so detailed, are in a certain sense underused? I think of
Sega
's Yakuza, of the fact that his small map has been the basis of every game in the series for fifteen years, then I see games like Assassin's Creed that in the space of a year forget these beautiful scenarios, these fantastic historical contexts, to build new ones. new. But how many stories could still be set on the map of Valhalla? And why did you decide to create a new one for The Wrath of the Druids?
The goal of the expansion is to bring players new gameplay formulas and consequently a new setting. Listening to users, when asked what they would like to see in an expansion, most ask for new territories to explore. That is why we have opted for this approach. England continues to be exploited through the free content we make available every month.
How long does
it take to build a map like Ireland in this expansion?
Practically a whole year, including all the necessary research that usually takes place in the chosen location. In this case, however, due to
Covid
, we were unable to do so and to ensure a certain realism we have collaborated with universities specialized in various fields, also as regards the language to be used and of course to be historically accurate. how many people did it take to do everything?
About 120 people from the different Ubisoft teams.
Tell us about Ireland in this expansion, what are the main differences with the map we explored in Valhalla?
We have tried to point out the differences. Ireland is not very far from England, so we had to work hard to characterize the new map using different elements, such as new lighting, a new color palette and replacing the Roman ruins with Celtic ones. All for this to change the "mood" of the expansion compared to what permeates the base game, introducing new elements of folklore closely linked to the region in which The Wrath of the Druids is set. We also have another big city, like Dublin.
Is Dublin as big as London in the base game?
Slightly smaller than London but still a big city for the average of Valhalla.
Between history, mythology and folklore
A new adventure for Eivor, but it could also be the last ... What do you think are the most distant features of Wrath of the Druids from Assassin's Creed Valhalla?
Valhalla revolved mainly around Norse mythology, in this expansion we have instead focused on Irish folklore. For example, we allow players to immerse themselves in druidic culture, creating a mix between political and fantastic events.
What is your favorite part? The historical or the mythological approach?
Of course we do everything to give our best in both fields, and the two components intertwine too many times to be judged individually.
Why continue with Eivor instead of introducing a new character as has often been the case in Assassin's Creed DLCs in the past?
Interesting question. As a first expansion we believe it is very important to maintain the progression of the base game, so to continue with Eivor. Plus the character deserves more stories to live. We discussed this, but to start expanding Valhalla it seemed like the best choice.
Sometimes the DLCs are composed of gameplay elements that could not be included in the game, other times they are the result of experiments carried out by the team that takes care of the post launch support. What was the genesis of The Wrath of the Druids?
We started from the idea of ​​using Ireland and from there we built characters and history. The plot, however, was the first thing we finalized because it is essential to involve the actors as soon as possible. From this point of view it was essential to learn that Ireland was a strategic region for the Viking affairs in the area, and this also led to the implementation of new gaming systems. The rest is done by the feedback provided by users.
Seventeen years in Ubisoft, you started as a tester and today you are a producer. What would you like to do in the future?
I am very happy working in Ubisoft. The team is fantastic and so are the projects we work on. So my goal is to keep working here to create great titles that make the fans who decide to follow us happy. Honestly? This is the job I dreamed of doing.
Have you noticed any errors?