LG, Digital Signage in a transparent film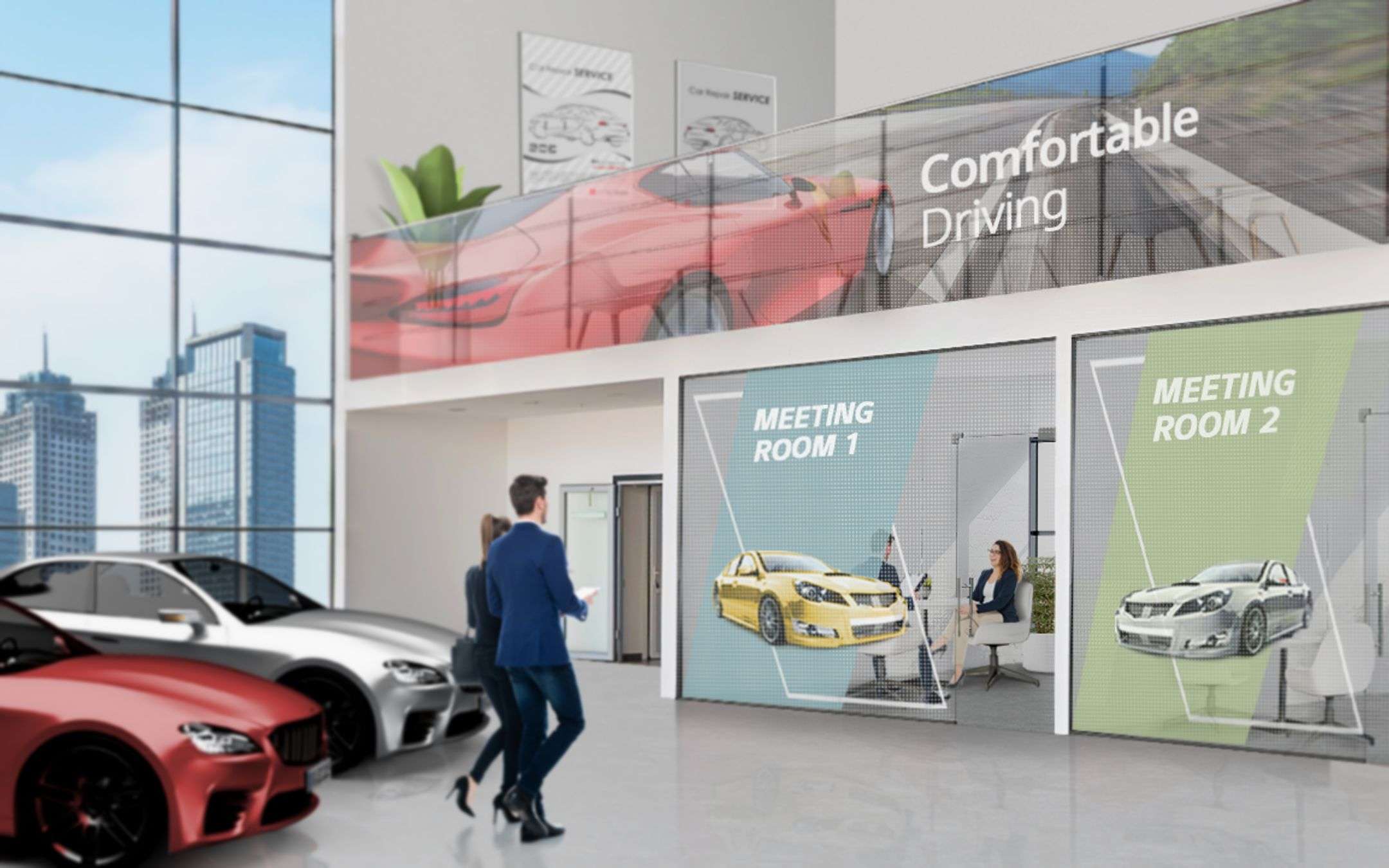 LG
LG presents it as a digital signage revolution and the prerogatives are not lacking so that it can actually be a revolution. LG Electronics, in fact, presented LED Film Transparent (LAT14), something that can completely change the cards on the table both in terms of cost and application flexibility.
LG, Digital Signage like a film
The team explains that the film is a true transparent film that can be applied to any glass surface thanks to a self-adhesive surface. The high degree of transparency (53%) achieved "can guarantee perfect visibility through surfaces even after its application: a feature that makes it particularly suitable for shop
windows
, shopping centers, exhibition areas or showrooms". The scenic effect, in short, can be sensational, transforming a shop window or an internal installation into something dynamic, of great visual impact.
Film is not afraid of curves either: up to a radius of 2000R, both in concave and convex mode, the application remains the same without any problems.
The bright LEDs integrated into the film, with a pitch of 14mm, and brightness up to 2,100 nit (cd / m²) allow the reproduction of an extraordinary range of colors and vivid shapes in motion (from logos and pictograms up to more complex images or entire videos) so as to communicate content and information in an effective and surprising way. When the LEDs are turned off, the LG film i
s practical
ly imperceptible, so much so that it completely merges with the surface on which it is applied. Furthermore, using the Control Manager solution, it is
possible to
adjust and set the brightness
according to
the time of day and manage the contents in real time.
The great elasticity with which it can be applied makes the LED Film Transparent is a real artistic tool able to free the creativity of brands and installers, to the point of being able to whet new architectures for exhibitions and points of sale. The
potential is
enormous and everything can be easily managed with LG's webOS smart signage platform.
---
LG Rollable phone is not dead — LG weighs in on rumors
After rumors surfaced that the LG Rollable phone had been cancelled, the company has weighted in. Apparently no decisions have been made yet, which leaves the phone in a limbo state.
These rumors arose after speculation LG might leave the phone business. While saying the phone's fate is undecided is not particularly good news, there is still a chance the LG Rollable will arrive later this year as originally promised.
Rollable phones could be the next big thing in the phone industry, functioning as an evolution of the foldable devices we've started seeing the past couple of years. You just have a mechanism that evenly expands the screen rather than a single fold you have to flip open yourself. That means you don't have to worry about damaged hinges or creases in the screen.
LG isn't the only company that has been tinkering with rollable phones. Samsung and Oppo have both done some work of their own, but so far LG is the only company that's promised to let us buy one. Obviously, we were pretty upset when we heard the phone might end up being cancelled thanks to financial difficulties faced by LG's smartphone division.
But LG told The Verge that no decision has been made about the rollable's release, or the future of LG's smartphone division. It's not as encouraging as additional promises that the phone is still coming, but it's not the end of the line just yet.
It wouldn't be a huge surprise if LG did completely exit the smartphone industry. The company has struggled to compete over the past few years, and it's reported that LG's smartphone business has lost around $4.5 billion over the past five years.
But as The Verge points out, rumors about the rollable's uncertain future stem from a change in the phone's manufacturing schedule. A report from Yonhap News claims LG had told suppliers the phone was on hold, and that they could request a refund for their development efforts.
But delays aren't cancellations, and it wouldn't be surprising to hear that the phone isn't coming quite as soon as LG promised. The rollable design is brand new, after all, and problems can arise at any point when you're trying something that hasn't been done before. The botched launch of the very first Samsung Galaxy Fold is proof of that.
Let's just hope that the LG Rollable does see the light of day, and before LG's smartphone business goes completely under. But, failing that, there's always the Samsung Galaxy Z Fold 3 to keep us going until someone else can actually sell us a rollable of their own.
Today's best Apple AirPods Pro deals