BlizzCon, Diablo 4 and Diablo 2 Remastered: new information from an insider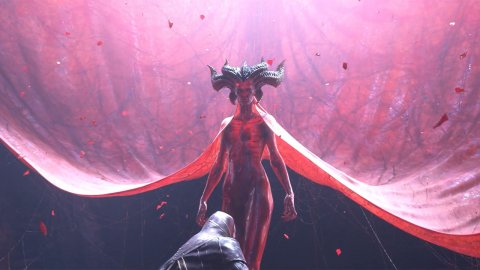 BlizzCon, Diablo 4 and Diablo 2 Remastered
Only a few hours to go until BlizzCon 2021.
Blizzard
will talk about various games in the works, including
World of Warcraft
Shadowlands and World of Warcraft Burning Crusade Classic, as revealed by a leak released by Blizzard itself. According to the insiders we will also
be able to
see
Overwatch
2 and there will be space for Diablo 4 and Diablo 2 Remastered.
Precisely, to talk about it is PracticalBrush12, a new leaker who has revealed correct information on Monster Hunter Rise and on
Nintendo
Direct from little held. As revealed on Reddit by the leaker, Diablo 2 Remastered will be identical to the original version in terms of gameplay, but it will reach 60 FPS with improved graphics. It will also be possible to switch to the original graphics at any time. Audio and cinematics will also be remastered according to the insider.
There will also be features not present in the original Diablo 2, such as a summary of the stats, the ability to collect gold automatically and support for controllers . The lights will be dynamic, but the "dark" art direction of the original hasn't been changed. The progression will be shared between the different versions of the game and it
will not be
mandatory
to play on
line. An alpha should also be coming after BlizzCon, while the release is expected in 2021
As for the Diablo 4, the "Rogue" class will be presented. He is capable of using bows, crossbows, swords and daggers and is obviously very agile. Many customization elements will be shown such as skin color, tattoos, makeup and hair color. There will be class specializations that will be tied to the faction we support, as well as class-related missions for the open world.
Loot items will appear different depending on the region: the sword will be a scimitar in the desert, for example, or a broadsword in the north. There will then be fields of monsters to conquer. There will also be a special currency for PvP (used for cosmetics): we will get it in non-purified format, but when we purify them we can lose them if we are killed by other players (and in turn we can steal them by eliminating the opponents). There is no information on a release date or testing phases.
For information on Overwatch 2 go here. For information on World of Warcraft go to this page.
Source
---
Diablo 4 is getting a Rogue class and Diablo 2 Remastered 'should come this year,' according to leaker
© Provided by GamesRadar Diablo 4
Diablo 4 will reportedly see the return of the rogue class and an increased level of character customization.
According to a post on Reddit from credible leaker PracticalBrush12, Diablo 4 will feature the Rogue as a playable class. The leak says that the archetype - which was playable in the original Diablo and featured as an NPC in Diablo 2 - 'uses bows, crossbows, swords and daggers and is quite mobile.'
The leak goes on to detail more detailed character customization, hinting at different skin tones, as well as tattoos, makeup, and new hair colors, as well as options to customize your mount and buy cosmetics with a dedicated 'PvP currency'. There'll also be 'class specialization [...] tied to what faction you will support,' with class quests available in the open world.
The leak also offers some information about the rumored remaster of Diablo 2, which reportedly offers 'identical' gameplay with updated graphics at 60fps. There'll also be remastered audio and a number of quality of life changes, including an improved stats summary, a shared stash, and the ability to toggle automatic gold pickup. 
While PracticalBrush12 says there's no word on Diablo 4's launch, the remaster of Diablo 2 is said to be getting a technical alpha, and 'should come this year' on all major consoles, including the Nintendo Switch.
With no official word from Blizzard, it's definitely worth taking this with a pinch of salt. That said, PracticalBrush12 has established a strong track record in recent months, leaking Monster Hunter Rise and correctly predicting many of the games that would be shown off in this week's Nintendo Direct. With BlizzCon mere hours away, hopefully we won't have to wait long to determine the veracity of this leak.
Here's the BlizzCon 2021 schedule ahead of the opening ceremony later today, but before then, check out our BlizzCon 2021 predictions.