Sword Art Online: Spring's Asuna cosplay in Titania version is a spell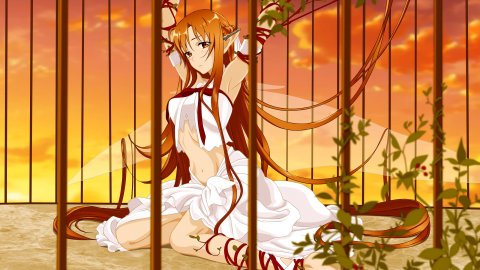 Sword Art Online
Sword Art Online
among light novels, anime, films and manga, has won over the years a large number of fans, still linked to Kirito and the rest of the vast and charismatic cast of the work of Reki Kawahara. As proof of this, here is a new Asuna cosplay in Titania version, signed by Spring.
Over the course of the various narrative arcs of Sword Art Online, Asuna has changed her avatar several times, depending on the online game reference and situation. In the second season of the anime, the girl finds herself trapped in the role of Titania, the queen of the fairies of the virtual world of Alfheim Online, without the possibility of disconnecting herself from this virtual world, waiting to be freed by the protagonist Kirito.
Spring cosplay is based on this particular version of Asuna that has been recreated in a rather faithful way, from the wig and elven ears to the iconic white dress adorned with a large red bow on the chest. The choice of location and the effects added in post-production then make it truly enchanting to watch.
If you are
looking for other
cosplay from anime and manga, we suggest that of Elizabeth from
The Seven Deadly Sins
made by noelle.samaa and that of Marin Kitagawa from My Dress-Up Darling by AGflower. Changing genres, also check out Kanra's Poison Ivy cosplay and Roxanne Kho's The Lady of Genshin Impact cosplay.
What do you think of Spring's Sword Art Online Asuna / Titania cosplay? Please let us know in the comments.
Have you noticed any errors?
---
The "Underworld" is coming to Nintendo Switch with SWORD ART ONLINE ALICIZATION LYCORIS
Games
Published on July 4th, 2022 | by Adrian Gunning
Announced this weekend at Anime Expo, SWORD ART ONLINE ALICIZATION LYCORIS will make its debut on Nintendo Switch.
Following the events of the SWORD ART ONLINE Alicization anime series, SWORD ART ONLINE ALICIZATION LYCORIS finds Kirito in a mysterious but familiar virtual world, "Underworld," where advanced A.I.s could be mistaken for humans. As players take control of Kirito, they will relive heart-pounding scenes from the series through intense combat. Fan favorite characters will cross the player's path including Eugeo, Alice, Administrator, and many more. A wide world awaits Kirito and his friends in this faithful adaptation to the SWORD ART ONLINE Alicization series.
SWORD ART ONLINE ALICIZATION LYCORIS on Nintendo Switch will include the four first "Ancient Apostles" free update contents.
For more information about SWORD ART ONLINE ALICIZATION LYCORIS visit the official webpage. For other Bandai Namco Europe products, visit our website or follow us on Facebook or Twitter, or subscribe to our YouTube channel.
About the Author
Adrian Gunning Adrian lives in Melbourne Australia and has a huge passion for gaming, technology and pop culture. He recently finished his a Bachelor of Journalism and is currently focusing on games journalism. When not writing and playing video games, Adrian can be found in Comics 'R' Us debating the pros of the DC Universe and cons of the Marvel Universe.