Arcane: interview with Pascal Charrue and Arnaud Delord: "we would like to create a Riot Cinematic Universe"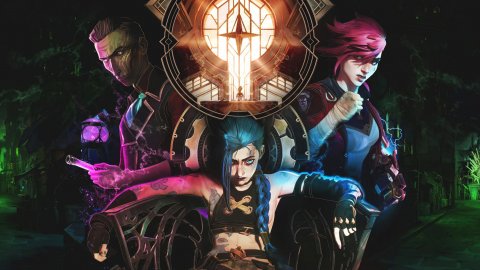 Arcane
Curated by Federico Vascotto
Among the international guests of the 26th edition of Cartoons on the Bay, the Italian festival dedicated to animation which this year returned to the bay, to be precise in Pescara, in June 2022 there were Pascal Charrue and Arnaud Delord, two of the founders of Fortiche Production. The Animation Studio of the Year - this is the award received at the event - has become famous for having first made some commercials for the MOBA
League of Legend
s videogame by Riot Games and then the animated series Arcane, taken from the same, critical and public success on Netflix and already renewed for a second season.
We met them and here's what they told us in this interview with Pascal Charrue and Arnaud Delord, producers of Arcane.
Creating a masterpiece
The protagonists of Arcane There was a moment when the project was conceived as an animated film and not a series, and the same goes for the weekly episode release? Pascal Charrue: At first, when they called us to make the project, they also thought of a film, but it became clear soon enough that the way forward was seriality. We did an action test and
a lot of
the script wasn't written yet, so we were in a "we'll see, we'll see" attitude (laughs) but after we finished the pilot we realized that Arcane had to be a series. At that point, we and Riot Games just wanted to do the best show possible because the expectations were really high. Then we shot the episodes and we had to finalize them and move on to post-production. We can say, however, that initially it should have been a series of 10 episodes of 45 minutes each, but then we had to reduce for production reasons and combine them into 9 episodes of 40 minutes each. We had to reduce the script from 45 to 35 pages from the beginning. After all, it was already a complex and huge story to make from the start.
What was the biggest difficulty you encountered in making Arcane?
Pascal Charrue: The biggest difficulty was to change our production method, we reached more than 250 employees involving various companies for the project, and there is time to be able to make it happen. wanted a lot. Producing films is very organic as a process while in this case it is more than six hours of animation to make, not a walk in the park (laughs). We literally had to teach some aspects to the people who work in Fortiche because they are usually used to different times and production schedules. We ourselves had to learn to manage these new people who regularly worked in film and TV.
It is not
something that they can teach you in school, so the difficulty was being able to manage this new enlarged group and also to trust us, because we have a large group of technicians who had to believe in us and we did not have to lose our identity and specificity. .
Jinx, the charismatic protagonist of Arcane Why did you choose this part of the story and these characters from the vast world of League of Legends?
Arnaud Delord: Christian Linke (co-creator of the show, ed) chose this part and these characters because he felt it was a good idea, because he was very close to our world. It was easier for us to visualize it and therefore to be able to realize it. We also felt very close to the characters because Alex Yee (the other co-creator, ed) was one of the game chapters in the beginning for the Riot IPs and Arcane is the beginning of what we wish the Riot Cinematic Universe was. The goal is that and Arcane was a great launching pad, so to speak, after all the teams already knew each other well and therefore the result was not a big surprise. It took some time of course to choose the story and the characters and when we were ready, our artists luckily followed us.
By the way, how did you find this particular mix of realism and fantastic, the perfect result is
for those who
were fans and "veteran" of League of Legends and for those who had never played video games in their life?
Pascal Charrue: We tried to balance the fan service, the easter eggs and all those aspects but then we relied on the characters and the story they brought with them, trying to reduce the first part to make room for the story in itself and what could be of interest to the public. At that point we made the characters more complex and multifaceted because in the video game you have to directly understand what kind of character you are as a user. In short, we had to find a balance between not betraying the characters themselves, because the story is the same as Riot's IP, but the narrative possibilities were enormous, and it seems we have succeeded (laughs).
Arnaud Delord : Fortiche has a good connection with fans at the moment. We want to give them what they love but at the same time we can do what we love too. We try to find the same value and the same happiness in making it happen, without being selfish so to speak.
Pascal Charrue: It is also part of a great story that
we would like
to tell. Arcane is not just a project for us, it is an important part of our history as a production studio. We have founded Fortiche for almost 14 years and we spent half of the time on this project, so they will always be important characters for us and who will stay with us. Arcane has won numerous Annie Awards and now also an award at Cartoons on the Bay 2022 for Best Animation Studio of the Year. What is it like to receive these awards from different parts of the world, which therefore have a different vision of animation?
Pascal Charrue: We're not that surprised by the success because we saw the impact of Arcane on the world when it came out on Netflix. In
the United States
of course, and in Korea, but also in France and in Europe in general, because we are probably closer, as well as in Italy and Spain. Animation is basically a mix of the various countries, on a visual level we position ourselves halfway between the two visions - American and European. At first we often talked about the success of the project, for the fans and for ourselves. Christian was smart enough to never answer us with goals but let us express our creativity to the fullest, setting ourselves goals to achieve. At first he remembered Game of Thrones a little too much, so we adjusted the shot, but leaving the complexity of the story being told: it's not just a fantasy tale, but also a political one. Part of the success is thanks to this mix of genres.
Do you think animation is
the future of
entertainment, because paradoxically it allows all kinds of stories and narratives?
Pascal Charrue: It is a difficult question because we could answer yes but also no. This is because animation is very expensive as a production choice so it's a problem compared to live action where you can tell stories even on a tight budget. But we're working to make animation and every step in production more accessible so that it can be used more often to tell stories. Arcane is a perfect example of this, of how creatively inspiring it is but at the same time damn expensive because it is very rich. If you use motion capture, for example, it is difficult to propose a rich but inexpensive animation. Maybe the future is about real time, if you can find a balance between animation and costs, and between 2D animation and CGI: like Fortiche we are working a lot on this aspect and we are believing a lot.
Arcane è been renewed for a second season. What can you tell us about the characters and history that will be at the center of the new episodes? Earlier you talked about a Riot Cinematic Universe ...
Pascal Charrue: At the moment we can not say anything or almost nothing about the second season, only that there is a desire to continue what we have managed to achieve with Arcane and try to raise the bar, also because expectations have grown even more after the success of the first season (laughs). As for the Riot Cinematic Universe we have various projects in the pipeline, we are trying not to get too anxious (laughs) and to connect the projects together, but also to make some independent ones and propose something totally different to the public. At the moment we can be very unbalanced because we are still in an embryonic phase. But what we can say is that we are working hard for you.
Have you noticed any errors?