Shovel Knight Pocket Dungeon has a release date for PS4, Switch and PC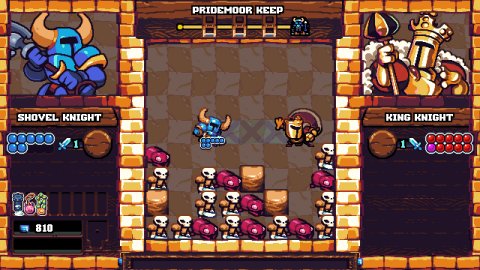 Shovel Knight Pocket Dungeon has a release date for PS4
Yactch Club Game and VINE have announced the
release date of
Shovel Knight Pocket Dungeon. The game will be available starting December 13 for PC,
PS4
and
Nintendo
Switch at a price of $ 19.99.
Despite the uncertainties of recent months, a few weeks ago the developers of VINE had announced the end of the work on the game, thus confirming the launch window by the end of the year.
For the uninitiated Shovel Knight Pocket Dungeon is a spin-off of the acclaimed indie Shovel Knight released in 2014. The game features a mix of puzzle, action and dungeon-crawling elements.
Let's read the official description of Steam together:
Venture with Shovel Knight into the depths of Pocket Dungeon in a mix of adventure, puzzle and action never seen before! Together with your mysterious guide, Puzzle Knight, you will shovel your way through enemies, acquire new equipment and fight against new or known bosses. Explore a tale with endless twists, go on an adventure with your favorite heroes, and challenge a friend in frantic head-to-head competitions, all with Shovel Knight Pocket Dungeon!
Enter a puzzle world of falling blocks with a pinch of dungeon crawl! Fight against enemies you come across and inflict damage on each other in a unique combat system. A new and never-before-seen hybrid. Group enemies in chain attacks to get keys, upgrades and potions that can regenerate your health!
Take control of over 10 of your favorite heroes from the Shovel Knight universe, each with their own unique power and play style.
Gear up on the fly with a collection of items and equipment. Combine your arsenal to prepare for confrontations.
Play a variety of ways with Adventure Mode, Versus Mode where two people compete, Daily Challenge and more!
A brand new graphic style enriches a new story. Learn the basics from your friend Puzzle Knight as you try to escape the mysterious Pocket Dungeon. And enjoy the storytelling style and the inevitable humor that characterize Shovel Knight!
Have you noticed any errors?
---
Shovel Knight Pocket Dungeon Will Release On PS4 Later This December, Yacht Club Games Confirms
Shovel Knight Pocket Dungeon will release on PS4 on December 13, 2021, announces developer and publisher Yacht Club Games.
The news was announced on the official Yacht Club Games Twitter account, which also included a link to a full announcement and blog post on their official website.
"We're ecstatic to announce that Shovel Knight Pocket Dungeon will launch on December 13th!" writes Yacht Club Games. "A lot of hard work, joy, tears, dancing, and love went into this game's 3 year development…it truly was a passion project to bring a new type of puzzle game to the world, and we can't wait for you to all experience its every moment."
On top of the game's release date, Yacht Club Games also announced that Shovel Knight Pocket Dungeon will be getting three expansive DLC packs over the next year, with more details on that to come closer to release.
If you're looking for more Shovel Knight action, Shovel Knight: Treasure Trove is in fact currently on sale on the PSN store and I personally can't recommend it enough. Playing it on my PS Vita is still a great time all these years later.
Source – [Yacht Club Games]