Men of War 2 announced for PC with trailers, images and details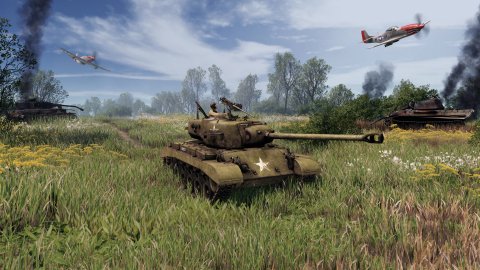 Men of War 2 announced for PC with trailers
Men of War 2 has been
officially announced
by Best Way and 1C Entertainment complete with trailers, images and details: the game will be
available on
PC in the course of 2022.
The presentation of the new episode took place during the ceremony award ceremony of the Golden Joystick
Awards 2021
(here the winners), and immediately the product appeared with its page on Steam and all the relevant information, which we report below.
+6 Live the experience of World War II with a real-time strategy title never seen before!
Men of War II, the next chapter in the highly acclaimed RTS franchise, brings you new units to drive with different specializations, extreme historical accuracy and new levels of audio and video excellence, all combined with the action at the heart-pounding typical of the series.
Lead troops in intense real-time battles on the west and east fronts and overwhelm enemies in epic single-player narrative campaigns and contention modes, before exploring multiplayer action.
Harness sophisticated military strategies, ambush or use brute force to show your prowess as an unrivaled military leader. Exercise full command for different roles: air force, armament, infantry and support in fast-paced action-packed battles. Men of War II brings significant graphics enhancements, destructible environments and advanced AI to create the classic real-time strategy game fans have been
waiting for
.
Lead dozens of historically accurate units into battle with unique equipment and shatter entire buildings. Create the best strategic plan by leveraging an ever-changing environment, cover and a wide range of tactical options to take out enemies ruled by a revised and ferocious AI.
Use the direct control function to manage every single unit in the field at all times and modify, upgrade and repair equipment and vehicles. Immerse yourself in classic combat mechanics coupled with brand
new gameplay
features and experience the intensity of one of the longest running WWII game series in a thrilling way.
Experience an epic story that spans two main campaigns: the Allies and the Soviets against the machines of military might of the Third Reich. From the first, desperate and brutal battles of WWII to major victories on the way to Berlin, join war heroes and their companions as they march through Russia's snow-capped villages and hills, European fields and city ruins.
Experience the greatest multiplayer and co-op modes in franchise history. Choose your side and prepare to fight against other players or alongside them against advanced AI in a huge selection of realistic contests and compelling maps, leaving you enough room for strategic maneuvers. Plan your attacks, team up with a friend and win the battle side by side in co-op mode.
From devastating tanks to lifelike models of military weaponry and equipment, Men of War II features the largest and
most detailed
WWII locations, vehicles and a roster of characters in the series to date: three sides, 45 battalions and over 300 vehicles.
Experience classic war theater from a new perspective: every place comes to life with a unique set of fully destructible objects, realistic physics and immersive sound design. In Men of War II, everything from bridges, rivers, buildings, forests and more can be used to gain tactical advantage, opening up endless strategic options for you or your enemies to exploit.
Create and share your very own war scenario using a special level design and mod tool kit for Men of War II. The choice is up to you: unleash your creativity, your vision and your skills. The tactical possibilities are endless.
Source Have you noticed any errors?