Honor of Kings: World, the trailer for the new open world action RPG by TiMi and Tencent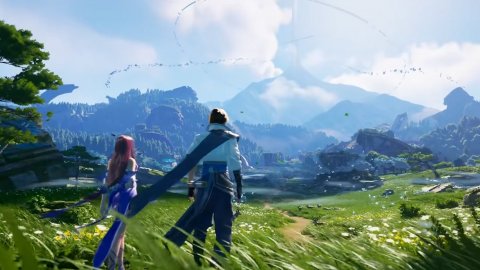 Honor of Kings
Honor of Kings: World is a new and ambitious open world action RPG created by TiMi Studio Group and published by Tencent Games and based on the famous mobile game Honor of Kings. Here is the first official trailer.
Honor of Kings: World is an action RPG set in a vast world, characterized by fantasy settings and inspired by Chinese mythology. The game will
be released
at the same time all over the world, but for the moment a launch window and the platforms on which the game will be available have not been indicated.
The first official trailer, which you can admire in the player above , offers a taste of the game's environments, as well as a confrontation with a mighty monster capable of launching flames and unleashing powerful paws. The protagonist fights using a two-handed broadsword, thanks to which he can perform spectacular combos of quick slashes and unleash charged attacks, which however does not compromise his agility at all.
At a certain point it is possible to notice how the player manages to land the creature for a few seconds by hitting one of its paws, which is somewhat reminiscent of the combat mechanics also seen in the
Monster Hunter
series. Obviously it is too early to draw conclusions, but the game looks promising at least, both in the combat mechanics and in the technical realization.
What do you think, the first trailer of Honor of Kings: World has impressed you positively? Please let us know in the comments.
Have you noticed any errors?
---
Honor of Kings: World Is a Gorgeous Open-World Spin-Off From One of China's Biggest Games
Tencent and TiMi Studio Group have announced Honor of Kings: World, a gorgeous open-world game that features vibrant, colourful graphics and cool monster fights. You can check out the trailer below.
Honor of Kings: World has its roots in one of China's biggest games, the mobile MOBA Honor of Kings. With 100 million daily users, it's one of the biggest games in the world, but is largely unheard of in the west. But developer TiMi Studio Group plans to bring Honor of Kings to the rest of the world, but this time 'reimagined' as an AAA action RPG set in an open world. The trailer definitely gives off Monster Hunter and action RPG vibes, which is no bad thing.
Planned for release on 'multiple platforms', Honor of Kings: World will see a worldwide release. Very little is known about the game so far, but TiMi Studio Group has offered a rough description of what we can expect.
'To uncover ancient secrets hidden in the whisper of wind, cross paths with a diverse cast of lovable characters, create your own story alongside the living legends of different schools of thought in the Jixia Academy, or delve into the wondrous scenery of the Chang'an city where magic and technology converge ...' reads a post on the game's Facebook page.
Honor of Kings: World - First Trailer Screenshots
As revealed on the game's Chinese Weibo account, Honor of Kings: World is being developed in collaboration with author Liu Cixin, who previously wrote The Three-Body Problem (which is currently being adapted for Netflix.)
As noted by Kotaku, the game may be in development at TiMi's new Montreal studio, which recently announced that it is working on 'a AAA open world, service-focused video game for players to explore across multiple platforms.'
With its flashy trailer, Honor of Kings: World joins Black Myth: WuKong as one of the most interesting games being developed in China. The country has made a huge impact in the gaming space recently with Genshin Impact, which has quickly risen to the status of one of the biggest games in the world.
Matt Purslow is IGN's UK News and Entertainment Writer.