FIFA 22 VOLTA, the preview of EA Sports street football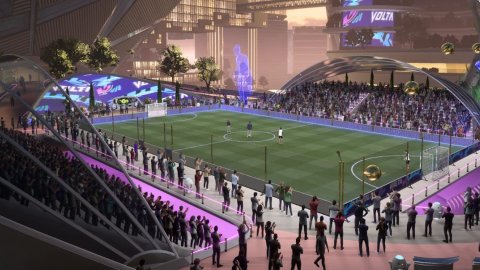 FIFA 22 VOLTA
The last piece of the FIFA 22 puzzle is represented by Volta, the most social mode of the package set up by
Electronic Arts
in which soccer is played in the streets of the main cities of the planet, as well as dressing in fashion and catch up with friends for a chat.
Born from the desire to make football more accessible and to try to involve even that fringe of players who prefer street football to stadium football, in these three years the VOLTA mode has lost the centrality with which it was was presented at the beginning, but still continues to develop, especially in concert with Ultimate Team.
In
our preview of
VOLTA in FIFA 22 we will discover all the news of this year, which will strengthen both the possibilities of customization, that the options available to find new ways to play.
Measuring skill
A FIFA 22 VOLTA match Winning is important, but doing it in style in VOLTA is everything . To try to push players to take advantage of skill moves even more and try imaginative passages, which is what makes VOLTA special compared to other FIFA 22 modes,
EA Sports
has decided to introduce a real Skill Meter to be loaded to the tune. of dribbling, banks with walls (easier to carry out) and sole strokes.
There will be 3 levels of skill charge: with 1000 points the goal will be worth double, with 2000 triple and with 3000 quadruple. The goal, in addition to pushing to be as whimsical as possible, is to always keep the games tense, as a 3-point goal in the last seconds could suddenly overturn almost any game.
This is not the only mechanic borrowed from other video games and that strays a little from the original spirit of VOLTA to try to create something even more unique. In FIFA 22 every player will be able to equip a real special move to be activated with RB / R1 that will boost the shot, speed or tackle for a few seconds.
Within everyone's reach
FIFA 22 Volta skill moves will be easier to perform As you may have noticed by playing past editions or reading the new features introduced with FIFA 22, VOLTA is not designed with fanatics in mind only, but also serves as a bridgehead to attract football fans more transversal, which do not necessarily have to be fanatics of tactics or manual controls. To meet them in VOLTA, the Skill Moves function is introduced which allows you to automatically perform certain skill moves based on the context and the player. All you have to do is press LB / L1.
Another way to welcome more players will be to start the climb to street football dominance from a higher level. All new players will have 5 stars on both weak foot and skill skill, as well as an 82 OVR. In this way from the beginning you will be able to be on the field in a more than dignified way. From there the climb to 96 OVR of maximum cap will be long, but at least EA will avoid all the boring part. The cap, moreover, is at 96 in order to force you to specialize in something, so that you have to rely on others to fill the other positions.
Similar to what happens in Career Modes and Pro Clubs the system of growth of the players has been revised and streamlined so that there were not too many redundancies, but above all that every point spent is able to have an impact on your way of playing.
To celebrate goals in style Furthermore, there will be the possibility to perform celebrations in the company of a friend: just run towards him to see the two players cheering together.
VOLTA Arcade
Disco lava, a VOLTA Arcade mode In a mode that includes special skills and shots that are worth more, there could also be original and imaginative ways of understanding football, thanks to which you can team up with up to three other friends to challenge each other in a fun and light way. VOLTA Arcade is just that, that is, it's a collection of eight party games that mix soccer with other things.
The most famous is certainly soccer-
tennis
, but there are also captive ball, Disco lava (you have to avoid the parts of the field lit up), quick goal (where you have to quickly replicate the goal shown), Wall Ball Elimination (a sort of poisoned ball), Team Keepaway (a sort of bull in which you have to occupy as many parts of the field as possible), Target Gallery ( a shooting range) and Corner Scramble (where you have to fight for possession after a corner).
Playing with friends
Interacting with other players in FIFA 22 Volta is all Beyond to freaky modes, VOLTA's other focus is on the social side of football. For this reason EA Sports has tried to simplify the way to be online with friends within the VOLTA Squad. It is a sort of online lobby created by friends in which you can enter at any time with your very stylish avatar so as to organize yourself to quickly start with a few games of VOLTA Arcade or adrenaline-fueled 4v4. In this case, the positions on the pitch have been removed, in the name of freedom and a good game.
In FIFA 22 many operations have been simplified, such as how to invite your friends or players met in the last games, or the possibility has been given to switch from VOLTA Squad to VOLTA Arcade without having to recreate the team.
Furthermore from this screen it will be possible not only to see the style of your friends, but also to consult their statistics, see their specific skills and understand what they are doing, if they are in a lobby or if they are making some purchases.
With your team you will be able to face the new Seasons. Similarly to what we said in the preview of FIFA 22 FUT, EA Sports has decided to divide its competitive year into six-week tranches, in order to give players medium-term objectives, but which are renewed every little to keep always fresh. the competition.
Each Season, moreover, can have a specific theme that will influence the unlocked objects, but also the game environment and the proposed objectives. There will be some weekly and other seasonal ones, in order to give any type of player, both the occasional and the most assiduous one, the possibility of having things to unlock and a reason to return frequently to VOLTA.
In FIFA 22 VOLTA could not miss many improvements in terms of personalizing your alter ego, with new garments signed by some of the most prestigious brands such as Adidas, PSG x Jordan, Killa Villa, but also others created specifically by the FIFA 22 team.
Style is not everything, but almost, even in stadiums. In time we will play City-X, a futuristic neon city in which VOLTA is "set".
What's gone
A game of FIFA 22 VOLTA Evolving a mode it means adding new things, but also deleting others, if these are no longer functional with the game system. For example, alchemy, a parameter inherited from FUT, has been eliminated. VOLTA's focus is on playing with friends, so imposing stakes such as roles or team alchemy could block two or more "incompatible" players from joining. In this way, however, everyone can do more or less everything on the pitch, with a change in positions that will be influenced by the pace of the game and not by choices in the character creation phase.
For this reason too they are both the single player mode (The debut) and the possibility of recruiting famous players to compose your team have been eliminated. In VOLTA EA Sports wants you
to play with
friends or at most make new ones, in case you don't have enough to take the field. By also eliminating Online Play Only, the development team wants to push you to face other humans, get to know them, but above all to build a community that is as active and collaborative as possible.
This long initial presentation ends with VOLTA of all the news of FIFA 22. A few years after its introduction, VOLTA
is looking for
its place within the package offered by EA, trying to create around itself an active and proactive community of players. The rest will be done by the ability of this chapter to win over new players thanks to the new Hypermotion Technology. FIFA 22 will be released on October 1st on all platforms, but before that day we will have other opportunities to talk about the game.
CERTAINTIES
Social spirit Mode with a strong personality Easy to approach DOUBTS It always seems plus a foreign body in the FIFA 22 package Have you noticed any errors?