Stray: Our preview of the intriguing feline adventure coming to PS4, PS5 and PC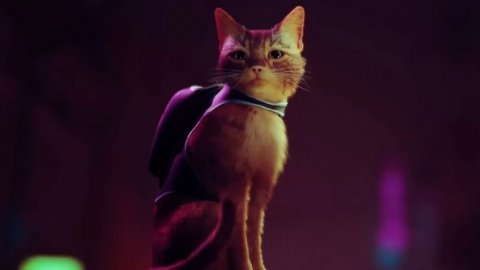 Stray
Announced in June of last year, Stray is back to tickle our curiosity, this time with a gameplay trailer shown at the Annapurna Interactive Showcase that reveals a lot of the mechanics of an action adventure capable of arousing a lot of interest. .
The credit for so much attention goes at least in part to the fascinating setting that combines cyberpunk atmospheres, a genre again in vogue, with the walled city of Kowloon, often used by developers thanks to the suggestions it brings with it, but what makes this title special is undoubtedly its atypical protagonist: a simple cat.
Today, finally, we can say that we know him better, at least as regards the mechanics, animations and interactions that abound in a video of over 4 minutes that they have analyzed in our preview of Stray. Too bad that all this also coincides with the postponement of the game, arriving on
PS4
and
PS5
as well as on PC, to 2022, but as we know all too well, being in a hurry in video games is almost never a good idea, especially with a title which, by revealing itself, has confirmed to be hiding a lot beneath the surface.
Cyberpunk feline
A glimpse of Stray The arrival of the Stray trailer is important and not only because it shows delightful animations that cannot fail hit to the heart those who appreciate felines, but because it provides us with the definitive confirmation of how behind the idea of ​​a particular protagonist there is also a rather articulated game between puzzles, action and character evolution. All seasoned with a decidedly well-finished technical sector, at least according to what
we have seen
.
Stray is not a high budget game, but neither is it a budget developed title that is satisfied with the idea and the mechanics while neglecting the technical component. The environments, especially outdoors, reveal the indie nature of the project, but also highlight an intelligent use of Unreal Engine 4 by a team that has already shown its artistic prowess in the past. The guys from BlueTwelve grew up in
Ubisoft
Montpellier, the team of Rayman, Beyond Good & Evil, From Dust and the delicious Valian Hearts: The Great War.
It is therefore not surprising to see a very high attention to detail, both in the interlude sequences with a cinematic cut and in the game. In particular, as it should be in a game of this kind, the excellent animations of a sinuous, agile and sly protagonist who seem to be able to enjoy the small joys of life, such as a sip of water or a scratch a nice leather sofa, despite being separated from his family and being in a city that, however charming it may be, is also full of dirt and danger. Hence the importance of attracting the attention of someone who can help us, which does not seem to be a problem despite all the inhabitants of Stray's Kowloon appear to be androids.
A scene from the Stray All the bipeds you see, in fact, have robot bodies and a screen on their heads, but they don't necessarily have to be machines in every way. On the other hand, they react to the effusions of a lost feline, showing an empathy that suggests that somewhere humanity is still there, perhaps transformed into androids to escape a biological danger. In the game, in fact, the main threat seems to be represented by small shapeless creatures called Zurk, perhaps the only other organic creatures left in circulation and likely children of a large-scale contamination that may have forced humans to turn into machines.
Or we could simply find ourselves in front of a landfill, a city where old things, abandoned androids and waste, including dangerous ones, end up. But there is no need to get lost in fancy flights as the plot is important to give depth to an adventure.
Gameplay
A sequence of Stray For now,
what we know
about Stray is that the inhabitants of the city react to our presence and to our purr, they live in well furnished houses and are very useful for progressing. But they're not the only allies out there. At one point the trailer shows a sort of handheld connected to the body of the feline protagonist, from which a flying droid called B12 emerges and able to allow the furry quadruped to interact with mechanisms and inhabitants. Our doubt is that such a mechanic can prove to be a simple functional shortcut to bring the game back to more classic mechanics, but it undoubtedly has the important function of enhancing the basics of the gameplay by guaranteeing the possibility of opening safes, storing objects and using them directly. with technology.
In any case, the cat remains the protagonist with his agility, essential to escape the Zurks and environmental threats as well as to move freely through the streets of the city, with dynamic platform dynamics not too dissimilar to those of an Assassin's Creed. But we will not always be forced to flee. Going back to talking about
the evolution of
the character, at a certain point in the trailer the heroic four-legged can activate a sort of infrared lamp that sweeps away in a flash any organic fluff it hits. In addition, the trailer shows a reckless sequence on a cart and several puzzles that involve dropping some objects, in perfect feline style,
in order to
block mechanisms or open new paths in a game that could alternate linear sections, necessary to make sense of the puzzles, and more open sections.
A glimpse of Stray The exploration, however, should play an important role, at least according to the developers, in a title that is certainly not lacking in terms of care for the environment between neon, suggestive alleys and sewers. Some exteriors, as we have said, let the independent nature of the project shine through, but still there is no lack of charm among neon lights, ventilation fans, refractions and murals, while the interiors shown in the trailer, such as apartments and clubs, undoubtedly enjoy of a great care for the furniture that together with the movements of the cat contribute to giving the title an extremely realistic feeling but well blended with a clearly cyberpunk imagery between color palettes, atmospheres and androids design.
With the gameplay presentation Stray hasn't lost an ounce of charm. Indeed, he has further intrigued us by letting us glimpse, behind the peculiar protagonist, an articulated game, fascinating and characterized by a great attention to detail. Of course, the plot, the actual quality of the puzzles, the variety of gameplay and longevity remain
to be seen
, but the promises are definitely good.
CERTAINTIES
Atmosphere in quantity, also thanks to the correct use of 'Unreal Engine 4 Great care for animations and details Rather varied gameplay between action sequences, escapes and puzzles DOUBTS The independent nature of the project could weigh on longevity Too many shortcuts could detract from the uniqueness of the protagonist There isn't a day yet final release Have you noticed any errors?