Bravely Default 2 sold well on the Nintendo Switch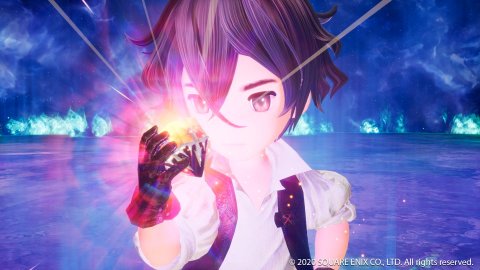 Square Enix has unveiled the sales figures of Bravely Default 2 on
the Nintendo
Switch. Launched on February 26, 2021, the game has sold more than 950,000 copies worldwide. A very good result, but not exciting, considering the sales of the predecessor, which exceeded 3 million copies.
However the publisher is satisfied, so we can consider the game, made by the same Octopath Traveler, a success . A few days ago the PC version of the game was announced. Let's read the official description:
Under the guidance of destiny, it will be up to you to stop the forces that threaten these heroes and all of Excillant.
A new chapter in the Bravely series.
A new world, a new story and new Heroes of the Light.
"Four new Heroes of the Light enter the scene"
Seth
The protagonist of this story, a young sailor who is shipwrecked on the continent of Excillant. Here he meets Gloria, an exiled princess following the theft of the crystals from her kingdom, and sets out on a journey to help her find them.
Gloria
The princess of Musa, a kingdom that once guarded the harmony of the world. With the loss of her Crystals, however, the kingdom is in ruins. Desperate, Gloria first decides to hide herself, and then set out in search of the Crystals.
Adelle
A mercenary on commission. She travels along with Elvis as she bodyguards her while searching for the Asterisk.
Elvis
A scholar who travels the world in search of a specific Asterisk he needs
to understand
the latest book of spells left by his master.
In addition to the traditional turn-based battle system that combines classes and skills, you will be able to enjoy the strategic and innovative battles of the Bravely series by taking control of turns using the Brave and Default commands.
Brave and Default
Brave points (BP) dictate how many actions a character can use in a single turn. You can choose the "Default" command to accumulate three additional PBs to use in one turn, or use "Brave" to be able to use more than one PB to perform various actions. The balance between the accumulation and the use of PB is the key to winning battles.
Classes and Skills
Each character can have both a primary and a secondary class, each with their own specific skills. The combination of classes allows you to manage two skills at the same time. You can create a balanced character in both offense and defense, or perhaps one who specializes in magic. The tactics and character development are in your hands.
Acquire new classes
"Asterisks owners" will often block your way. By defeating them, you will get an Asterisk that will allow you to change classes.
Source Have you noticed any errors?