No Man's Sky, the first 5 years of the Hello Games masterpiece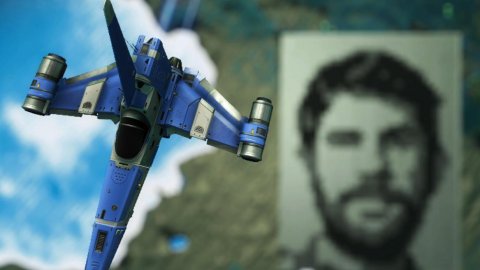 No Man's Sky
Five years ago, two weeks ahead of its official debut, I uploaded No Man's Sky to
PlayStation
4 and was stunned. It wasn't what I expected, but it was already all I could wish for. Sean Murray's releases had been bombastic, but knowing how to divide by three what designers usually say I would have accepted anything, as long as it was worthy of my attention. And that game, the primordial soup of an idea, was absolutely worthy of my attention: dusting off part of the very old, and much loved by me, Captain Blood on the Amiga, tying it to a procedural system with intermittent colors and sound carpets orchestrated in real time, Hello Games had given birth to a sinuous, lysergic, as shapeless and rudimentary dream machine. At the time I defined NoMan's Sky as a sort of Brain Machine / Mind Machine, equipment in vogue in the 60s and 70s and designed to induce, through sound and light pulses calibrated in the dosage and rhythm, deep states of relaxation, even reaching alter states of consciousness as electronic shamans. Practically an alternative to psychedelic drugs that were the most popular in the two decades mentioned.
A shapeless universe
The seventeenth expansion of No Man's Sky should arrive soon, once again free for all, and perhaps among the largest ever made by Hello Games. No Man's Sky was a shapeless project and for this same reason for many indigestible, but contrary to what most remember, Hello Games only needed three months and a first expansion to start giving a square to the experience. The game was released in August and the Foundation Update arrived in November and it was not just a way to regain the trust of the disappointed public, from this point of view it was not enough. Five years and sixteen updates later, most of which are substantial, we can safely say that the Hello Games approach introduced with the Foundation Update, made up of free expansions to push the sales of the base game, initially chosen to apologize to its own. public, but which has since become a constant of success, has managed to create a positive precedent just as his sprawling debut created a negative one.
Many should take the Hello Games policy as an example, which also works because it is assisted by synchronized discounts upon arrival of the expansions, alternating with a full price that has remained unchanged since day one. This allows you to respect and pamper those who invest in No Man's Sky, but without devaluing the project in a counterproductive way.
A wonderful community
No Man's Sky is an ever-expanding universe, where time is circular and the adventures of the players are also divided into mathematical cycles. To understand all this, however, you will have to finish its beautiful main story! In these five years I have written about No Man's Sky many times, here on Multiplayer, also retracing all the updates released up to that moment, and that is why I will avoid repeating myself. I will not tell you how much it has improved over time, since it is self-evident. To celebrate this five-year anniversary I will instead rely on the strongest emotions that the Hello Games game has been able to give me and that has been able to give to those who have become millions of fans along the way. Incredible how in this short period of time, from the scam of the century the game has become a success on every front, able to slip into the space simulation genre without really being one. In fact, the system is typically arcade, while drawing heavily on what is proposed by pillars such as Elite by David Braben, and the past iterations of the dream signed by Chris Roberts, currently engaged in the Star Citizen project.
Despite the different similarities, No Man's Sky remains a unique experience of its kind, and its not taking itself seriously has allowed it to cultivate a simply happy community, as opposed to the customers of other games that continue their acquaintances with a perpetually dissatisfied approach. Spin this beautiful meme, for some time now, that you see Elite players complaining about the few steps taken over the years by their favorite game, those of Star Citizen constantly struggling with bugs, while No Man's Sky fans are immortal all committed to ride flying creatures screaming a carefree "weeeeeee" towards fluorescent woods. Well, nothing more true.
Programmed Iridiscence
The organic spaceships of No Man's Sky are among the most difficult to obtain: they require the purchase of a particular egg which must be treated with extreme treatment. At the end of the procedure, however, you will have a ship different from all the others. Not that the Hello Games game is perfect, far from it. But starting from the initial disillusionment, every novelty is well seen, moreover there can be no doubts about it: the small British software house has really worked on its biggest and most risky project with all the love of this world, and certain things are also perceived when you are on the
other side of
the fence, with the pad tight in your hands. No Man's Sky fills you, with colors, with music, with the unexpected even after hundreds of hours. No Man's Sky shocks you with its deep, innate beauty, a charm that also makes it an amazing wallpaper generator. In five years, I have collected the beauty of almost 1500 shots, a number that makes No Man's Sky the game I have photographed the most along with the latest Rockstar Games productions, where even a hidden bench who knows where is a small masterpiece in computer graphics.
The colors of the game Hello Games are the thing that most upsets, colors that multiply thanks to the HDR technology that seems made especially for this infinite adventure. Taking pictures at No Man's Sky is particularly fascinating because you know that, net of mathematical formulas destined to repeat themselves, what
you go to
immortal is something you can keep to yourself, and without providing the address other players will hardly come across it. The orange sky appears in a million other planets, this is true, like certain particular plants, but it is in the composition that the uniqueness emerges that then pushes you to take off again and again, in search of that procedural miracle that perhaps, who knows, only you have found it.
The best of Sci-fi
What continues to be lacking in No Man's Sky is a different danger from the usual sentinels, space combat that really puts the player cornered. No Man's Sky explodes in those two twin planets that collide around the sun, in the chromatic combination that permeates between clouds that run as you never saw before, in the absence of colors that makes the very ground on which imposing saurians run that you did not believe shine. possible so big and ferocious, not even after hundreds of hours, and that here they survive wrapped in a black and white that at night takes over from an equally shocking yellow and purple. It is pure synaesthesia, where the deception goes so far as to make you believe you can taste the taste of a sound or hear the color of a planet. After all, the music changes according to what surrounds us, without fear of being forgotten when there is simply to hide, thus leaving the whole stage to the chilling silence that emerges from dead galaxies. A style that deliberately recalls that science fiction imagined and painted by artists such as Carlo Fruttero and Kaler Thorle, for an imagery that draws the best from generational writers such as Robert Sheckley. The emotions are often the same: here too we feel small, we feel great, we feel invincible and a few moments later desperately fragile, in a context that constantly changes rules but still not as it would like, not as it could.
Infinity or a new beginning?
Thanks for all the adventures you have made us live, Hello games! But Joe Danger wasn't bad either, in fact he was just a hoot. And in the meantime the game has grown, become
more and more
beautiful, multiplayer has been added, dozens of people colonize planets side by side, while others proceed solitary as in the beginning. No Man's Sky is nobody's sky now within everyone's reach. And this is enough to say something I've never said before, unbalance myself as I never had the courage to do, despite never hiding the natural affinity I have with this title: after five years and sixteen expansions, after over 700 hours and I don't know how many restarts anymore, No Man's Sky is easily placed among the games I loved most, the position that should be guaranteed to every true masterpiece. Hello Games, Sean Murray, have created something unique, literally extraordinary, which to his detriment also turned into a wonderful story of redemption and which, like it or not, is destined to be remembered forever. With its slips and its ascent from the underworld, up to the turning point that decreed its immortality, No Man's Sky is already an integral part of
the history of
video games.
Who knows if in five years we will still be here talking about a bigger and bigger No Man's Sky, or will we be busy waiting for the first expansion of No Man's Sky 2. What would you bet on?
Have you noticed any mistakes?