Far Cry 6 - What We Would Like in ....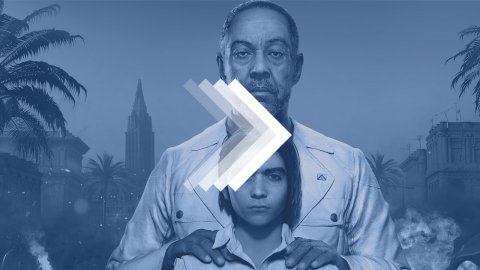 What we would
like in ... is a monthly column dedicated to the
most anticipated game
s by the public. But compared to traditional previews, it treats the topic more widely, imagining what a title might look like, or how you'd like it to be, rather than what it will be like.
Far Cry 6 postponed first to March 2021, then to a later date with respect to the launch window originally scheduled for this February, we still don't have an official release date. Indeed, to be honest we also have little information on various elements of the game, if we obviously exclude leaks and various indiscretions. So, waiting for concrete news, we tried to draw up a series of tweaks and additions that we would like to see introduced in the game to make it more interesting in our opinion.
War in the Caribbean
Far Cry 6: Giancarlo Esposito is among the protagonists Far Cry 6 will obviously be an adventurous first-person shooter that will take up the general setting from its predecessors, while trying to detach itself in part, further refining the gameplay, varying it where possible with the inclusion of a fair number of new features and some
more or less
original ideas. And we could be fine like this: after all we do not expect who knows what changes to a formula that we like as a whole, but only a few new, good and well implemented within the universe of the series.
Far Cry 6: the Caribbean setting The title will tell, in current and next gen, of a timeless Caribbean island, Yara, controlled by a ferocious dictator, Antón Castillo (played by Giancarlo Esposito). He is ready for anything, stifling any contrary voice, even to sacrifice his entire people for his own interests, in particular to restore Yara to the glories of the past, and which therefore some rebels aim to bring down at all costs. Among them is the protagonist of the video game, the guerrilla Dani Rojas, who will be, at the user's choice, male or female.
Far Cry 6: the resistance
will have to
exploit "do-it-yourself" weapons Starting from these elements, we would like to
be able to
live a more interesting story than usual, with a more choral and multifaceted story, and therefore full of highlights and twists, where the presence of protagonists and antagonists proves to be of a certain weight, both in terms of charisma and background. The fact that in Far Cry 6 the main character controlled by the player will have a face and will appear during the cutscenes leaves us to hope in this sense, given that this choice of the developer implies his desire to give even more body to the story. .
Classic gameplay but with some new features
Still in terms of story, we would like to see a system in the game that influences the game environments and relationships with the other inhabitants of Yara , to give us back, as far as possible, a dynamic world in continuous transformation, where the flow of some events could change during construction. With regard to the general gameplay, as written in the previous paragraph, we expect the game to follow the formula of Far Cry 5 and the series in general, but refined, extended and refined in all its facets. So much freedom, both in movement and in fighting techniques, whether they are more direct or stealthy.
Far Cry 6: for the first time there will be a big city to explore All seasoned with additions and all 'interior of more spacious scenarios, between lush forests and white beaches, mountainous areas perfect for ambushes and an urban center, the capital Esperanza, which goes well with urban combat and guerrilla actions, with an opening of the saga to verticality that could completely change the approach to certain clashes. In Far Cry 6 it will be possible to use vehicles, which we hope will play a particularly substantial role within the game experience and obviously a fair number of makeshift weapons. In the game it is also rumored that it will be possible to build every single gadget from makeshift tools.
The art of DIY
Far Cry 6: a chase scene So let's hope to be able to indulge in reproducing handcrafted weapons of various shapes and power in relation to the type of material that we will be able to find on the island, recycling pieces of guns, rifles and other gadgets stolen from the enemy, or sharpening the wits and adapting and reworking objects of common use for new war functions. We would therefore place great emphasis on exploration and crafting. We would like the areas to visit to be many, really large and full of things to do and discover, not only in order to find useful material for the production of weapons, explosives or other resources.
Far Cry 6: there will also be a companion on all fours. It is also important that each being returns the right feedback in relation to weight, material and other factors, to make the shooting phases more interesting. We then expect that one of the new, important elements already announced, namely the presence of animals, the Amigos, usable by the rebels, has been well studied. In this sense, we hope that their presence is not just a side dish or thought of only as an extra element, but that it has a specific weight in the clashes and tactics to be adopted during the fighting or ambushes. Using them to distract the military at a roadblock or to quickly transport ammunition from one point of the battlefield to another to comrades in need could be interesting for example.
Last but not least, it would be nice if they were included also destructible environments and a cooperative mode worthy of the name. The one present in Far Cry 5, in fact, in our opinion was a half disappointment. In this chapter, therefore, we would like this game option to be properly refined, so that the guest player can maintain game progress, be able to move away within a greater range of distance and integrate more specific cooperative skills. All this would be enough for us to be satisfied with the game. Far Cry 6 seems to have, in general, everything that the series has always brought us to the screen, plus some unpublished related to the protagonist, to the weapons and to a really interesting cast.