Xbox Game Pass, December 2020: the first free games of the month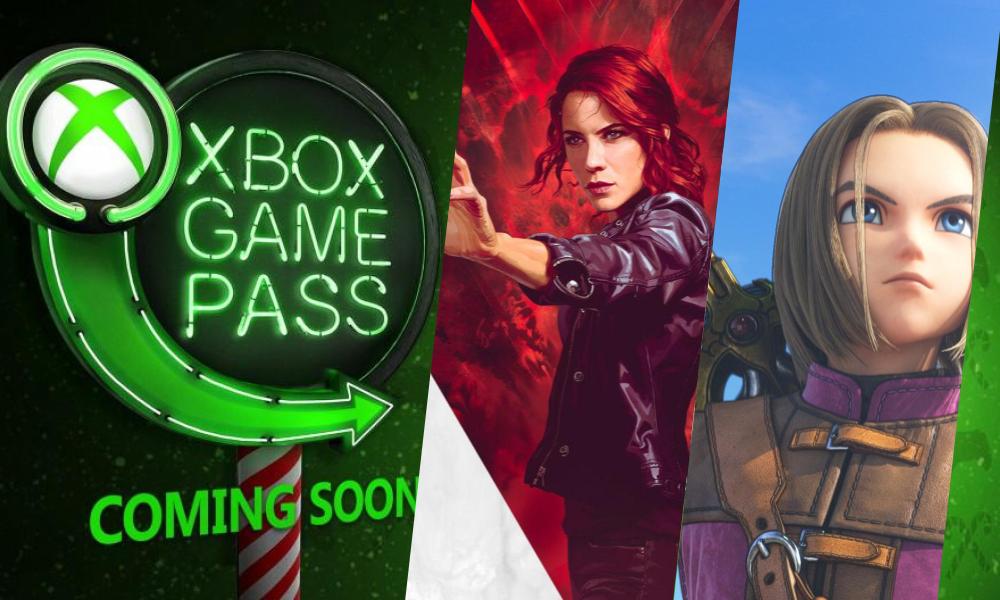 Xbox
Game Pass starts its December 2020 with a really large and important batch of new free games for subscribers, with 17 titles added to the catalog, also considering those included on the PC platform and on Android (i.e. on xCloud). The beauty is that this apparently is just the beginning, since
Microsoft
has made it clear that it is only warming up in view of the Christmas holidays, so we really can't wait to find out what else awaits us during the month. , with this update coming so early in early December, there is certainly room for another batch of games in a couple of weeks but maybe even a third towards the end of the month, consequently the amount of titles to be added to the catalog will be remarkable. We also remind you that at the moment the promotion is active again to get three months of Xbox Game Pass Ultimate for 1 euro, valid for those who are not already subscribed to the service.
Control - Android and Console, December 3
A strange story, that of Control: it seemed to have arrived in the catalog practically a year ago but then it appeared instead on PS Plus. The fact is that in the end it also arrived on Xbox Game Pass, giving the possibility to subscribers to finally try this excellent action adventure with shooter elements with supernatural implications from Remedy. To the usual quality of the Finnish company, in technical and gameplay terms, is added here a truly very original setting, capable of mixing sci-fi and supernatural elements, which captures inside and accompanies us in its mysterious meanders.
DOOM Eternal - PC, December 3
After the great reboot operation of 2016, DOOM Eternal is the consecration of the series in the new millennium, going to evolve and enhance the aspects that have worked with the previous chapter. Following last month's release on Xbox, PC users with Game Pass can now take part directly in this party of violence and gameplay on their own platform, in case they haven't previously. Nominated to be one of the games of the year 2020, DOOM Eternal is simply a spectacle, managing to re-propose the frenetic gameplay of the original first-person shooter with a more complex structure.
Haven - Consul and PC, December 3
An intergalactic love story and the conquest of freedom, this is basically Haven and it is certainly not a starting point for little. A bit of the new Romeo and Juliet, Kay and Yu are a young couple forced to flee to a distant planet in order to live together free from external constraints, but their love is still hampered by a series of difficulties linked to a sort of corruption. mysterious that pervades the planets. Controlling both characters, we find ourselves exploring alien worlds armed with flying boots, clearing areas of darkness, managing resources and cultivating love.
Rage 2 - Android , December 3
The first chapter by id Software was received in a mixed way, but still represented a new beginning for classic FPS. The sequel in some respects appears less strange but it is probably a much more complete game in terms of gameplay, content and narration. Rage 2 takes up the particular futuristic setting of the original and bends it even more in the style of Mad Max, pushing the maximum on madness and bringing action and bizarre situations to paroxysm, always with a good dose of self-irony to manage everything. In addition to this, the gameplay is solid as per tradition.
Slime Rancher - Console and Android, December 3rd
Released somewhat quietly, Slime Rancher it has become in its own way a cult game, still played by a good community of users fond of Beatrix LeBeau and her adventure in an alien world. The game is a bizarre mix of an FPS, a management system and a title focused on the collection of creatures: the protagonist is armed with an arm capable of sucking in the bizarre alien creatures made of slime that she meets and then shoot them where she wants: the aim is explore the planet, create a real slime farm and make a lot of money, possibly by discovering as many different types of slimes as possible and making them mate or evolve to always discover new species and related "plorts" to collect. br>
Va-11 Hall-A: Cyberpunk Bartender Action - PC, December 3
The subtitle, strange as it may be, is a rather precise description of Va-11 Hall -A: Cyberpunk Bartender Action, which actually puts us in the shoes of a bartender in a cyberpunk future where people are struggling with an ultramodern society but continue, it seems, even on old and established habits. Among these is confiding in the bar over a drink, and letting the bartender listen to the conversations and encourage them with some well-cooked alcoholic concoction. Jill Stingray, the bartender in question, therefore finds herself taking an active part in the lives of her customers, suggesting from time to time the decisions to be made through the creation of the right cocktails.
Yes, Your Grace - Console, PC and Android, December 3rd
The management software that puts us in the shoes of kings has taken on a remarkable consistency over the years and Yes, Your Grace is a consequence of this, being a very dynamic and fast, but no less complex, than games that place us in the management of extended territories. In Yes, Your Grace we are the kings of the kingdom and we must control it as best we can by listening or not to the continuous requests of the people, calibrating donations and investments and obviously moving in constant balance between diplomacy, the cautious approach in the management of politics and economics and war. All this also within a narrative framework of considerable depth, which alternates dramatic elements with a good humorous background tone.
Dragon Quest XI S: Echoes of an was lost Definitive Edition - Console and PC, December 4th
Undoubtedly one of the most important games of this release, Dragon Quest XI S: Echoes of an Elusive Age is worth twice as much because it makes its absolute debut on the Xbox coming directly within the
Xbox Game Pass catalog
, as a sign of the famous commitment that Microsoft said it had made towards Japanese video games. This is the "definitive" version of the JRPG Square Enix, thus containing all the additional content published on
Nintendo
Switch after the original edition, therefore the best way to enjoy the adventure to its fullest extent. There is a lot of classicism in this game and that's exactly what fans of the series and genre want from Dragon Quest, so good adventure everyone.
Call of the Sea - Console, PC and Android, December 8
Presented among the first titles for the
Xbox Series X
during the showcase last May, Call of the Sea immediately earned a prominent place among the most interesting indies expected on the platforms Microsoft. It is a first-person adventure focused on storytelling but also on solving puzzles and exploration, characterized by very special settings and atmospheres. Inspired by the adventure novels of the 1930s but with an almost horror vein in its references to Lovecraft, the game tells the fascinating story of a woman in search of her missing husband, which will lead her to explore a mysterious tropical paradise full of oddities and puzzles to solve.
Monster Sanctuary - Console and Android, December 8
Among the various intersections of genres that we have seen appear in the indie field in recent years, perhaps this was missing from the scene: Monster Sanctuary is a particular mix between a metroidvania and a Pokémon-style monster capture and training game. This makes the structure of the game obviously very original and also quite deep, putting in the hands of the players a wide range of elements to be kept under control and managed, even within a gameplay that is in any case immediate and fast, as regards the aspects in platform style. Puzzles, fights, RPG-style progression and creature collecting are therefore all fused together in this strange and interesting game by Moi Rai and Team17.
Starbound - PC, 8 December
A fully procedural generation space epic is the ambitious goal of Starbound, which on the other hand also has a considerable narrative basis, for a title of this genre. It is a space adventure that sees the protagonist embark on an incredible adventure to save the universe from a terrible threat called Ruin - not for nothing - using a mysterious object called a manipulator of matter and a spaceship to travel from a planet to the other. Exploration, space travel, resource gathering, crafting and adventure come together in a particularly convincing way in this Chucklefish title, a strange experience definitely worth trying.
Unto The End - PC and Console, December 9
Action, adventure, survival and platform come together to tell an epic story in Unto the End, a game that tells a desperate journey home to a sort of Viking fighter, a father who tries to return to his family. Armed with a sword, dagger and ingenuity, the protagonist finds himself having to overcome in strength and cunning creatures and fighters he collides with while exploring different environments on the long return journey. In addition to the obstacles and environmental puzzles, great challenges come from these fights, which must be faced using logic and alertness, observing the behavior of the enemies and exploiting the weak points that can be discovered in their fighting style.
Assetto Corsa - PC and Android, December 10
The result of a long work of constant refinement by Kunos Simulations, Assetto Corsa is one of the best driving simulations currently available on the market. It is a challenging game, properly related to the field of simulations but also with a certain scalability of approach that allows even the less experienced to be able to play and enjoy it based on the adjustment of various parameters and different game modes. The excellent driving model is also combined with a very meticulous reproduction of cars and tracks, which is reflected in the different behavior of the various cars and in driving styles to be adapted according to the real circuits. In short, even on the driving simulation front, the Game Pass is now covered.
Gang Beasts - Console and Android, December 10
Inside the crazy games at deviated physics base could not miss also a nice multiplayer melee fighting game, and here is Gang Beasts to fill that void. Inside various arenas taken from the most infamous environments of the "Urbe Bovina", full of deadly dangers, gangs of thugs with a mighty pudgy body collide, intent on beating and pushing each other using the typical flawed physics of Human Fall Flat titles. and Totally Reliable Delivery Service. The aim of the game is to defeat the opponents in hand-to-hand combat, using holds, pushes and blows from orbs in general, also trying to attack in a coordinated manner as far as the controls allow. In short, good laughs are guaranteed.
GreedFall - Console and Android, December 10
An RPG set in the colonial era is in itself something original, but if you add to this also elements in a fantasy style then the question becomes really interesting: GreedFall, developed by Spiders, started from really good premises and perhaps did not manage to perfectly develop its potential, but it remains a very special and recommended experience. . A new colony seems to represent the earthly paradise necessary for an old world population afflicted by an incurable disease, but even this unexplored and wonderful territory hides magical and disturbing secrets, all to be discovered. In the role (not common in a classic RPG) of a colonist explorer, we are therefore facing this strange contact with a new civilization and reality.
Superhot: Mind Control Delete - Console and Android, December 10
The third chapter of the particular series in which time advances only if we move is also arriving on Game Pass. Superhot: Mind Control Delete introduces new challenges and deepens the game mechanism which obviously is based on what we have seen in previous chapters: that is, the fact that time flows according to our movement, creating truly special situations and moments of slow motion gameplay . The new chapter also delves into elements of the story and the strange lore behind Superhot, allowing us to discover something new about this particular world and the situation in which the protagonist finds himself.
Yooka-Laylee and the Impossible Lair - Console, PC and Android, December 10
The first Yooka-Laylee was born as a tribute to classic 3D platformers, a genre now disused at least among modern heavyweight productions in the gaming industry. The project is so successful that it has generated Yooka-Laylee and the Impossible Lair, a direct follow-up to the first chapter, able to enrich its structure, gameplay, game situations and the technical sector. The main creative talents of the old Donkey Kong Country have given their ideas in the creation of this sequel, which represents an even more complete platform thanks to 2D sections, puzzles and many different game situations that make the experience extremely varied. br>