It Takes Two, the preview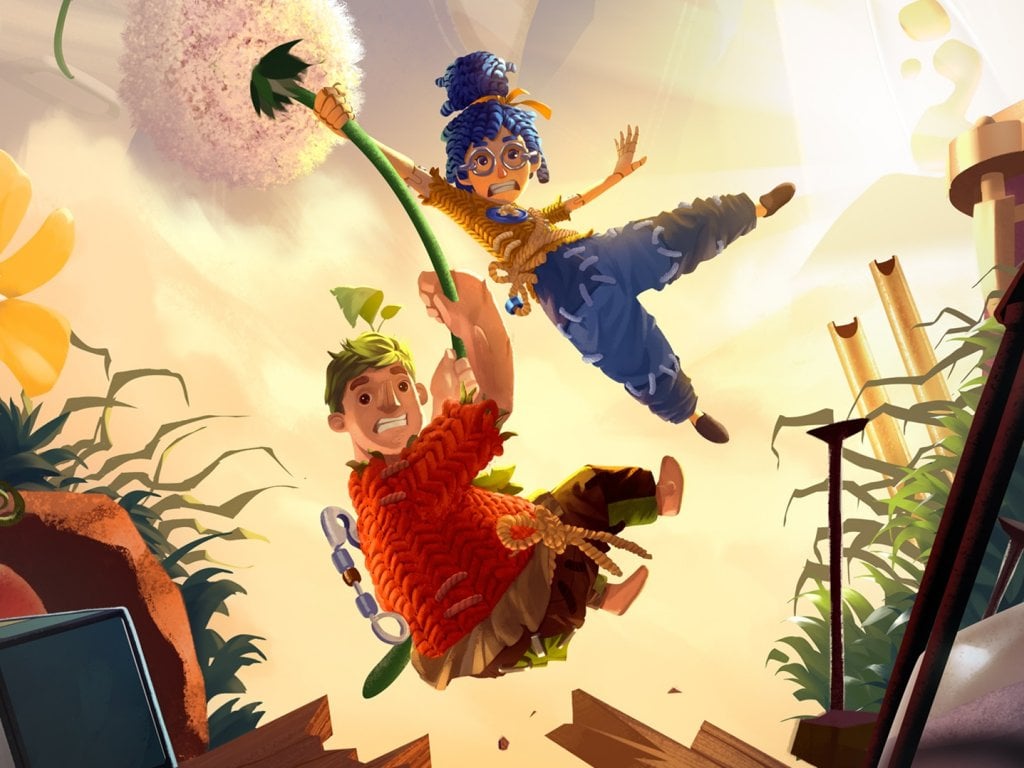 Hazelight Studios seems to have a passion for cooperative video games: after the success of A Way Out, which staged a daring but functional prison escape, it was the turn of It Takes Two. Presented with the first official trailer during
The Game Awards
, the new title of the Swedish development studio revolves around the same concept that saw us protagonists, together with a friend, in the story of Vincent Moretti and Leo Caruso. This time, however, there is no prison to escape from, nor will we take on the role of two criminals, indeed the tone of both the narrative and the gameplay itself could not differ more: always following the logic of cooperation (online or local), we will be called to interpret Cody and May, husband and wife transformed into dolls by a spell and catapulted into a world beyond the imagination, where the unexpected is always around the corner and to get out of which they will be forced to collaborate. Who knows, maybe they'll heal the cracks in their relationship too.
Like in a Pixar movie
The first impression you get when watching the trailer is that you are in front of a Pixar movie. Hazelight has created a game that, in terms of concept, style and atmosphere, goes very well with some productions of the film company. Irreverent, colorful, embellished with a humor that always seems to seize the right moment, It Takes Two invites us to embark on a crazy and exciting journey, whose playful core is cooperation but at the narrative level it is once again love that reigns supreme. . A way of telling it different from the recent Haven, which focuses on the living fire of a young and burning feeling: that of Cody and May on the contrary is an extinguished flame, which could be revived precisely by this forced cooperation. Together they are stronger, better, and only by learning to understand and fill each other's gaps will they be able to overcome the disruptive challenges they will face - such as piloting a pair of underwear or DJing in a lively nightclub. Hazelight is once again ready to give her all, choosing a more cheerful approach to re-propose a game system that has been known and established over time.
Taking the words of Josef Fares, It Takes Two it is the sum of previous experiences, a new starting point to do better and better by connecting narrative and game mechanics for an even more fluid experience. Of course, only by trying the game will it be possible to fully understand the progress made by the development studio, but at a first glance the variety of situations is evident and with it the numerous approaches to solve challenges in continuous evolution, which only a strong synergy with our partner will allow to overcome. Hazelight has created a huge playground in which to experiment, letting the imagination run wild: there does not seem to be an equal context and the curiosity to understand how far they will be able to go without risking engulfing the project, cramming it like a turkey on Thanksgiving, it's strong. Because the risk of overdoing it is unfortunately always around the corner but the developers have more than deserved our trust. From our A Way Out review, the main flaws were two apart from occasional glitches: an annoying split screen layout and above all the exaggerated simplicity of the experience. Especially with regard to the latter, our hope is that the multiplicity of challenges will this time put us to the test, while trying to remain in the context of a carefree and fun game.
Simpler with the Friend's Pass
To crown this little but surely explosive adventure, there is the Friend's Pass: a system already tested for example with Man of Medan, it allows a friend to join to the game without having It Takes Two. A single copy is therefore enough for two. Finally, let's not forget that the game is also developed for
PlayStation
5
and Xbox Series X
/ S: by purchasing the previous version, the next gen update will be free on the day of launch. In short, in summary we have an exciting adventure built ad hoc for two, full of constantly evolving challenges that can only be solved by collaborating and, with their charge of madness, aim to never get bored. Not only that, Hazelight aims this time to blend gameplay and story as much as possible to push the boundaries of interactive storytelling - led by the bizarre Dr Hakim, a kind of couples therapist on caffeine who in this case takes the form of a book. It Takes Two is a cooperative platformer with which the developers intend to overcome themselves, a crazy rollercoaster ride that has no real end: or rather, according to Fares' words it does but it is not as obvious as it may seem. .
It Takes Two is an adventure that blends the style and atmosphere typical of a Pixar film with the creative flair of Josef Fares and his team: a game that presents itself as the sum of previous experiences, aiming to offer us an interactive narrative that is deeper than ever. Cory and May have already entered our sympathies, thanks to a very well-constructed trailer, but behind their somewhat stinging and sarcastic interactions there is a melancholy story about the couple's relationship, the joys but also the difficulties that this entails and how learning to know and accept mutual differences is the key to being able to heal the cracks in a relationship. On a playful level, It Takes Two is an explosion of crazy, colorful and potentially bizarre situations, of which only a hand test can confirm the intentions. If Hazelight manages to polish off the smudges of A Way Out, specifically by developing an experience that is stimulating and that makes the split screen less annoying, the game has all the potential to turn out to be a small, fun and colorful gem.
CERTAINTIES
Colorful, captivating and fun Cody and May already have our sympathy Lots of situations with which to test DOUBTS The potential of the game must be tested first hand Will be able to prove a little more challenging than A Way Out?