Black Friday 2020: The best offers at Materiel.net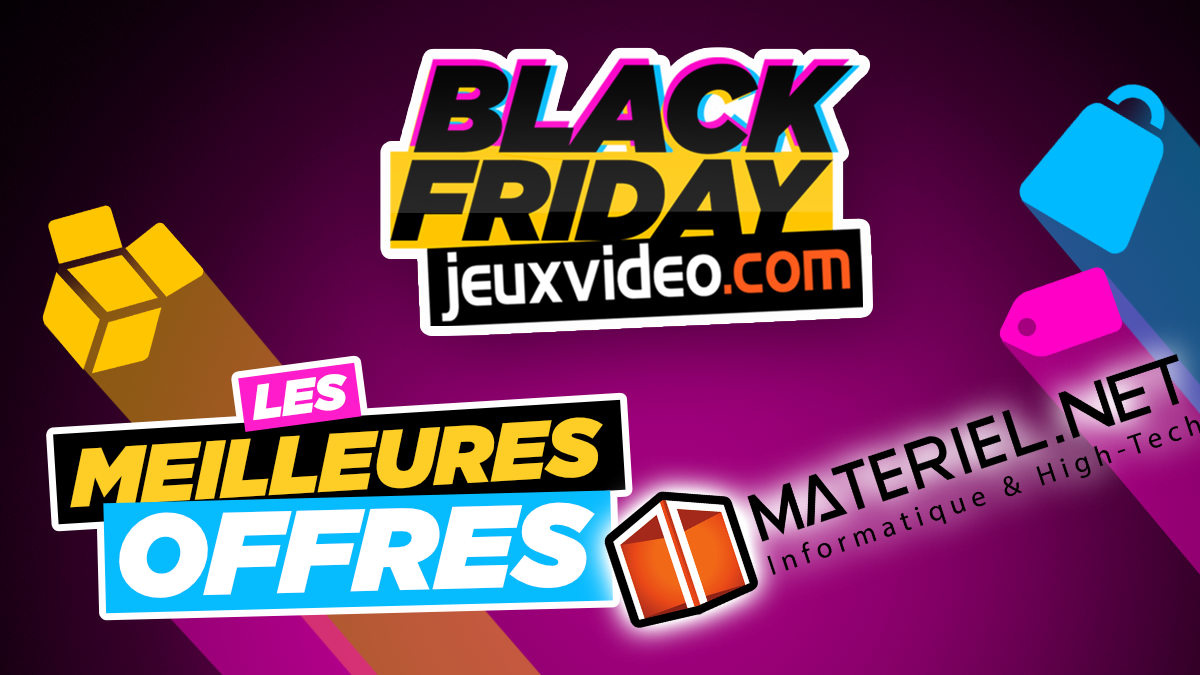 Since the start of the week, the Materiel.net sales site has been increasing the number of offers targeted on computer hardware, gaming computers and peripherals. Come and find the best
Black Friday offers on
this site selected by our experts.
The end of the year is rather busy with various and varied promotional events! We had the French Days reserved for French distributors in September and October was under the Amazon flag with the Prime Days. With so many promotions, some great deals have emerged like 4K Oled TVs under $ 1200, LG and Samsung sound systems under $ 200 and other great deals. At Materiel.net, you can obviously find computer equipment, but also televisions and microphones.
We have selected the best Materiel.net offers of the day on products approved by the editorial staff. We will update this selection daily in order to be as close as possible to current events and to inform you as a priority of the good deals not to be missed!
Connected TVs and PC monitors
The 55 "OLED TV Panasonic TX-55HZ1000E at 1189 € instead of 1989.95 € Buy the 55" 4K OLED TV Panasonic TX-55HZ1000E at 1189 € at Materiel.net
With the release of New Gen consoles, whether pro-
Sony
or pro-
Microsoft
, switching to UHD seems to be a necessary choice. Materiel.net makes it possible to achieve this passage while making a significant saving. Panasonic's 4K UHD HDR OLED technology TV goes from € 1,989.95 to € 1,189 with the code "TV". For the price we get a 55-inch (139 cm) TV screen format with OLED technology, resolution (3840x2160p) and display frequency of 100 Hz. The TV has been proclaimed the choice of Hollywood professionals and has a calibration mode for Netflix which ensures that the image respects the choices of the director. The TV also offers 1 optical digital output for 7.1 sound management, 4 HDMI inputs, 2 USB and 1 USB 3.0 and Google Assistant and Alexa compatibility. A TV tailored for gaming as well as for cinema.
The strengths of this TV: 4K OLED 55 "(139cm) 100 Hz Dolby Vision and HDR10 + HCX Pro processor Dolby Atmos sound My Home Screen 5.0 Mode Internet portal Netflix director and calibration The Gigabyte G32QC screen at 329.95 €
The Gigabyte G32QC screen at 329.95 € instead of 399.95 €
The Gigabyte G32QC is a curved screen which sees its reduced price of 70 euros. It has a curved panel (1500R) technology VA of 31.5 inches endowed with a resolution of 2560x1440 with a response time announced at 1 ms, which makes it a model clearly cut for video games. Its maximum refresh rate of 165 Hz ensures comfort and compatibility with the best graphics cards and consoles of the moment. Finally, connectivity level, you will enjoy 2 HDMI ports, 1 DisplayPort and 2 USB 3.0 connections.
Peripherals
-20% on the Logitech G915 keyboard
Buy the Logitech G915 TKL Lights peed - GL Tactile at -20%
Buy the Logitech G915 Lightspeed - GL Clicky at -20%
The Logitech G915, in two of its versions, gets a 20% discount % with a promo code on Materiel.net. So the version you prefer will necessarily drop below the 200 euros mark. As a reminder, the two versions incorporate ultra-thin GL switches for more speed and a sleek design. Both keyboards are wireless and work with Lightspeed technology which guarantees very low latency, ideal for games. Obviously like any self-respecting high-end mechanical keyboard, the G915 is RGB backlit, configurable on your favorite driver and includes macros on the far left of the keyboard to increase efficiency in MMORPGs in particular.
Ducky Channel One 2 Mini RGB Keyboard at -20%
Buy the Ducky Channel One 2 Mini RGB Keyboard for € 95.96 instead of € 119.94
Now , it is possible to enjoy a 20% discount on the Ducky Channel One 2 Mini RGB mechanical keyboard. A particularly compact keyboard with RGB backlighting, ideal if you plan to type in poorly lit rooms. To take advantage of the 20% reduction, you must enter the PANTHER code before finalizing your purchase. The offer ends on December 3, 2020. The Ducky Channel One 2 Mini RGB mechanical keyboard is 60% more compact than a classic keyboard to be carried everywhere while being efficient thanks to its Cherry MX switches! Compact but resistant and precise, its RGB backlighting is just one more asset to seduce you!
The Micro Blue Yeti X at 151.96 € or -20%
The Micro Blue Yeti X at 151.96 € instead of 189.95 €
Here is an offer that cannot be refused. 20% reduction on one of the best strem microphones on the market. With its selective directivity, the Yeti X adapts to all situations. Indeed, the Blue Yeti X can be posed in front of a commentator while it attenuates the noises coming from the rear, take a conversation between two people face to face, record an event in stereo and even play the card of the omnidirectional. And all of this is done very simply. With its front panel settings, input and output level control and headphone output balance, the Yeti X is a practical and easy to manage live microphone. Not to mention the support of Logitech's software suite, the G Hub, to take full control, including with effects of compression, equalization, etc.
We also appreciate the possibility of putting it on pole thanks to its thread integrated in the frame. An excellent micro USB, all terrain and very qualitative in its audio reproduction, and which we had delighted during its test.
Boost your PC
The Intel i7 PC upgrade kit + Asus Z490 motherboard + 16GB RAM goes from € 759.95 to € 599.95
Buy the Intel i7 PC upgrade kit + Asus Z490 motherboard + 16GB of RAM at € 599.95
In recent years, almost all hardware vendors have offered this kind of very practical pack. Indeed with an upgrade kit for a beginner who wants to build his PC, no need to bother to check if all the elements are compatible. Personally, I would add to this configuration a good thermal paste for the processor, a TB of SSD, a cooler and let's say ... maybe an RTX 3060 Ti.
This kit therefore offers less than 600 € with the code "NIGHTKIT": an
Intel Core i7
-10700k processor, an Asus TUF Z490 motherboard and 16 GB of RAM. The 16 GB of RAM has become a minimum to fully enjoy recent PC games. The motherboard has a maximum capacity of 128 GB, ideal if
you want to
add your old DDR4 modules, to make 32, for example. This model of motherboard is ideal for gaming with its ability to add two GPUs in SLI and above all, asus-style overclocking. Especially since the Core i7 processor will greatly boost your performance, whether in gaming, editing or multitasking with its 8 cores. Enough to upgrade your PC for future games in 2021.
Up to -35% on selected Corsair RAM
Buy Corsair Vengeance 2 x 8 GB RAM at 66, 95 € at Materiel.net
Buy Corsair Dominator Platinum RGB 2x 8 GB strips at 114.95 €
Large selection of Corsair products, in particular RAM sticks, which benefit from a reduction of up to -35% with a promo code at materiel.net. We offer 2 x 8 GB of the Vengeance model in DDR4 and the Dominator models, but know that there are many others and for all tastes: 2 x 16 GB, RGB or not ... '' 'The RAM, also called random access memory, is an important configuration element when it comes to video games. Today, switching to at least 16 GB of RAM seems to be the norm for current games, when you should not be boosted to 32 GB to be able to be quiet. The arrival of the New Gen will also precipitate the things in the acquisition of new bars. All the more reason to take advantage of it at a lower price during Black Friday.
Also read: The best offers and tips before Christmas to grab this Wednesday, December 2 The best hardware offers for
Black Friday 2020
Find our selection of the best mice and keyboards for PCs and consoles