Games out in November 2022 on PlayStation, Xbox, PC and Switch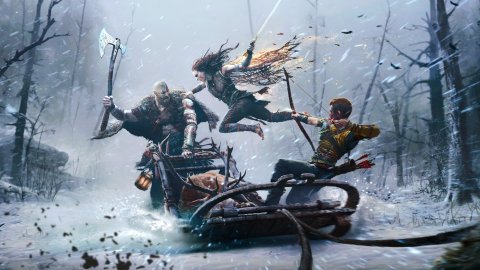 Games out in November 2022 on PlayStation
November 2022 is undoubtedly the month of
God of War
Ragnarok: the awaited PlayStation exclusive prepares to involve us in a new, exciting adventure in the northern lands as Kratos and Atreus face Thor and Odin to escape an ominous fate. But there are also many other games coming to PlayStation,
Xbox
, PC and Switch.
The
Nintendo
hybrid console will see the debut of It Talkes Two and Sifu, as well as the cloud versions of Resident Evil 2 and Resident Evil 3 , but the highlight obviously remains Pokémon
Scarlet and Violet
: the two editions of the last episode of the Game Freak series, which will not fail to thrill the many fans of this brand.
Then there are Marvel's Spider-Man : Miles Morales for PC, the crazy
Goat Simulator 3
, the very original Pentiment, the potential surprise of Sonic Frontiers and the debut of
Call of Duty
: Warzone 2.0, which will aim to renew the battle royale experience of the Activision shooter thanks to the introduction of several new features.
The Chant
The Chant, the protagonist struggling with a meditative session Out on PC,
PS5
and XSX on November 3
A survival that combines horror and new age? The Chant sets itself an ambitious goal, trying to stand out from the crowd thanks to a setting different from the usual, that of a remote island on which a sort of spiritual retreat takes place and which we will find ourselves visiting as the protagonist of the adventure , Jess.
Arrived in this place to detoxify from the stress of everyday life, the girl must instead face something unexpected and dangerous when a portal is opened to a nightmare dimension called "The Gloom", from which creepy creatures emerge. Who will live and who will die? We have made some predictions in our trial of The Chant.