ZERO Sievert: we interviewed Luca Carbonera, the Italian who developed it himself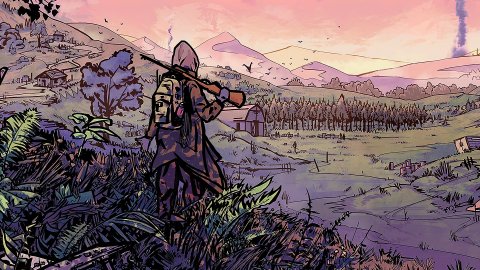 ZERO Sievert
When the project that an indie developer is building for passion, doing only what he likes, turns into a finished video game, excitement and anxiety mix in an exciting whirlwind of responsibility and opportunity. This is the story of Luca Carbonera, the designer of ZERO Sievert: a pixel art extraction shooter that he created completely by himself.
Inspired by Escape From Tarkov , Stalker and the Metro saga, ZERO Sievert
wants to be
"an entry point for the extraction shooter genre" said Carbonera, or those games in which you are catapulted into a map and, before you can save yourself,
you need to
recover resources and face the lethal threats that protect them.
We previewed the version that would be released in early access and it convinced not only us but many others Steam users who gave it 89% positive reviews. In this interview with Luca Carbonera we were told about the journey that transformed ZERO Sievert from a hobby to a full-time job, his inspirations, his doubts and his great satisfaction after the success of the early access.
ZERO Sievert is a top-down extraction Shooter made entirely in pixel art. The story of ZERO Sievert will become a bedtime story for young game designers who want to approach this world. "Honestly, in the initial stages of development, the project was just a hobby without any expectations - said Carbonera - I didn't start it with the intention of publishing it but only as one of the many small projects I did to pass the time. When I started posting videos on YouTube and Reddit I realized that people liked it and then the development became more serious".
Every work has sources of inspiration and Sievert is no exception. "Initially it was inspired only by Stalker, but seeing the great success that the extraction shooter genre created by Escape from Tarkov had, I decided to add elements in that direction. Before ZERO Sievert there was no 2D extraction shooter and it is a game that the players want. However, I only understood this after the Kickstarter campaign" which in 2021 raised almost 20 thousand euros in 30 days. "Having received a lot of attention during that period made me realize that I had a game with good potential in my hands."
Lone Wolves
The protagonist of ZERO Sievert is a lone wolf, a bit like Luca Carbonera who developed the game on his own The character that the players play is that of the hunter, a lone wolf who enters the wild lands outside a bunker to recover resources and discover the origins of the nuclear disaster that plunged society into the apocalypse. "I've always enjoyed post-apocalyptic games and having spent untold amounts of hours playing Stalker and Metro, I'd say the setting was pretty easy." Not exactly a lonely wolf is also Carbonera who told us about the difficulties and the many helpers he met while working on ZERO Sievert. "In the early stages of development I made many choices based on my tastes and experience as a gamer as the project was just a hobby. After the Kickstarter campaign the ZERO Sievert community grew very quickly and having hundreds of beta testers helps enormously in a game like this. They gave me a huge amount of ideas, constructive feedback, and reported every bug they encountered."
From the point of view of the obstacles, the most difficult one to overcome was the overall balance . "Creating a balanced and rewarding sense of progression is not easy at all, even AAA companies struggle. For a new player it takes about 25 hours to complete all missions, build the base and get the best equipment possible. I think it's a great milestone for the Early Access launch as almost all beta testers liked this phase. The next one, the end game, is a completely different story and even more complex to manage. Here too I will get help from the community and I hope that even more ideas come after launch".
Password: replayability
No two expeditions will be the same in ZERO Sievert thanks to the procedural generation of environments and NPCs Biomes in ZERO Sievert available are all procedurally generated to ensure a fresh experience every time the hunter decides to venture out of the bunker. Carbonera explains his choice in a few simple words: "replayability is fundamental for ZERO Sievert, not only that, the feeling of not knowing what awaits you is also very important. Having many missions and, for now, five biomes, it was essential to create maps that were very interesting. Here, procedurality helps a lot as it allows me to create something new all the time."
Not only in the setting, also in the inhabitants of the apocalypse there must be something different for each mission: "Procedurality alone is not enough, you also need random elements that make the game world seem alive. Also here, I was inspired by Stalker. In Stalker, NPCs are free to roam the maps and all the encounters you have with them do not have a pre-set script. Also in ZERO Sievert there is a similar mechanic. At the beginning of each game a certain number of NPCs are created to then move around the map, these NPCs can interact with each other and it is not uncommon to come across a fight between different factions or a bandit camp already attacked.It is a very complex system to manage but with the due improvements I'm sure it will
be able to
offer a lot to the game".
The launch in early access
The reception for ZERO Sievert has been decidedly positive A few days after landing in early access are initiator The first positive feedbacks arrived and the community of extraction shooters said they were enthusiastic about the title and its potential. "It was a fantastic experience! A dream come true! ZERO Sievert has gone from a hobby to one of the most anticipated games on Steam in the space of a year, I still can't believe it. The days leading up to launch were a growing with excitement with even a little nervousness but in the end I was serene because I'm satisfied with the work we've done and with the current state of the game.The reception from the community has been phenomenal, the chat on Discord was already full a week earlier of messages from users who couldn't wait for the launch".
Just the community of fans born on Discord, especially during the Kickstarter campaign, remains a pillar of development: "they are giving me lots of little feedback for regarding QOL changes (general improvements ed) or small features that would improve the title and this is fantastic since a game like ZERO Sievert needs the help of the community to be developed at its best. very happy with how it is going and couldn't ask for anything better. Sales are very good, the community is enjoying it and seeing your favorite streamers playing and enjoying ZERO Sievert is a great personal satisfaction".
C 'still a little way to go before releasing ZERO Sievert but Carbonera is more motivated than ever Carbonera also founded his own development studio, called Cabo Studio , so we asked him what are the next steps not only for ZERO Sievert but also of the whole studio." My goal with Sievert was to arrive at the Early Access launch with a game with a good foundation and I would say that I am satisfied. Before I can release version 1.0 I definitely want to implement two more biomes that are indispensable for the lore of the game world. In addition to the maps, I'm going to add weapons, equipment and enemies. Another important goal is to have a good reputation system with the different factions so that each game is different from the previous one. Many users are clamoring for Coop but it is not easy to add it correctly, especially in a project in such an advanced state of development. I will try in every way to inform myself and talk to networking experts in Game Maker (the tool used to develop the game ed) but most likely the Sievert will remain for single player".
And what about the future? "ZERO Sievert 2? (laughs) I honestly don't know! Since everything is still new to me, I struggle to have clear ideas but one thing is certain: if ZERO Sievert will be successful enough to allow me the luxury of following this passion then I will continue to do it! For me, and like so many other indie developers, being able to work full time on your own project is a dream come true."
Have you noticed any bugs?