Deliver Us Mars: we tried the space action adventure of Frontier and KeokeN Interactive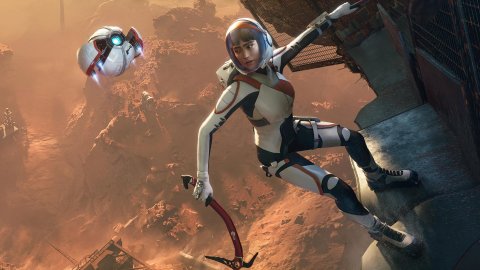 Deliver Us Mars
Although one can start with good intentions and as many talents, completing a video game just as it was initially imagined is usually an almost impossible undertaking even for the most experienced software houses, let alone independent ones. KeokeN Interactive is well aware of this, and with Deliver Us The Moon it even had to release an incomplete game at the beginning, only later managing to make a revised and corrected version available thanks to the help of a publisher.
We were recently able to try Deliver Us Mars for more than an hour during an interesting press event organized by Frontier, and the impression is that of having in our hands a clear evolution of what has been done in the past. Let's see why.
Life on Mars
In
Deliver us Mars we
will wear Kathy's space suit The narrative of Deliver us Mars apparently relates directly to that of its predecessor, and sees you in play
the role of
a very young astronaut named Kathy, with a passion for climbing and a mission of incalculable importance: to save a human race ever closer to extinction by recovering lost technology on Mars from lost colony ships called ARKs. Difficult to elaborate much more precise information on the reasons why these ships are in ruins on the red planet, but it is quite crystal clear how KeokeN's work gives even more importance to the plot than Moon, given that Kathy this time is accompanied by other astronauts and is dialogues and cutscenes seem to be much more frequent.
Our demo, in particular, opened with an introductory session dedicated to a couple of simple puzzles set in one of the Martian colonies, during which - through the classic solution of the "witness holograms" - we were able reconstruct at least partially the dramatic situation of those who had tried to survive on the red planet in the past. For those wondering, however, the narrative tones are more than serious, and they don't seem to
want to do
dge rather heavy themes.
The fulcrum of the title, however, seems to be a mixture of exploration and puzzles more complex than Deliver Us The Moon. The protagonist is in fact able to climb some walls with the help of two pickaxes, and this ability is an integral part of the levels, which alternate slow climbing phases to the classic puzzles where it is very important to position Kathy's arms properly (they are controlled separately and their movement is quite precise), in order not to hit pieces of metal and fly awkwardly below.
However, these sections of the levels are sometimes also part of much more tense and chaotic phases: in the second half of the demo we found ourselves having to climb much more frenetically due to the free-falling pieces of the colony ship explored, and there was no lack of deaths related to moving platforms that can lead to some calculation errors. Overall we found these moments of vertical exploration quite pleasant, even if we would have appreciated a little more fluidity and speed in the girl's movements, especially in a specific section where the slowness of the initial animation of the pickaxes led us to fall in a vacuum three times because they are positioned only a few centimeters outside the intended area.
In Deliver us Mars we will face a large number of puzzles More precise, and undoubtedly central, the puzzles, even if during the our test we have seen only one type. Both encountered puzzles required redirecting lasers in order to load some machinery as efficiently as possible; doing so was the only way to open some locked automatic doors and reach the next platforming stage accordingly. It deals with rather basic puzzles on paper, which represent a variant of those related to the "circuits" seen in a myriad of other titles, however the need to reposition the lasers in a three-dimensional map, combined with the use of dampers and the cunning ( not to mention infamous) positioning of certain fundamental elements to make everything work, forced us to ruminate more than necessary during the second puzzle, giving us some moderate satisfaction upon its completion.
Moving lasers in the right direction will be one of the recurring puzzles of Deliver us Mars Of course, Deliver Us Mars does not seem to be an amazing title from a technical point of view, but the commendable intelligence of the most bizarre sessions, combined with an interesting structuring of the exploratory phases, we enjoyed it for the entire duration of the demo, letting us glimpse a product much richer in potential than the first. We were also able to test a short phase on board a vehicle, which could suggest open maps to navigate on the surface of Mars, and with the developers' passion for celestial bodies, this inclusion could reserve further surprises.
Difficult to draw other conclusions from what has been tested, however it is clear how KeokeN have done everything to shape a video game capable of representing everything that Deliver Us The Moon could not be. Who knows, maybe with some extra refinements, this won't turn out to be a truly surprising indie for those who love space and rack their brains.
Although a bit crude technically, and could be improved with some revisions to the climbing mechanics, Deliver Us Mars it felt like a clear evolution from its predecessor, and a title with the potential to give great satisfaction to any gamer who enjoys puzzles and exploration. It is certainly a much more difficult project for the Keoken to complete, yet it is obvious that the experience of the team at the reins is very different from the past. We are very curious to see how they will fare.
CERTAINTIES
Quite brilliant puzzles although tested Fascinating and well-finished setting Interesting exploratory phases DOUBTS Climbing mechanics that could undoubtedly be improved Narrative and overall validity of the campaign still all to be evaluated Have you noticed any errors?