The best games of 2022 (so far)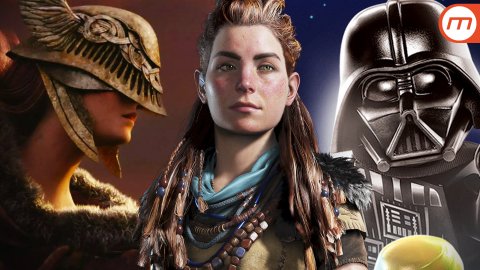 Between a ride around the Interregnum and a few time leaps between the planets of a distant brick galaxy, this start of 2022 hasn't been bad at all for video game fans, isn't it? The first six months of the year were as rich as few others in the past.
For this reason it will be particularly difficult to point out the 10 best games that have kept us company to date. Plus 6 special mentions. Follow us to the end, because in addition to some obvious blockbusters, we also have some unexpected hidden gems in store for you.
Nobody Saves the World
Nobody Saves the World Let's start with one of these . Nobody Saves the World is a bizarre game, an action RPG with a top-down view where we find the light-hearted spirit of the first two Guacamelees. The Drinkbox Studios have succeeded in the enterprise of giving their own interpretation to a classic genre, mixing more than a pinch of madness with a really well thought out and original structure. The gameplay makes the most of the interesting idea of ​​transformations and is all about the accumulation and constant growth of stats and skills. It is a game about exploration that stimulates you to experiment with intelligence and is available practically everywhere, on consoles and PC, from January 18th.
Lost Ark
Lost Ark Long awaited in its version Western, Lost Ark was the hit of early 2022. Arriving on Steam on February 11 in free-to-play format, Smilegate's work immediately welcomed a frightening number of players into
what it is
without. doubt
the best free
MMO around. The combat system is deep and customizable, the campaign long and rewarding, whether alone or in company, and there is a variety of content that has few rivals.
Horizon Forbidden West
Horizon Forbidden West On February 18th, Horizon Forbidden West did not disappoint the expectations of those eagerly awaiting the sequel to one of the most popular
PlayStation
exclusives of the
PS4
generation. Guerrilla Games has shown that they have learned from past mistakes and with Aloy's new adventure they have taken their idea of ​​the open world to the extreme. He did it with his jaw-dropping game world, fast, visceral combat system, and writing up to the task. If you have PS5, or even PlayStation 4, it's really a shame not to try it.
Elden Ring
Elden Ring A shame that for many of you probably has a very specific name: Elden Ring. Yes, because From Software's mammoth work hit the market like a hurricane, setting new standards in the creation of a modern open world. The last time it happened was in 2017, with The Legend of Zelda: Breath of the Wild. Elden Ring, however, has declined everything in the unique style of Hidetaka Miyazaki, with a mysterious, dark setting that does not give up on brutal challenges.
Gran Turismo 7 Start Gran Turismo 7 after all these years is like coming home after a long journey. For those who have lived the series since its origins, the effect is truly extraordinary, and
it is not
just the fault of nostalgia: the game emphasizes the historical weight of the matter, makes you dive into the past while offering you the most advanced technology. Polyphony Digital has not forgotten the newbies, however, creating a car simulation with lots of content, a satisfying driving model and a progression that accompanies even the less experienced. From March 4th you can find it on PS4 and PlayStation 5.
Norco
Norco Norco is another of those particular titles that every now and then tries to make us think. It does so through a beautiful point and click adventure, presented in excellent pixel art, composed with extreme taste and equipped with excellent writing. It offers us an honest portrait of Southern Louisiana through a reinterpretation of the royal city of Norco, addressing interesting topics such as the radicalization of young people online and the impact of the economy and the oil industry on people's lives. A subtle social critique mixed with premium entertainment, available March 24 on PC.
Kirby and the Lost Land
Kirby and the Lost Land Kirby and the Lost Land us remember not to make the mistake of not taking
Nintendo
's Pink Fluff seriously. The new Switch title is packed with content, sports an extraordinarily varied level design, and is also quite long-lived by the standards of the series. Its simplicity makes it suitable for children but it is also a carefree pastime for adults, which goes beyond the credits and which stands as one of the best chapters of the saga. It is available from March 25.
LEGO Star Wars: The Skywalker Saga LEGO Star Wars: The Skywalker Saga took a long time to wait but in the end it proved to be the mammoth title that TT Games had promised us. The variety of content and collectibles is unprecedented, and on the gameplay front the experience is much more engaging and rewarding than in the past. A title that is both a sum of
the history of
Star Wars, and an evolution of the formula carried out by the developer for years. The new LEGO Star Wars is a triumph of quotes, references and goodies, moving between an excellent parody and a hack-and-slack formula that works great.
Rogue Legacy 2
Rogue Legacy 2 Placing itself between Dead Cells, Slay the Spire and Hades, Rogue Legacy 2 on April 22 was a real joy for any lover of roguelites. The game offers an impressive variety of classes and situations for the genre, which never ceases to amaze and glues the player to the screen for hours. Cellar Door Games were able to impressively take advantage of the early access period, they weren't afraid to take inspiration from some of the best indie titles around, and they managed to create that evolution of the original that all fans wanted. And after the excellent first chapter it was far from easy.
Citizen Sleeper
Citizen Sleeper Let's close with a videogame author in the purest sense of the term. Gareth Damian Martin not only creates his works of him in almost perfect solitude, but what he does always places itself in a critical way towards the medium and some of its more established forms. Citizen Sleeper, for example, carries out its main theme within its own game systems: its gameplay changes as the adventure progresses, modifying its mechanics in a subtle way within what is a real metaphor for how the needs of people in capitalist society change.
Special mentions
As we said at the beginning, however, the beginning of 2022 saw the release of so many interesting titles that it would be a shame to stop only at these 10. Here are 5 + 1 bonus mentions that we have chosen because they are excellent in one or more particular areas.
Vampire Survivors
Vampire Survivors Vampire Survivors is the best game under 3 euros that you will not be able to stop playing. Arrived at the end of 2021 amid general indifference, this little Italian game has been able to become a real global phenomenon. Developed by poncle, aka Luca Galante, it is still in Early Access on Steam and is of an extreme conceptual simplicity: you move around trying to survive various waves of enemies while collecting objects that attack automatically. It is impossible to explain in words why it is so addicting, so trust me and buy it: charismatic characters like Mortaccio, the Belpaese and Arca Ladonna are just waiting for you.
OlliOlli World
OlliOlli World The best Tony Hawk's for skaters not so pro is OlliOlli World, by Roll7. A fast-paced, colorful and challenging arcade skate game that will test your precision and lightning-fast key-pressing skills. It is available on PC and console from February 8th.
Sifu
Sifu Also on February 8th, the best game where getting old is not always a bad. We are talking about Sifu, an action with granite mechanics, supported by a design worthy of absolute veterans of development, which is not afraid of being brutally demanding and manages to surprise even from an artistic point of view. It is not particularly long-lived, but it is a brilliant title to say the least, highly recommended for lovers of action and unforgiving challenges.
Card Shark
Card Shark Card Shark wins the title of the best card game, slash role-playing game, slash rogue-like of this early 2022. Here the cards become a mere tool to tell a story, in a game of deceit has bewitched us for all the hours necessary to get to the end. The gameplay is focused on a few specific ideas, on a trip to 18th century France perfect for those who love experiences a little different than usual.
Neon White
Neon White The best game set in a paradise, where one is damned, however, is Neon White. A fun, immediate but challenging title, which sports a perfect design and a pleasant plot that dances between the comic and the dramatic, always being interesting. It is aimed above all at those who love to go in search of the record in every level and encourage them to replay again and again; for everyone else, there are however a few additional activities that allow you to find out more about the story and unlock extra levels.
Nintendo Switch Sports Bonus mention among the special mentions, Nintendo Switch Sports is none other than the best game to remind us of the existence of Joy-Con lanyards. Do you know those little accessories that you have forgotten who knows where and that should be attached to the Nintendo Switch controllers to prevent them from flying everywhere? Well, if you intend to play the latest sport of the Kyoto house, you'd better make the effort to find them again. We say it for your sake. And for that of your wallet, which will come in handy in the second half of the year.
Many potentially extraordinary games are also coming in the coming months. Which ones are you waiting for the most? And what has left an indelible mark on you at the start of 2022? Tell us yours in the comments and don't forget to follow sportsgaming.win on the website, social networks and obviously on YouTube.
Have you noticed any errors?