Dragon Ball Super: Super Hero - The first action figures: review
Dragon Ball Super
Here are the first action figures distributed in Italy of
Dragon Ball Super
: Super Hero, the new original animated feature film starring Goku and his friends, followed by the very successful Dragon Ball Super: Broly.
Not even a month after its release in the Japanese cinemas, with related leaks and spoilers to avoid even if we had Ultra Instinct, the first Dragon Ball Super - Super Hero action figures for the S.H.Figuarts collectibles line of the Japanese Bandai and Tamashii Nations arrive in our hands. These are Son Goku and Piccolo, some of the protagonists shown in the first promotional posters of the film, to which Son Gohan and Vegeta will be added very soon.
The S.H. Figuarts that of Dragon Ball, over the course of almost 15 years, has proposed almost all the characters from every possible and imaginable saga (including video games) therefore arrives at the starting line with two characters who would not even need many presentations. The first, even if Dragon Ball later became a choral anime, is the undisputed protagonist of the series while the second
is one of
the historical adversaries-allies who in recent years had been set aside a bit and then resumed (to the great). br>
In our review we will perhaps focus more on the details of Piccolo, who on balance is what
appears to be
a real reinterpretation of the recently released one, inspired by the Dragon Ball Z series.
Packaging
For both products the boxes have a layout familiar to the collectors of S.H. Figuarts, however, if we want to be picky, we note how the effort to make them more exclusive has concentrated on some elements such as the writing, here in silver version, on the transparent part of the title page from which we can see the figures inside and on the cardboard that acts as a backdrop to the blister, of the same color for both figures. Like any S.H. Dragon Ball figuarts also show logos and photos of the product developed at 3/4 with continuation of the same on the right rib where other photos also appear within boxes that recall the typical layout of a manga. The back shows various official photos with installation possibilities, accessories and some technical details.
Blisters and contents
Dragon Ball Super: Super Hero - Son Goku
»Click here for Son Goku Super Hero
Dragon Ball Super: Super Hero - Piccolo
Piccolo, which as we wrote a few lines above is the more "new" of the two presents the upper body totally revisited. Bust, arms and chest are a new version that is fully inspired by the new feature film without limiting itself to a mere recolor as some might have expected. Among other things, connoisseurs of anime and manga immediately noticed that Piccolo's muscles (or Junior, if you prefer) are not pink but yellow, perfectly matching the color chosen in the manga's color plates. Also in this case the body structure appears solid and robust with a defined sculpt and practical and functional joints. Like Son Goku before him Piccolo is equipped with interchangeable heads with incredibly faithful expressions with marked and meticulously defined features. What is wrong with this Piccolo is soon said, in spite of the criticisms received with the previous version, once again the figure does not seem to respect the proportions resulting in fact lower (not to say still "small") than what it actually is.
»Click here for Piccolo Super Hero
Dragon Ball Super: Super Hero - Synopsis
The Red Ribbon Army was destroyed by Goku . Some people, however, who keep the spirit alive, have created the perfect Androids, Gamma 1 and Gamma 2. The two Androids are called "Super Heroes" and will launch at the attack of Piccolo and Gohan ... what is the goal of the new Red Ribbon Army? At the dawn of a new danger, it's time to awaken Super Hero!
Video review
---
Dragon Ball Super Star Reacts to Seeing Piccolo's New Form
Dragon Ball Super: Super Hero sees Piccolo unleash a brand new form over the course of the movie, and the voice star behind the fighter has opened up about how he reacted to seeing the Namekian's new transformation in action! Dragon Ball Super's new movie is making its way through its second month of release across Japan, and thus Toei Animation has begun to reveal a full slate of spoilery details about the biggest moments and scenes from the movie. This means those who have been working closely with it are able to reveal their thoughts as well, and it includes the movie's biggest stars too.
As part of the celebration of Dragon Ball Super: Super Hero now lifting its ban on spoilers, Piccolo voice actor Toshio Furukawa opened up to Mantan Web (as spotted and translated by @DBSChronicles on Twitter) about his reaction to Piccolo getting a new form. While there was one transformation revealed during the promotional lead in to the new movie's release, there's actually another much stronger transformation that pops up much later that gives Piccolo the huge bump up in strength he was needing and Furukawa was just as excited to see it in action. Warning! Massive spoilers for Dragon Ball Super: Super Hero below: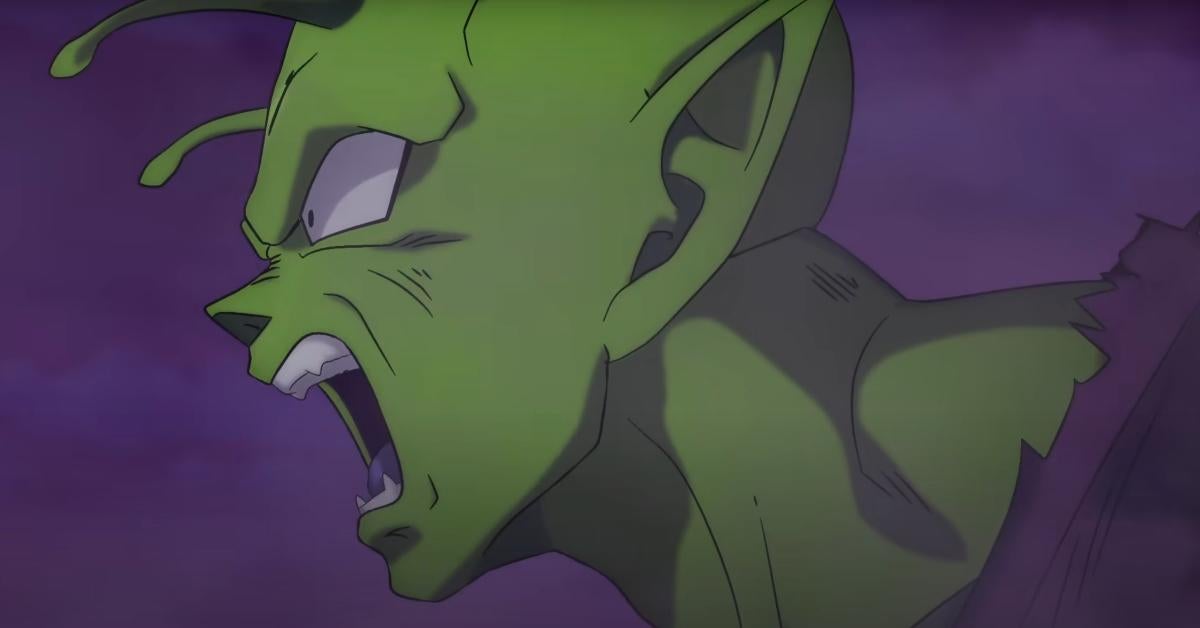 (Photo: Toei Animation)
During the climax of Dragon Ball Super: Super Hero, a successful wish on the Dragon Balls helps Piccolo tap into a new power within himself that brings him to a godly new level. Growing him in size and muscle mass, this new form turns him orange and that is the main focus of Furukawa's reaction to the form along with its name, ''Orange Piccolo isn't a good name, right?' Furukawa began. 'I've worn an orange shirt today. You see other characters evolving more and more, don't you?' Before then opening up about how Piccolo's lack of hair made new transformations difficult. 
'Well, Piccolo doesn't have hair. I always thought 'Maybe someday!' I'm so happy.' It's funny that Furukawa points out Piccolo's lack of hair making it tough to wish for a new form, and that's also something original series creator Akira Toriyama grappled with when crafting the Orange Piccolo form as well. Opening up about the process following the film's release, the creator revealed that he ended up changing Piccolo's color to make up for the lack of hair he could change with such a transformation. 
How did you react to seeing Piccolo's new form? What do you think of the fighter getting a new form on that level in the first place? Let us know all of your thoughts about it in the comments! You can even reach out to me directly about all things animated and other cool stuff @Valdezology on Twitter!