The Tomorrow Children: Q-Games has taken over the rights from Sony, the game will be back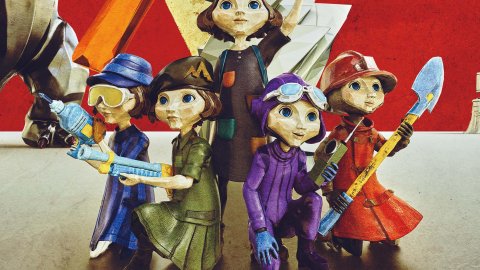 The Tomorrow Children
Q-Games announced via Twitter that
Sony
has given them back the rights to The Tomorrow Children, an unfortunate
PS4
exclusive that didn't have a big hit. Indeed, let's say that it went completely unnoticed, so much so that some even struggle to remember that it ever existed.
However it seems that Q-Games really believes in the game and its universe and wants to bring it back to the players in some way. It will probably try the multi-platform way, which at this point seems inevitable. In the past, the CEO of the company had expressed the desire to
be able to
return to work on The Tomorrow Children in some way and now it seems that he will have the possibility to actually do it, as confessed to the microphones of IGN.com.
Currently The Tomorro Children is not playable in any form, as Sony has disconnected the servers making it inaccessible. Despite this, it seems that the game has amassed some fans, who have kept asking for its return.
Source Did you notice any errors?
---
The Tomorrow Children returns to its original creators from Sony
Developer Q-Games has announced it has purchased back the rights to PS4 sandbox adventure The Tomorrow Children.
The studio confirmed it had bought back the IP from Sony Interactive Entertainment on its website. The world-building sandbox originally launched in October 2016, but shuttered just over a year later. SIE's now-defunct Japan Studio also helped out with development duties on the free-to-play title.
Q-Games' founder and director Dylan Cuthbert had the following to say. "I'd like to thank first and foremost the fans of The Tomorrow Children, without whom, I would never have had the confidence to keep pursuing this deal. Our fans are some of the most amazing gamers out there, and every day for the past four years they have kept the dream alive. I think the happiest thing about this decision is imagining the enjoyment those fans will feel as they re-enter the crazy post-apocalyptic neo-soviet world of The Tomorrow Children."
"Secondly I'd like to thank Sony Interactive Entertainment for also working with me to have the IP returned to Q-Games. It has taken a concerted effort by all of us to get to this ultimate step, and I'm full of gratitude to everyone involved in the process."
Cuthbert also confirmed that he and Q-Games intend to revive the game in the future. "I am now tweaking and re-working parts of the game every week, and I hope everyone follows along and gets involved in this process. We plan to make quite a few changes for the better, and give The Tomorrow Children the re-launch it deserves!"
Check out The Tomorrow Children's original trailer down below. There's no word yet when or where we can expect its return, but hopefully we'll hear more soon.