Xbox Game Pass September 2021, the first batch of free games for subscribers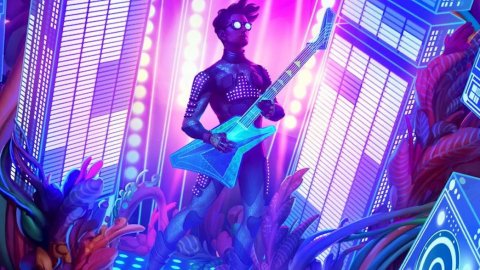 Xbox Game Pass September 2021
September takes away the holiday period with all the summer following, but it is also a month that usually represents the return to dizzying rates for the videogame market, with the impending autumn and the infamous holiday season on the way.
Xbox Game Pass
is taking it quite easy this September 2021, to be honest, with a
first batch of
games that doesn't quite knock you out of your seat with enthusiasm, but that is still bound to bring a good injection of to our screens. novelty, also given the presence of several absolute debuts, with some of the games that are distributed in the catalog directly on day one.
The excellent relationship with indie titles continues, this immediately stands out among the which could hide some of the biggest surprises of this period, so let's launch ourselves to discover these new games without preconceptions and with the awareness that most of the most interesting experiences of these years have come from productions of this genre.
Xbox Game Pass, the first batch of games arriving
in September 2021
For the rest, we already know that in the second part of the month there will be further releases including Sable, expected on Xbox Game Pass at launch , while
Back 4 Blood
is expected next month. So let's take a look at what awaits us in the meantime in this first part of September 2021.
Craftopia (Game Preview) - Cloud, Xbox and PC, September 2nd
Craftopia allows you to build truly bizarre structures Survival open worlds are now commonplace, but few put together so many different features like Craftopia, coming September 2nd to Xbox Game Pass. The game is already known to PC users as it has been present on Steam in early access for months now, and in the same way it will arrive on Xbox in Game Preview, or in a non-definitive version and still under development, but certainly much wider and richer. than the one launched last year. Inside we find elements of exploration, combat and progression in RPG style, survival with the search for resources and survival in a hostile world, as well as obviously crafting and construction. To survive we find ourselves cultivating plants, raising animals and building various structures, with the possibility of exploring dungeons to conquer treasures, build and use vehicles
and many other
activities in a game that seems to offer a lot to the catkins of survival and crafting.
Final Fantasy XIII - Xbox and PC, September 2nd
Final Fantasy XIII characterized the
PS3
and Xbox 360 generation The complete collection of Final Fantasy continues with the arrival of Final Fantasy XIII in the Xbox Game Pass catalog, the chapter that characterized the PS3 and Xbox 360 generation with the Fabula Nova Crystallis project which then led to several changes and also to the release of two direct sequels to the thirteenth chapter. It is still a particularly spectacular game, thanks also to the scenarios built by Square Enix and focused on the particular mix of futuristic technology, magic and natural settings of great impact, together with the characterization of the characters with remarkable charisma, as often happens for this series. . For those who are recovering the entire series, this is a fundamental piece to discover, but Final Fantasy XIII can also be well appreciated by those who have not followed the previous titles, being the beginning of a completely new story.
Signs of the Sojourner - Cloud, Xbox & PC, September 2nd
Signs of the Sojourner features a weird card-based narrative mechanic A narrative-based card game isn't easy to find, and in Effects Signs of the Sojourner is something truly unique in the gaming landscape. In practice it is a narrative adventure based on the use of cards, for which every element of the protagonist's life and his relations with the other characters all depend on the composition of the deck, which is in effect already constitutes the character and the experience of the character in question. Having inherited the family shop, our hero must travel to find goods for his business, but along the way, he comes across many stories full of "hope, compassionate characters and fantastic surprises", in a world to travel to. it's complicated and climate change has made life difficult. This is, in short, the description of this strange game, which requires us to collect and select the cards in order to build the protagonist, whether they are in line with his point of view or ours.
Surgery, dark humor and madness are the ingredients of Surgeon Simulator 2 The surprising hit from Bossa Studios returns with a second chapter, richer and crazier than never: Surgeon Simulator 2 obviously takes up the concept of the first chapter and expands it significantly, introducing new game mechanics and modes. It is always about trying to conduct surgical operations in extreme situations and with tragicomic consequences: with Bob's life in our hands, we must put on the gown and prepare for the action in the operating rooms of Bossa Labs, with the possibility of further messing up the action through four-player multiplayer. Stoned physics is always the protagonist also in this chapter, which for the rest introduces many new features, characters and crazy situations, between multiplayer in cooperative mode or single player campaign but not only, since this second chapter also adds the infinite possibilities of the Creation mode, which allows you to create completely new levels.
Crown Trick - Xbox and PC, September 7
Crown Trick is an original mix of RPG, strategy, roguelike and adventure The roguelike RPG , as we have seen, it has practically become the new standard on which indie developers are always experimenting with new ideas, in a kind of videogame jazz that is leading to particularly daring results. Crown Trick is a remarkable virtuosity, in this sense: an RPG with turn-based combat and strategic characteristics based on the relationship between skills and objects. Also in this case, the setting is a long procedural generation labyrinth, in which we find ourselves fighting enemies and using objects and elements of the scenario to our advantage, trying to solve the situations in which we find ourselves within the individual rooms, focusing on the strategy and powers given by the protagonist's crown. All this, moreover, enriched by a fascinating graphic style and characterized by very accurate animations, which make it spectacular to see.
Breathedge - Cloud, Xbox and PC, September 9
Breathedge it arises between space adventure, survival and simulation, with considerable background humor Another truly peculiar experience is offered by Breathedge, which continues with the strangest genre of Xbox Game Pass with an absolutely unique game. It can be considered a first-person survival adventure, but it brings together different things and everything with an absolutely ironic and somewhat crazy tone, despite the fact that the sci-fi base seems rather serious. In the role of a man called Man, in a decidedly original way, we find ourselves having to survive a space disaster trying to explore space bases and surrounding space, collecting materials and building structures, while also trying to discover the secrets of a universal conspiracy that acts on the background. All this, making the most of the abilities of our immortal hen, which accompanies us along the journey. Between absurdity and a rather interesting take on "retro-futuristic" sci-fi, Breathedge presents itself as something really weird and also very interesting.
Nuclear Throne - Xbox and PC, September 9
Nuclear Throne has become a sort of classic among roguelikes with a shooter setting For those who follow the indie scene at a minimum, Nuclear Throne is a real myth: it is one of the games that basically launched the new fashion of roguelike, acting a bit as a paradigm of the new way of applying this formula even to unusual genres. In this case it is a top-down shooter, set in a post-apocalyptic world populated by mutants and monsters, with the need to advance through the very dangerous wastelands with increasingly powerful weapons, collecting radiation, new arts and special abilities but always paying attention to the constant risk of being eliminated at any moment. Developed by Vlambeer, Nuclear Throne is a concentrate of shooter action and madness, all represented with simple but effective 2D graphics and a decidedly humorous cut. What stands out, in the midst of so many similar titles, beyond the originality that characterized it at the release is also the rhythm and the excellent balance of the structure.
The Artful Escape - Xbox e PC, September 9
The unique style of The Artful Escape One of the most prominent indies of this period, The Artful Escape is a sort of action adventure with puzzle and platform elements that tells the story of Francis Vendetti and his great artistic escape. Talented guitarist and son of art, Francis has always been obscured by the gigantic shadow of his musician father, thus finding himself starting a crazy journey of discovery and training aimed at finding his soul and his own path in the world of art and of music. Everything turns into a strange psychedelic experience characterized by the constant presence of music as an element of inspiration and by a series of very particular and fascinating settings that lead us to face the souls of folk musicians and find the courage to face the stage with a renewed safety.
In all of this, there is also an absolute cast of voice actors that includes actors such as Michael Johnston, Caroline Kinley, Lena Headey, Jason Schwartzman, Mark Strong and Carl Weathers.
Have you noticed errors?