Call of Duty: Vanguard: all the details to play the new Beta at its best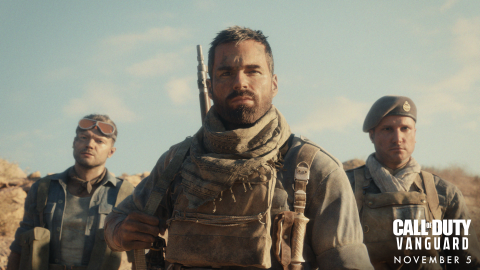 Call of Duty
Activision has provided all the details to best play the new
Call of Duty
: Vanguard Beta, which will take place from September 16 at 19:00 until September 20 at 19:00. Those who own
PS4
or PS5
will be able to
play it freely for the first two days without the need to book the game. For PC,
Xbox
Series X and
S and Xbox One
players, it will be necessary to pre-order the game to enter the Beta. Xbox console owners will also need to be subscribed to Xbox Live to access the servers.
The remaining period, from September 18 at 19:00 until September 20 at 19:00, will instead be accessible to all, on all platforms. The Open Beta period therefore does not require any reservation and on Xbox no Xbox Live subscription is required.
Read more details from the official press release, where the reasons for playing the Beta of Call of Duty: Vanguard:
Play with friends if you have the ability to use the Activision ID and let the fun go on all platforms. Players can progress and level up in the Beta and experience Vanguard's intense and adrenaline-pumping Multiplayer, including new weapons, field upgrades and Killstreaks that can be unlocked by earning XP.
5 Reasons to Try Vanguard Beta this weekend:
More game modes
Outside of Champion Hill - a fast-paced and fast-paced tournament: Solo, Couple and Threesome - Vanguard will introduce another new game mode: Patrol. Based on Hardpoint, this objective-focused mode features an almost constant moving scoring zone
These modes are in addition to the classic offerings already present in Call of Duty. Modes like Team Deathmatch, Kill Confirmed, Domination and Search & Destroy are just a few of those returning with Vanguard and playable in the Beta
Combat Rhythm: Different Game Modes
A new Combat Pacing system offers a new dynamic where the player chooses. For multiplayer, the following Combat Pacing options are available:
Tactics: The lobbies of veterans of the franchise know it well. Tactical Comat Pacing is always 6v6.
Assault: This option provides a balanced combat pace that gives you room to breathe and targets to kill. In Beta Weekend 1, the number of players will vary between 20 and 28 players.
Blitz: High-action lobby, with intensity increased to fast-paced levels. In the Beta of the 1 Weekend, the number of players varies between 28 and 48 players.
Those who want to enter the game can set the Combat Pace to "All" and get a variety of combat rhythms between each game
Create Equipment and Gunsmith
When choosing equipment for the Multiplayer level, players will arm themselves at the Gunsmith within Create-a-Class. The gunsmith will now be equipped with up to 10 attack slots on some weapons, allowing for thousands of additional possibilities to improve almost any combat scenario and play style.
For example, shotguns can now be equipped with a "Buck Slug", a bullet filled with short range buckshot and a shot for a longer range - expect more accessories that adjust the caliber of a weapon to affect bullet penetration, rate of fire and more.
Reactive environments, editing and blind fire
Once you have the weapon, you can traverse the map to defeat your enemies. Tactical destruction is the strong point for Sledgehammer's innovations to the game, so wait to leap through walls, doors and windows or destroy scenery, structures and other objects to flush out pesky campers.
When you are at the shelter, you have two options for firing back in addition to the regular hip fire or down sight: the first is mounting, although operators can "slide" their mounted weapon along the vertical or horizontal surface to move. >
The other is blind fire - with some accuracy, this maneuver allows for better coverage in situations where you are about to experience saturation fire.
Operator leveling and favorite weapons
In addition there is the leveling of the operators. By earning operator experience points, you can unlock new skins, make-up, calling cards and more simply by playing games with a specific operator. Each Operator also has a favorite weapon.
For example: Polina Petrova's favorite weapon is the 3-line rifle. In addition to being a tool for her character that suits her background, it also has a purpose for the gameplay: when you use this weapon while playing as Polina, you receive the additional XP.
Polina is also one of six Operators available for the Beta. Although operator leveling won't be available until launch, you can still get to know her, Daniel Yatsu, Roland Zelmet, Lucas Riggs, Wade Jackson and Arthur Kingsley during this experience!
All players who reach level 20 at Within the Beta will receive the Rat-A-Tat weapon blueprint upon launch of Vanguard, and those who play the Beta will be able to unlock Task Force One Operator Sergeant Arthur Kingsley for use in Call of Duty: Mobile. To learn more, click here.
Let's read the system specs for the PC version of the beta:
Minimum specs for the public beta:
OS: Windows 10 64-Bit (1909 or later) CPU: ntel Core i5-2500k or AMD Ryzen 5 1600X Video: Nvidia GeForce GTX 960 2GB / GTX 1050Ti 4GB or AMD Radeon R9 380 RAM: 8GB RAM HDD: 45GB of space ON DISK Network: Broadband Internet Connection Sound Card: DirectX Compatible Requires DirectX 12 Compatible System
Recommended Specs for Public Beta:
Operating System: Windows 10 64-bit (Latest Service Pack) CPU: Intel Core i7-4770k or
AMD Ryzen 7
1800X Video: Nvidia GeForce GTX 1070 8GB / GTX 1660 6GB or
AMD Radeon RX
Vega 56 RAM: 16GB RAM HDD: 45GB DISK space Network: Broadband Internet Connection Sound Card: DirectX Compatible Requires DirectX 12 Compatible System Note: Only Intel / AMD processors are currently supported.
Recommended drivers for AMD / NVIDIA
AMD: 19.10.2 NVIDIA: 466.11
Have you noticed any errors?