Sword Art Online: kri_cos' Sinon cosplay takes us to Alfheim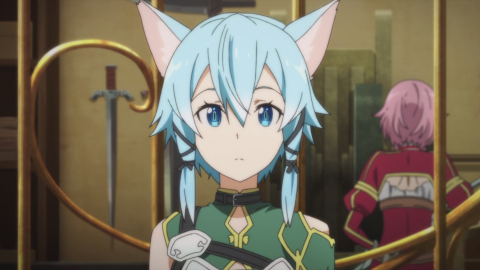 Sword Art Online
If you are a lover of Japanese productions, you will surely know
Sword Art Online
, the famous series of anime, manga and light novel by Reki Kawahara. One of the most loved aspects of the work is undoubtedly the unforgettable cast of him, from the protagonist Kirito up to the numerous supporting actors who accompany him in his virtual adventures. The Japanese model kris_cos wanted to pay homage to one of the most beloved characters, with a Sinon cosplay that takes us directly to the virtual world of Alfheim.
Asada Shino, aka Sinon, appeared for the first time in the second season of the anime, taking on the role of co-star in the Gun Gale Online story arc. She later became a regular on the series, lending a hand to Kirito and Asuna in Alfheim Online and the Alicization project as well. The version of Sinon proposed by kirs_cos is that of Alfheim Online, in which the virtual avatar of Shino appears with the classic light blue haircut and with the features of a cat of the Cait Sith breed.
If you want to
admire other well-made cosplay, we recommend the Yoimiya cosplay from Genshin Impact by peachmilky_ and the Ahri from
League of Legends
by Helly Valentine.
How not to
mention the
Nico Robin cosplay from
One Piece by sammycosplay and the Tracer cosplay from
Overwatch
by CarryKey.
Have you noticed any errors?
---
This week; it's been a while since we have done a revisit, (and even longer since Shaun has willingly thrust Remington into the abyss) it is with that in mind we sit down for the final 10 episodes of the seconds season of the only game-based isekai that is somehow worse than Ready Player Two – Sword Art Online. Meanwhile, Remington has a letter for Reki Kawahara. If you'd like to give us feedback, ask a question, or correct a mistake, send an email to AnimeOutOfContext@gmail.com or tweet at us @AnimeConPod. Visit our Patreon at patreon.com/AnimeoutofContext if you would like to contribute to the show and get bonus content ranging from clips from our pre-episode banter, to our prototype Episode 0, to even getting shoutouts in the show! Intro and Outro are a trimmed from 'Remiga Impulse' by Jens Kiilstofte, licensed by MachinimaSound to Anime Out of Context under CC BY-NC-ND 4.0 which has been modified by the licensor for the licensee to allow reproduction and sharing of the Adapted Material for Commercial purposes Video episodes generated by Headliner.app