Steam Deck, Nintendo Switch OLED, Analogue Pocket and Playdate: 2021 is the year of portable consoles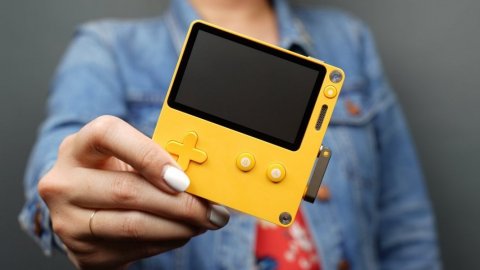 Steam Deck, Nintendo Switch OLED, Analogue Pocket and Playdate
If 2020 was the year of the generational transition of home consoles to new and mighty platforms, with the technological leap offered by the next gen of
PS5 and Xbox
Series X | S, 2021 could be the year of portable consoles, given the turmoil that is seizing the sector, until some time ago practically considered dead beyond Nintendo.
After
Sony
's abandonment of PlayStation Vita, it seemed that the portable sector could be carried out exclusively by the Kyoto house, which with Nintendo Switch has found the definitive configuration to enhance gaming in portability, but new solutions are emerging with considerable consistency, making you look carefully at this sector, going beyond the bootleg proposals of more unknown or less able to offer mostly low-cost emulation.
Nintendo Switch OLED
, Steam Deck, Playdate and Analogue Pocket will arrive between 2021 and 2022 The beautiful thing of this new trend is the fact that each new machine seems to follow its own path: more than competitors destined to fight on the market to conquer the same audience, each device is designed on specific characteristics that lead it to represent a different proposal. We have already seen how it makes little sense to directly compare Nintendo Switch with Steam Deck, for example, but the same thing also applies to other platforms coming out in the coming months such as Playdate or Analogue Pocket, because each is based on different skills and specializations that are only partially overlap.
This on the one hand confirms the idea that there is little room for different competitors to compete for a single type of audience, as demonstrated by the withdrawal of PlayStation Vita in the face of the excessive power of Nintendo, but on the other it indicates how there are several possibilities that can still be undertaken in the portable sector: let's see them in more detail.
Nintendo Switch OLED: linear evolution
Nintendo Switch OLED in the new light color The least surprising proposal comes from Nintendo Switch OLED: Not only due to the fact that a hardware overhaul by Nintendo had been expected for years, but also because, in fact, it represents the most conservative approach possible by the company. Even compared to what we would have expected, the new Switch model appears as a rather timid evolution of the original console, bringing with it only an improvement, albeit sensitive and welcome, of its display with the transition to OLED technology. Available from 8 October 2021, the new console is practically identical but with a 7-inch OLED screen and some minimal revisions to the Dock and the rear stand, as you can read in our hand-tested.
So it continues without shock the same vision of Nintendo Switch: a hybrid console that can count on the immense power of exclusive intellectual properties and also on a decent support from third parties, almost surprising in several cases compared to the latest machines of the big N, as well as on a huge indie pool capable of making the most of mobile use. On the other hand, the enormous success that the console continues to enjoy makes it somewhat superfluous - as well as risky in economic and organizational terms - to focus on expensive and complicated hardware upgrades, at least for the moment.
Steam Deck: a powerful portable PC
Steam Deck in its temporary case Even the idea of ​​Valve, arriving from December 2021, is perfectly in line with its tradition, but precisely for this Steam Deck it presents itself as something quite different and unprecedented in the field of "portable consoles". It is, to all intents and purposes, a PC in a portable form, built in such a way as to guarantee considerable computational power but also a certain ergonomics, which is why we can actually speak of a "console" as a machine dedicated exclusively to gaming. The goal, of course, is to provide full support to Steam, a platform that is an integral part of the Steam Deck concept starting from its own operating system, but this also does not take away a certain openness that allows the device to be partially modified with others. operating systems.
It is, in short, a machine that is profoundly different from Nintendo Switch also as a concept: it will have virtually no exclusives specifically designed for its hardware but it "limits itself" to making the world of PC gaming portable, which is not really worth it. little. In this sense, it could easily be the best console to enjoy cross-platform third-party titles in a portable version, given the great power that characterizes its hardware. The problem is that it has practically no titles developed specifically for the platform, relying on the optimization and settings to select to reach the best situation: for the most savvy users it will certainly not be a problem, but the approach is certainly different from that of a normal portable console.
Playdate, something completely different
Playdate is very particular both as hardware and as software A totally different solution is the one developed by Panic for its strange and captivating Playdate, a portable console that has truly unique features. As we have seen in the in-depth study on the origins and curiosities of the console, this is an experiment that has become increasingly broad and complex, until it turns into a new platform in its own right, completely detached from the rest of the videogame market.
This is an original hardware and built following a different concept from what we have seen so far: characterized by a black and white screen and a strange crank to be part of the interface, Playdate has an exquisitely exclusive library of games, as designed to work only on such hardware, moreover distributed directly to users through an automatic "seasons" update system.
It is easy to understand how Playdate does not compete with any other gaming platform seen so far, being a real unicum of the videogame industry, all projected towards extreme creativity, also increased by the possibility given to all users to develop their own games through the platform. The device in question therefore responds to specific needs, being addressed to those interested in the most original indie scene and who perhaps also have creative ambitions and want to try to implement them. In this sense, the proposal of the small Panic team joins the others as something additional but also very interesting and very original, arriving by the end of 2021.
Analogue Pocket, portable retrogaming
Analogue Pocket presents itself as the top for portable retrogaming, with the usual elegance. The portable proposal of Analogue is also very specific with the new Analogue Pocket, which continues the philosophy of the company focusing, in this case, on historical portable consoles. Following the principles of Analogue's previous machines, also in this case it is a console that allows you to play the (original) games of Game Boy,
Game Boy Advance
and (with specific adapters) Sega Game Gear, Neo Geo Pocket and Atari Lynx . Beyond the remarkable elegance of the machine, there is a fundamental difference that separates it from the various mini-consoles and assorted bootleg devices: Analogue specializes in FPGA (Field Programmable Gate Array), which is a modern reproduction of the original hardware, which goes far beyond simple software emulation.
Scheduled to arrive in autumn 2021, starting in October, Analogue Pocket is a console for true enthusiasts looking for the best way to enjoy historical games and preserve their experience as faithfully as possible to the original. For this reason it is a niche machine, because it goes beyond the simple superficial nostalgic evocation, going to satisfy the request for absolute fidelity to the original machines but with some technical improvements given above all, in this case, by the quality of the display and from some additional features such as the ability to develop titles and create music. Like the previous Analogue consoles, such as the Super Nt (for the SNES) and the Mega Sg (for the Mega Drive), this is the ultimate in retrogaming, at a level higher than that normally required by the public of mass.
Many choices, all valid
As we can easily see, therefore, the beauty of this new collection of portable consoles is that practically each of these follows a different path and represents a proposal specific, so as to be practically all valid at the same time. The overlaps are scarce and each of these devices finds its meaning regardless of the other, which substantially enriches the videogame market, consequently impoverishing the wallet of the enthusiast who does not want to miss anything. Between 2021 and early 2022 with Nintendo Switch OLED, Steam Deck, Playdate and Analogue Pocket we will see a real resurrection of handheld consoles and we can't wait to see how it goes.
Hai noticed errors?