Pokémon Unite guide: how to get Aeos coins and other currencies fast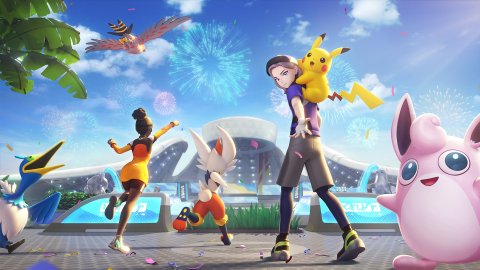 Pokémon Unite guide
Pokémon Unite simplifies the mechanics of a complex genre like that of MOBAs and makes them accessible to everyone, at the same time without betraying the depth of the playful formula. A few games are enough to get a good confidence with the basics. However, the real difficulties arise when you start browsing the game menus and are confused by the numerous in-game currencies: Aeos coins, Aeos tickets, Holowear tickets, Fashion tickets and Aeos gems. Each of these is used to purchase specific items, such as new Pokémon, and are obtained in different ways.
In this Pokémon Unite guide we will explain everything you
need to know about
Aeos currencies: a what they need and
how to get
them quickly.
Aeos coins
With Aeos coins you can buy licenses to use new Pokémon Let's start with what is undoubtedly the most important currency of Pokémon Unite: the Aeos coins. These coins are in fact used for the purchase of the Unite License at the Unite Battle Committee. Basically to add new Pokémon to your ranks. Considering that a license costs between 6,000 and 10,000 Aeos coins, collecting as many as possible is essential to be competitive. In any case, before buying a license, think carefully: each Pokémon excels in specific scenarios and is less performing in others. If you have any doubts, we recommend that you read our guide to Pokémon Unite roles, how to play them and which ones to choose.
Aeos coins are also used
to buy it
ems for your Pokémon to keep. These are extremely important, as they will grant bonuses during Pokémon Unite matches.
Fortunately, there are numerous ways to get Aeos Coins in Pokémon Unite. The simplest is to participate in Unite Battles, the matches of Pokémon Unite. At the end of the game, you will get a small amount of Aeos Coins, with a maximum of 2,100 coins per week. We would like to clarify that this limit is related exclusively to the rewards of the Unite Battles, as, fortunately, there are other methods to obtain Aeos coins.
One of these is to complete the tutorials of Pokémon Unite. To access it, press the X key in the main menu and select Practice. Each tutorial, from the basic to the more advanced ones, will earn you 800 Aeos coins, for a total of 4,800 coins by completing them all. This is a tidy sum to start your career. We recommend that you go through these lessons on the basics of Pokémon Unite in any case: what you learn will come in extremely useful during matches.
Tools can be purchased with aeos coins and power up Pokémon in battle Another method to earn Aeos coins is to complete the Daily Missions and Daily Challenges. The former are optional objectives that update from day to day and require you to meet rather simple requirements, such as joining a battle, winning a match, and so on. Same concept for the Daily Challenges, but the requirements are a bit more specific, like maybe scoring three goals in a game or knocking out 10 opposing Pokémon. Also always keep an eye on the ongoing events (Events section) of Pokémon Unite and those that are added periodically for any extra Aeos coins. At the moment, by completing the optional objectives listed above you could average between 1,000 and 1,500 Aeos coins per day.
Another way to get a small extra amount of Aeos coins is to redeem the bonus for the fair play . In the main menu press the L key and go to "Fair-Play Points". If your score is 90 or higher you can get Aeos coins. Basically you will start with 100 points, which will drop whenever you do something unsportsmanlike, such as leaving a game in progress or staying inactive for a long time. In short, fair play pays off in Pokémon Unite!
You will get a nice stack of Aeos coins also for reaching certain Trainer Levels. For example, when you reach level 25 Pokémon Unite will reward you with 950 coins. You can view level up bonuses by pressing the R button from the main menu.
Finally, you can get Aeos coins from Pokémon Unite's Energy Rewards. Once you have reached 100 energy points by completing games you can get a random reward, which varies between objects for customizing your avatar and in-game currencies, such as Aeos coins. It goes without saying that this is certainly the least consistent way to raise this currency, as it is all based on the luck factor.
Aeos tickets
One of the many clothing items you can buy with aeos tickets. The Aeos tickets are used to make purchases at the Aeos Emporium and obtain cosmetic items to customize your virtual avatar and, more importantly, various items that will come in handy for Pokémon Unite matches. Specifically, with the Aeos tickets you can buy tools to assign to Pokémon, the Item Enhancers needed to upgrade them and the Boost Cards that offer appetizing bonuses for a limited number of days.
Aeos tickets can also be obtained through the completion of Daily Missions, as well as meeting the requirements of the challenges of the various events in progress and arriving on Pokémon Unite, such as the "Aeos Research Institute Missions" available until December.
You will get a huge amount of Aeos tickets as a seasonal reward for ranked matches, based on the highest rank achieved during the course of a season. Obviously the higher the rank the greater the reward. For example, the reward for reaching the "Beginner" rank is 2,000 tickets, while the "Masters" reward is ten times that. Keep in mind that you will only receive the reward after the end of a competitive season.
Another way to obtain Aeos tickets is to increase the level of the Battle Pass by completing the challenges associated with it. Unfortunately, the rewards related to the tickets require the Premium Pass version, which can be purchased with the Aeos gems, which we will talk about later. Finally, similar to Aeos coins, you can earn Aeos tickets through Energy Rewards and as a bonus for reaching a certain Trainer Level.
Fashion tickets and Holowear tickets
Snorlax version seaside is adorable! Pokémon Unite Fashion tickets and Holowear tickets are used to purchase items for aesthetic customization only. The former allow you to get t-shirts, hairstyles, shoes, etc. at the Aeos Emporium. for your virtual avatar. With the Holowear tickets you can buy costumes for your Pokémon at Zinco Trading, such as the skin for a beach Snorlax with sunglasses and inflatable donut or an elegant tuxedo for Mr. Mime.
You can get these two Pokémon Unite currencies as a random Battle Pass Prize Box reward. You will only receive these reward crates after upgrading the Battle Pass to the maximum level, one for every 130 points obtained through the relevant weekly missions. The other method concerns the aforementioned Energy Rewards. In both cases the luck factor is essential.
Aeos gems
Only those who purchase the Premium Pass with Aeos gems can get all the rewards of the Battle Pass. Pokémon Unite is a free-to-play title. And like all members of the genre, it has its very own premium currency, in this case the Aeos gems. These gems can be spent on the purchase of Unite License, the Premium version of the Battle Pass, costumes for Pokémon, cosmetic items for the trainer, as well as Boosters to get more rewards and extra energy for Energy Rewards.
The only way at the moment to get Aeos gems is by using real money. Prices vary depending on the package you decide to buy: from € 1.09 for 60 gems up to the mega-pack of 6,000 gems for € 109.99.
In any case, as you certainly will have noticed by reading this article dedicated to Pokémon Unite, you can get everything you need to be competitive through standard currencies. Sure, the process will take longer, but at least you won't have to reach for your wallet!
Have you noticed any errors?