Battlefield 6 will have massive dynamic scenario destruction, according to an insider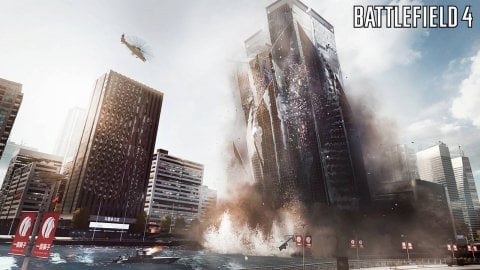 Battlefield 6 is about to be officially presented by
Electronic Arts
and DICE, but in the meantime we must rely on rumors to imagine something of its contents and among the alleged insiders there is one that speaks of dynamic destruction of the scenarios of a huge level, a real evolution of the historic "Levolution" system used by the developers for the previous chapters.
We are therefore awaiting the presentation of Battlefield 6 which will take place in the spring, according to the plans that have emerged from Electronic Arts, but in the meantime some rumors are very positive about the new chapter of the series, such as the information coming from Tom Henderson, considered a rather reliable insider regarding the series of DICE and
Call of Duty
in particular.
This is still only rather vague clues, but it seems clear that Henderson in some tweets refers to an advanced system of dynamic scene destruction ri that would bring the Levolution of DICE to new levels of interaction and modification of the environments.
The system in question was made famous by Battlefield 4, in which some levels were profoundly modified by some particularly destructive events. In particular, an insider's tweet clearly refers to the famous Shanghai level, where an entire skyscraper collapsed during the fighting.
"It started with one and will end with many", is the message associated with the image of the Battlefield 4 skyscraper, suggesting the possibility that Battlefield 6 will allow the destruction of more buildings and skyscrapers, leading to a huge change in the scenarios.
The same concept seems to be reiterated by other tweets, where, for example, you can see a little sketch with a sniper decidedly annoyed by the fact that he no longer had any reference points following the collapse of all the buildings on which he could stand. Obviously these are not official information but they are interesting suggestions: on the other hand, dynamic destruction is an element that DICE has explored a lot in the past, even within the late Battlefield: Bad Company 2, of which we continue to await a possible sequel. that doesn't seem to arrive.
window.twttr = (function (d, s, id) {var js, fjs = d.getElementsByTagName (s) [0], t = window. twttr || {}; if (d.getElementById (id)) return t; js = d.createElement (s); js.id = id; js.src = "https://platform.twitter.com/widgets. js "; fjs.parentNode.insertBefore (js, fjs); t._e = []; t.ready = function (f) {t._e.push (f);}; return t;} (document," script "," twitter-wjs ")); twttr.ready (function (twttr) {twttr.widgets.createTweet ('1357357371438284805', document.getElementById ('tw_1357357371438284805'));});
window.twttr = (function (d, s, id) {var js, fjs = d.getElementsByTagName (s) [0], t = window.twttr || {}; if (d.getElementById (id)) return t; js = d.createElement (s); js.id = id; js.src = "https://platform.twitter.com/widgets.js"; fjs.parentNode.insertBefore (js, fjs); t._e = []; t.ready = function (f) {t._e.push (f);}; return t;} (document, "script", "twitter-wjs")); twttr.ready (function (twttr) {twttr.widgets.createTweet ('1357436167143239680', document.getElementById ('tw_1357436167143239680'));});
Source