PlayStation VR2: 11 games announced for the launch of the new Sony headset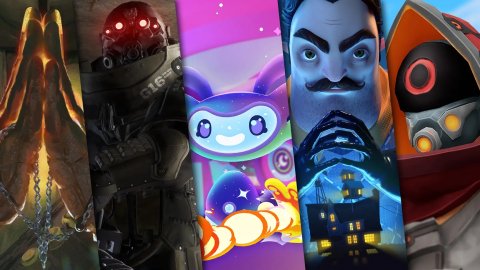 PlayStation VR2
Sony
also announced 11 games coming to
the launch of
PlayStation
VR2, with several new original titles and some adaptations of games known specifically for the new
PS5
virtual reality headset, which will make up a pretty rich lineup for the device's release. br>
We already knew that among the launch games there would be Horizon Call of the Mountain, or the spin-off of the Guerrilla Games series specially developed for PlayStation VR2, but the launch will also be accompanied by several other titles. So let's see
what it is
:
The Dark Pictures: Switchback VR Crossfire: Sierra Squad The Light Brigade Cities VR - Enhanced Edition Cosmonious High Hello Neighbor: Search and Rescue Jurassic World Aftermath Collection Pistol Whip VR Zenith: The Last City After The Fall Tentacular
The Dark Pictures: Switchback VR is a sort of roller coaster for virtual reality with "on track" shooter elements, of course, in which we find ourselves crossing a horror path inspired by The Dark series Pictures Anthology, also from Supermassive Games.
Crossfire: Sierra Squad is a new shooter from Smilegate which is part of the Crossfire series, of which we recently saw CrossfireX and which continues to have a huge audience especially in Asia, while in this case the whole is purpose built to be viewed and experienced in VR.
The Light Brigade by Funktronic Labs is a single player rogue like focused on shooter elements and mysterious environments, while Cities VR: Enhanced Edition is clearly the virtual reality version by the famous city builder of Fast Travel Games.
Cosmonious High is the new game by Owlchemy Labs, authors of Job Simulator and Vacation Simulator, in which we find ourselves interpreting Prisms, a sort of alien that adapts to any situation and that has to solve various situations in style puzzle. Hello Neighbor: Search and Rescue is a VR-style spin-off of tinyBuild Games' pseudo-horror series in which we always find ourselves having to explore the haunted Mr. Peterson's house, now in virtual reality.
Jurassic World Aftermath Collection, by Coatsink, is the collection of first-person
games inspired by
the famous film series, which brings together the various parts already released previously for other virtual reality headsets. Pistol Whip VR is an action with rhythm game elements that combines music with shooter-style action within a somewhat psychedelic setting, Zenith: The Last City is a sort of first-person open world action focused on white weapon fights in a strange fantasy world.
After The Fall by Vertigo Games is a cooperative shooter set in a post-apocalyptic version of Los Angeles, arriving in 2023 for PlayStation VR2 but still without a precise
release date and
which also provides for the presence of 32 players together engaged in fighting hordes of mutants.
Finally, Tentacular by Firepunched Games is a physics-based puzzle adventure that also offers a decidedly humorous setting, obviously all amplified by the use of virtual reality. For the rest, we remember the release date and price of PlayStation VR2, announced today.
Source Did you notice any errors?