Mato Anomalies, we tried a curious fusion of RPGs coming from a team from Shanghai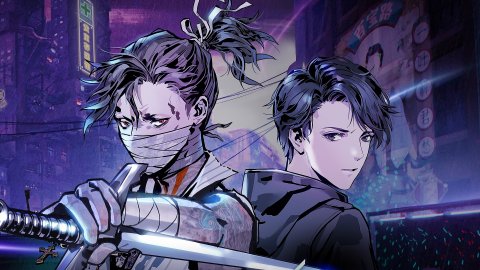 Mato Anomalies
The Chinese videogame market has always been a sort of Bermuda Triangle
for those who
hang out in the environment. Difficult to analyze in depth for many enthusiasts due to language barriers (and those of another nature), only in recent years has it begun to open up seriously to the West as well. Oh my God ... actually
it is not
really the case to speak of "opening", given that the market in those parts is more regulated than ever and still remains extremely complex for experts to explore. The changes, in fact, derive more than anything else from an amplified interest on our part towards their developers, who are proving to be far more competent and valid than we might have expected (despite a widespread tendency to emulate other formulas).
We therefore find ourselves today with a videogame ecosystem where the weight of China is increasingly significant (mostly due to the power of giants such as Tencent and similar) and a series of small and large development teams of Chinese origin who move their first steps in our panorama with more confidence than expected. One of these teams, named Arrowiz, must have captured Koch Media's interest, because we recently had the chance to try Mato Anomalies: their very own RPG included in the "Prime Matter" program. The demo wasn't as long-lived or elaborate as possible, but it turned out to be much richer in variables than we expected.
Demons, investigators, and cyberspace?
Mato Anomalies: in the demonic dimension the combat zones are very evident (and not particularly beautiful to see) Mato Anomalies is clearly a title with multiple inspirations . The look is very reminiscent of a more washed-out and less bright version of the recent Atlus Persona, and the three-dimensional maps of the game - which can be explored with a view behind the protagonist - contain the same stylized NPCs with faces largely devoid of features. The Arrowiz, if nothing else, have tried to give a bit of uniqueness to everything with a setting in the mid-50s and cyberpunk, where the greyness of old-fashioned buildings contrasts sharply with the neon lights and some ultra-technological elements of the landscape. It's not exactly a classy fusion, yet the initial impact is interesting and the stylization of the elements helps to give it a certain naturalness.
You play the role of an investigator named Doe, who is hired from a woman named Nightshade - apparently an informant with considerable power in the city of Mato where it all takes place - to investigate mysterious events that occurred during some trade in illegal goods. Said this way it would seem the premise of a film noir, were it not that the "mysterious events" are revealed to be linked to a real alternative dimension populated by demonic creatures, where Doe finds himself catapulted and is saved from certain death only thanks to the intervention of a strange "shaman" named Gram.
Are you confused? Understandable, on the other hand, everything happens at great speed in the demo we tested and it is quite clear how the team wants to introduce the narrative without too many frills. In any case, this is a premise with good potential and with a more careful management of the rhythms it could also result in a more than decent story. Obviously, however, it is impossible to evaluate its qualities only from the opening bars; it is too simplistic for a game of this type.
If nothing else, Arrowiz's work seems to be rather ambitious in terms of content. The opening lines took us to a limited number of maps, but the city of Mato has a fully visible map on the move (not open to visitors in the demo), which gave us the impression of being quite large. If you add to this any other settings and the environments where the fighting takes place, we could be dealing with an RPG with a more than worthy longevity.
More JRPG in one
Mato Anomalies: as a good "shaman" Gram is dressed like a ninja and turns with a sword. All normal Outside of the exploratory phases - indeed rather basic - the gameplay of Mato Anomalies is mainly based on turn-based battles. However, the developers have decided to mix up the cards a bit using two different systems, one linked to Gram and one linked to Doe. In the alternative dimension, in fact, only Gram is able to damage enemies and the fights take place as in a classic JRPG: there are moves with variable recovery times from various effects, which can be used in well-defined encounters while exploring linear maps ( or so it was the first and only map of this type we faced). These aren't elaborate or more original mechanics than average, but we've only had a taste of them, and the presence of slots for other characters and a weapon system means that things will undoubtedly get more complex as you progress through the campaign. >
The detective protagonist is not always forced to the path of non-violence in any case. In the final phase of our tried, in fact, ours comes into possession of a special glove to reprogram the minds.
Mato Anomalies: the city will clearly not be the only setting of the game. life bar protected by timed summons and use a deck of cards. These clashes are markedly tactical compared to normal ones, because the cards have multiple offensive and defensive effects, and already in the first confrontation it is necessary to carefully calculate your action points and your resources in order not to suffer an exaggerated amount of damage from enemy counterattacks. (or let his virtual guards live too long). Between the two systems this is certainly the one that tickled us the most, and we are curious to understand if it will be a frequent alternative to the basic clashes, or a simple variant to break the rhythm a little. At the moment, however, it is not even clear whether it will be possible to customize one's own "bunch" of actions or to strengthen oneself in some way for these challenges between brains in cyberspace.
In short, the prerequisites for a more varied and profound title than the average they are there, even if Arrowiz's work does not shine for productive values ​​and originality. If the narrative proves to be of value, and the battles described above improve properly during the progression, Mato Anomalies could represent a fair surprise among the RPGs.
It will not have excellent production values ​​and the limitations of the team behind the projects are noticeable, yet Mato Anomalies has potential, due to a gameplay built around two separate combat systems and a discreetly inspired setting. We certainly do not expect such a masterpiece, yet the possibility of a surprising title exceeding expectations exists. We'll see.
CERTAINTIES
Interesting double combat system Setting with potential DOUBTS Production values ​​that are anything but striking The mix of elements could become chaotic Did you notice any errors?