Xbox Game Pass, November 2021: The first wave of games for subscribers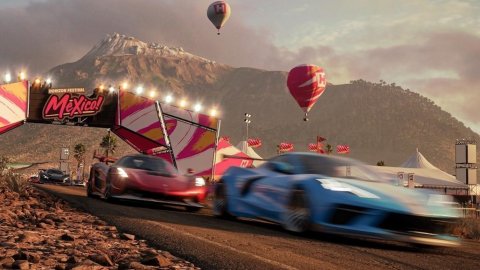 Xbox Game Pass, November 2021
Microsoft is preparing to be the protagonist of this videogame autumn, at least as regards the new releases scheduled between November and December and a first decisive step in this sense comes from the first batch of games arriving in the
Xbox Game Pass
catalog in November 2021, of course. free for subscribers, as they say. The absolute protagonist of this release is Forza Horizon 5, which is also one of the major first party productions of this year for Xbox Series X | S, Xbox One and PC, now really close to release and obviously included in the subscription service.
Xbox Game Pass, the first batch of games in November 2021 Let's therefore make the usual overview of the new games coming to the catalog, assuming that we have also included in the list two titles that technically do not belong to this sent, since they came out in October. However, they weren't part of the October 2021 second wave roundup of games, so let's take them into consideration on this occasion first, and then move on to the November titles.
Moonglow Bay - PC, Xbox and Cloud, October 26
Moonglow Bay, a game scene in the country A relaxing seafaring adventure with reflections on the meaning of life, no less: in this way it can be summarized Moonglow Bay, which starts from fishing to face great existential dramas but seen in a perspective of hope. After a long dark period, following the loss of his partner and / or life partner at sea, the protagonist of the story is pushed by his daughter to return to the sea and go back to fishing, which was her original occupation. First timidly, then with ever greater conviction, our alter ego finds itself restarting its life and with it also dragging the rest of the village of Moonglow Bay into a positive spiral, awakening it from the torpor and abandonment that characterizes it. for years, after all the inhabitants have decided to abandon the sea and fishing due to an alleged curse that befell the town.
Between fishing and cooking mini-games, we find ourselves exploring new seas, discover bizarre species and entertain relationships with the rest of the seafaring community, as you can see in the Moonglow Bay review.
Project Wingman - Xbox, October 28
Project Wingman, a screenshot during an air combat Those looking for a pseudo-realistic aerial shooter that has simulation elements but is essentially an action one doesn't have many other choices besides the usual Ace Combat, and this is where Project Wingman can do i be worth. Clearly inspired by the tradition of the historic Namco series, the game in question is an indie project by Sector D2 but which stands out for a technical realization of considerable profile, with an excellent reproduction of real aircraft and environments that are inspired by reality but they stage a completely fabricated history and geopolitical situation, complete with natural catastrophes and large-scale global warfare.
There is a Campaign with a real story to discover, as well as various ways of game like Conquest Mode which provides multiplayer, but the gameplay is still a concentrate of action that has vaguely realistic elements in the behavior and control of the aircraft but I focus everything on the spectacularity and speed of the clashes, between tight dogfights and attacks towards targets on the ground.
Minecraft: Java and Bedrock Edition - PC, November 2nd
Minecraft, a screenshot of the most popular game in the world After a long time and hundreds of millions of copies sold, Minecraft arrives in the Xbox Game Pass catalog on PC, moreover in its double version, namely Bedrock and Java. With a rather unexpected initiative, Microsoft has decided to provide PC users with the ability to access the complete Minecraft experience with the ability to choose between the Bedrock version, or the "official" version for
Windows
10, compatible in crossplay with the versions console and equal to these
in terms of
content and features, and Java, which continues the original tradition of the Mojang game with the ability to immediately access numerous news, mods and various features that are not accessible, at least with this immediacy, in the other version.
For the rest, there is very little to say about Minecraft: it is a mass cultural phenomenon, practically the most successful game in history, capable of being both a standard videogame pastime than a constant source of inspiration and creativity, something that remains remarkable even 10 years after its launch.
Unpacking - Xbox, PC and Cloud, November 2nd
Unpacki ng, a screenshot of the game requiring you to arrange items in a new home The weird angle of this Xbox Game Pass send can probably go to Unpacking, a Witch Beam team game that is referred to as "zen", in its focus on a action considered relaxing such as tidying up objects after moving into a new home. Although in reality this can be anything but a source of relaxation, in the game it is actually placed in a very intuitive and comfortable way, able to give satisfaction in finding a suitable space for each object by also following some puzzle game-style rules. Moving from one room to another in the house, we have to open the boxes and distribute the objects in a sensible and organized way according to the spaces available in the new home, while also discovering something about the life of the "protagonist" of this move, with details that emerge precisely from the elements that we have to place around the furniture and spaces available in the apartment.
It Takes Two - Xbox, PC and Cloud, November 4th
It Take Two , an image of the game that shows a cooperative situation With its arrival on EA Play, It Takes Two obviously also arrives on Xbox Game Pass Ultimate, to the delight of all subscribers to the service who have not yet purchased the phenomenal title by by Hazelight Studios, directed by the volcanic Josef Fares. The game evolves and brings to its current maximum splendor the concept on which the previous titles of the same author were based, that is the cooperative multiplayer action, taken here to the extreme.
In It Takes Two we follow the adventures of Cody and May, a married couple of spouses in crisis, who find themselves by magic having to collaborate to come out of the most absurd situations: embodied in rag dolls, they are forced by a bizarre talking book of relational therapy to face various challenges by relying on their ability to cooperate and trust each other, putting their relationship to the test in a fantastic action platform featuring a large amount of different situations. One of the best cooperative multiplayer experiences seen in years.
Kill It with Fire - Xbox, PC and Cloud, November 4th
Kill it with Fire, a game image showing the extreme methods with which we must get rid of spiders Let's continue with the oddities, in this case with a game that does not seem suitable for those suffering from arachnophobia. Or maybe yes, since it could be particularly cathartic: in Kill It with Fire we must in fact eliminate spiders within various settings, using absolutely inadequate means or simply disproportionate to the purpose, unleashing hallucinating damage. As an exterminator from the award-winning company Kill it with Fire, we find ourselves chasing various spiders inside houses and other scenarios, using weapons of different types and capable of causing collateral damage of varying intensity. They range from revolvers to hammers, from flamethrowers to explosives to plastic: all means are legitimate to get rid of arachnids in this game, which reinterprets the first person shooter in a very particular way. In addition to spider hunting, physics allows for multiple interactions with scenarios, leading to truly devastating assorted destruction.
Football Manager 2022 - PC and Xbox version, November 9
Football Manager 2022 , image that shows the management of the team with the new interface The football manager par excellence arrives on Xbox Game Pass, both in its classic version for PC and on consoles with an edition specially optimized for Xbox Series X |
S and Xbox One
. With Football Manager 2022, the simulation of
Sports
Interactive and
Sega
presents itself considerably evolved in this edition, while substantially maintaining the structure now known: interface, options and game structure will be perfectly familiar to fans of the series, but the developers have added some new features able to further evolve management simulation, which has already proven in the past to be incredibly realistic. One of these is a new data hub highlighted on the screen, which allows coaches to see a large amount of data on the game in progress and on the various stages of preparation at any time, so that they can always do a lot of analysis. complete team. Technically, there is also a clear evolution in animations and graphics during the game through the new animation engine, capable of reproducing much more realistic movements.
Forza Horizon 5 - Xbox, PC and Cloud, November 9
Here we are at the most important game of this Xbox Game Pass release, as well as the Xbox vintage in general: Forza Horizon 5 brings forward one of the most popular series of these years by Xbox Game Studios, as well as probably the best arcade racing currently out there. The new chapter, in addition to bringing with it a new gigantic setting with a reproduction of various areas of Mexico in an unprecedented map, substantially evolves all the technical aspects of the game, improving graphics, driving model and environmental variations as well as a series of news on the front of the actual gameplay.
The single player progression has been reshaped with events characterized by a greater script and a real campaign to be carried out from race to race, to advance in rank in the world of the Horizon Festival, while on the multiplayer front the usual avalanche of events and contents to be completed awaits us, scattered throughout the impressive breadth of the game map. Forza Horizon 5 is a real 2021 videogame event and we recommend that you pre-load it right now, so you can be ready on the starting grid on November 9th.
Grand Theft Auto: San Andreas - The Definitive Edition - Xbox, November 11
GTA: San Andreas - The Definitive Edition, a screenshot showing the improvements applied After so many rumors, the confirmation of the existence of Grand Theft has finally arrived suddenly Auto: The Trilogy - The Definitive Edition, or a total remastering of the three historical chapters that started the GTA saga as we know it for the last 20 years. Of those three titles, on Xbox Game Pass we can immediately play Grand Theft Auto: San Andreas - The Definitive Edition, perhaps the absolute favorite even if it is always difficult to make comparisons between titles of this historical value.
By sure, San Andreas remains truly an impressive title even today in terms of breadth and quantity of content and game situations, still remaining unsurpassed in some respects. The story and the map is reproduced in a faithful way to the original, but the remastering work concerns numerous aspects of the game: the graphics have obviously been reworked with a new lighting system, high definition textures and enrichment of the 3D models, but they are the controls, visual distance, guidance system and checkpoint management have also been improved.
One Step from Eden - Xbox and PC, November 11
One Step from Eden, a image of a clash in the game It is difficult to put One Step from Eden in a classic video game category, being another great example of a creative approach to design. It is a hybrid game that mixes elements of strategy, action RPG and deck building, or strategic card game or something like that. Ultimately, it can be considered a mixture between a fighting card game like Slay the Spire and a particular strategic one like Mega Man Battle Network, a title that in fact has remained rather in the shadow historically but which was based on a very interesting concept and to be rediscovered. For these reasons, Thomas Moon Kang's game is something to experience, especially since it is a very rare product on consoles and we therefore recommend you try it.
It is how
ever also available on PC, of ​​course, in an ever-increasing match demonstrated by Xbox Game Pass for both catalogs.
Have you noticed any errors?