Elden Ring: 4K mode and 60 FPS on PS5, per GameStop description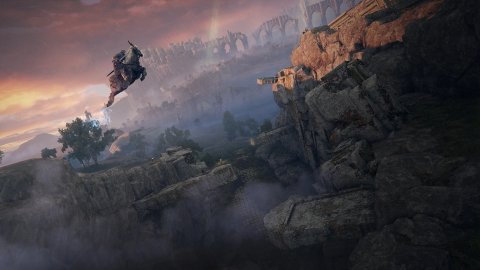 Elden Ring
Elden Ring is one of the most talked about games of the moment. Yesterday's presentation convinced some and not thrilled others, but FromSoftware's new game has certainly attracted attention and many await its release. However, we still don't know everything about the game, such as performance. Now, however, the GameStop USA site reveals that Elden Ring will have a 4K and 60 FPS mode, at least on
PS5
.
The description of Elden Ring on the GameStop site, in fact, reads: "Using the power of the new console generation, PS5 will allow gamers to customize their experience by choosing between Graphics Mode to enhance game graphics (up to 4K) or Performance Mode for a higher frame rate (up to 60FPS). "
We note that it is specified "up to" 4K and 60 FPS, so it will be necessary to understand how stable the game will be and
how much it
will actually
be able to
offer. FromSoftware is certainly not known for the quality of the purely technical side of its games, so Elden Ring could suffer from some limitations at least initially. For now we cannot know: we will probably be able to find out thanks to the closed beta, coming soon.
Elden Ring We add that, while it is true that the description only mentions PS5, it is credible that the same type of mode is available on
Xbox Series X
and possibly
Xbox Series S
as well. The presence of two different graphics modes isn't strange. Demon's Souls, on PS5, also offers two graphic versions, one that points to 4K and one that points to 60 FPS with 4K upscale. Demon's Souls, however, has more elaborate graphics than Elden Ring.
Finally, here's our special: Elden Ring: we analyzed the first gameplay shown by From Software.
Source Did you notice any errors?
---
It's Finally Time To Talk About Elden Ring's Gameplay
'Elden Ring' takes place in the Lands Between, a complex landscape filled with war, grace, magic, Demigods, and the eventual promise of lordship. In their exploration, players will have plenty of opportunities to make their own choices. One example of this seen in the gameplay preview is a Site of Grace, which can offer players rest and occasional 'rays of guiding light' which they can choose to follow — or not, if they're enjoying their wandering.
As the presence of this guiding light might indicate, players aren't left on their own to get lost in the wilderness. Maps can be created by finding and piecing together map fragments. Once the map is fleshed out, players can use markers to make the map their own. These reminders may point towards essential supplies or keep players from reencountering enemies unprepared. Speaking of which, players who aren't in the mood for a fight can navigate using stealth to avoid being spotted by enemies. In addition to map markers, players can add beacons, which will also appear in the environment to help with navigation.
Getting around a varied terrain is made easier with the help of horse companions, who can be seen being magically sent away in a 'poof' in the preview, which likely means they can be summoned similarly. While on horseback, players can get airborne with spirit springs. Players are also capable of big jumps on or off their trusty steeds.