Battlefield 2042: video compares PS5, Xbox Series X | S and PC versions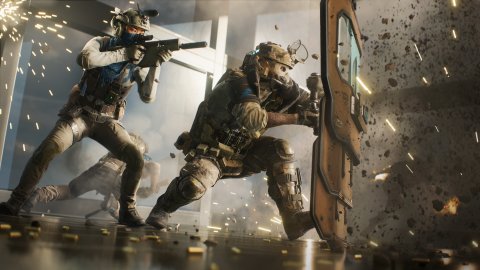 Battlefield 2042
A few days after the global launch of Battlefield 2042, the YouTube channel ElAnalistaDeBits has published a video that compares the graphics and performance of the
PS5
,
Xbox
Series S | X and PC versions of the shooter by EA and DICE.
The PC version that we see in the movie runs with an RTX 3080 using the DLSS in quality mode. As for the resolution
Xbox Series X
and PS5 reach 2160p with temporal reconstruction, while Xbox Series S stops at 1260p.
According to what ElAnalistaDeBits reports, all versions of Battlefield 2042 run at 60fps: on Series S the framerate is granite, while on
PS5 and Xbox
Series X they suffer from some occasional drops, more frequent on the Sony console.
PS5 is the console that has the best implementation of temporal reconstruction, with images that are slightly sharper than Series X, but lower than the PC version with DLSS active. The textures on the Xbox Series X and PS5 are practically identical, but in some cases the Sony console manages to come very close to the quality of the PC version. On the other hand, Series X has higher quality reflections and anisotropic filtering.
Excluding the graphical differences, ElAnalistaDeBits states that all versions of Battlefield 2042 are well optimized.
Battlefield 204
2 will be
available on all the platforms starting from Friday 19 November, however, players who have purchased the Gold and the Ultimate Edition can already play them for a few days in early access, as well as subscribers to EA Play and
Xbox Game Pass
who can try the game for 10 hours . Currently, DICE's shooter seems to have serious problems on the Xbox Series X, with players complaining of numerous crashes on the
Microsoft
console.
Have you noticed any errors?
---
Battlefield 2042 Is Crashing On Xbox Series X Consoles, Fix Is Coming
Battlefield 2042 is running into some issues on Xbox Series X, with players reporting that the game completely crashes their console in some scenarios. Developer DICE has confirmed that this is a system-level problem on Microsoft's side that is also affecting games like FIFA, Madden, and NBA 2K.
DICE will release an update on November 17 to resolve the crashing issues, the studio said in a blog post (via Battlefield Bulletin). The update is optional until November 23, when it becomes mandatory.
You need a javascript enabled browser to watch videos.
Size:
Want us to remember this setting for all your devices?
Sign up or Sign in now!
Please use a html5 video capable browser to watch videos.
This video has an invalid file format.
Sorry, but you can't access this content!
Please enter your date of birth to view this video
By clicking 'enter', you agree to GameSpot'sTerms of Use and Privacy Policy
enter
Players experiencing the issue don't have to wait that long to get the update, however. Everyone can join the Xbox Insider Program (sign up here) and opt in to the Omega Ring. From there, the update should be made available to help improve the experience.
Battlefield 2042 launched with early access and with its 10-hour EA Play trial on November 12. The game's servers struggled with rubber-banding and 'persistence data' errors, but the experience is generally smoother now ahead of its official release date on November 19.
It might not be the only new shooter around for much longer, either, as rumors suggest that Halo Infinite's multiplayer will be released today, November 15, to celebrate Xbox's 20th anniversary.
For more, check out GameSpot's Battlefield 2042 review in progress.
GameSpot may get a commission from retail offers.