Dune, 10 things to know about Frank Herbert's masterpiece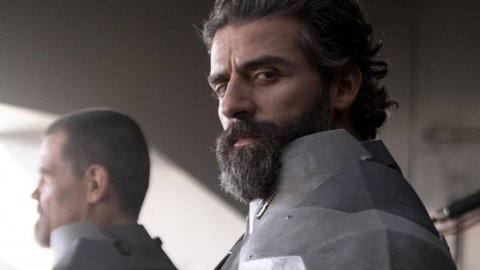 Dune
Postponed over and over again due to the health emergency, Denis Villeneuve's Dune finally arrives in Italian cinemas starting September 17. The excellent resume of the French-Canadian director, an amazing cast and the enthusiasm of the critics who previewed it, as well as the extraordinary fame of the novel by Frank Herbert which, published in 1965, has influenced literature for decades, precedes it. cinema and, yes, video games too.
If you are unfamiliar with the so-called "Dune cycle" and want to know more before heading to the cinema, you are in the right place: from novels to films to video games, here are 10
things to know about
Dune and its universe multimedia.
The novel
Dune, the writer Frank Herbert Dune is the nickname of a desert planet called Arrakis that multiple factions vie for a vital resource found only among the its sands: melange, a spice that prolongs life and confers extraordinary abilities to
those who take
it. Writing Dune, which at the time won the Nebula Prize and the Hugo Prize, practically the highest accolades in science fiction, author Frank Herbert tackled extremely complicated issues, exploring how religion, philosophy, politics and ecology are intertwined in the evolution of the human being.
The Dune cycle is made up of six books: Dune, Messiah of Dune, Sons of Dune, The Emperor-God of Dune, The Heretics of Dune and The Refoundation of Dune. There are also various novels that serve as prequels and sequels, written by Brian Herbert, the son of Frank, after the latter's departure, but the original cycle should be the solid starting point for anyone who wants to face a demanding, but satisfying reading. .
Villeneuve's film
Dune, director Denis Villeneuve and the cast at the 78th Venice Film Festival Dune was made by visionary Denis Villeneuve, famous for having signed some highly acclaimed films as Sicario, Arrival and Blade Runner 2049. Following a very long gestation, the director has brought together some of the most popular actors of the moment on the set: Timothée Chalamet (Call me by your name) plays the protagonist Paul Atreides, Oscar Isaac and Rebecca Ferguson his noble parents Leto and Jessica, Jason Momoa is Duncan Idaho, Josh Brolin is Gurney Halleck, a very make-up Stellan Skarsgård plays the evil Baron Harkonnen. In smaller roles we find Zendaya (it's Chani) and Javier Bardem (Stilgar): this is because Dune, despite lasting two and a half hours, is only the first part of a film that transposes about half of the original novel to the big screen. The second film has not yet been announced, but it is highly probable that Villeneuve and his team will start working on it very soon: it is not clear if it will follow only the second part of the novel or if it will also adapt Herbert's second book, Messiah of Dune. >
The other Dune films
Dune, Kyle MacLachlan in a scene from David Lynch's film The first film adaptation dates back to 1984 and was shot by none other than David Lynch. Despite having achieved cult status, the film - which even in that case could count on a truly extraordinary cast that included, among others, Kyle MacLachlan and Patrick Stewart - was harshly criticized for its lack of smoothness and for the overly intricate plot. which presupposed a basic knowledge of Herbertian prose.
In 2000 it was then the turn of Dune - The Destiny of the Universe, a three-part miniseries shot by John Harrison for the Sci-Fi Channel: despite being a television product, it was highly regarded for its fidelity to the original work, so much so as to convince the broadcaster to order a sequel inspired by the novel Sons of Dune and then released in 2003.
Jodorowsky's Dune, on the other hand, is not really a film, but a docufilm that tells the attempts by Chilean director Alejandro Jodorowsky to make a film adaptation of Dune that never went through. And then, of course, there is the new Dune of Villeneuve.
The video games of Dune
Dune II: Battle for Arrakis of Westwood Obviously there are various games and one of them, in particular , is considered the progenitor of the Real Time Strategy genre as we know it today. We are obviously talking about Dune II: Battle for Arrakis, the title developed by Westwood and released between 1992 and 1993 on Amiga, MS-DOS and SEGA Mega Drive. While not really the very first RTS in history, Dune II inspired the development of the likes of Command & Conquer, Warcraft and
StarCraft
, and for this reason it was re-released in 1998 as a remake with the title Dune 2000. Emperor: Battle for Dune was less successful, however: also developed by Westwood, it was one of the first 3D RTS that EA Games released in 2001.
The Dune released in the same year on behalf of Cryo Interactive was instead an adventure strategy inspired by the first novels in the series: it was quite successful, so Cryo could never have imagined that his next all-action tie-in, 2001's Frank Herbert's Dune, would be such a disaster as to indirectly cause the company to go bankrupt. br>
A disastrous debut
Despite the awards won and his extraordinary legacy, Dune's debut was half a disaster. Originally published in two parts by Analog magazine (Dune World and Prophet of Dune) the manuscript passed through at least twenty publishing houses, but none of them wanted to print it because they found the story confusing and Herbert's prose not very fluent. Ultimately it was Sterling Lanier of Chilton Books who took this responsibility on behalf of a publishing house that published automotive magazines and manuals. Unfortunately, the first edition was very unfortunate, thanks to the length of the novel and its consequent excessive cost by the standards of the time, not to mention that in some respects it was more part of non-fiction than science fiction. Dune's initial failure also cost Lanier's job. Only later did the critics and the public recognize the merits of Herbert's work who ended up signing the sixth novel in the series in 1985, twenty years after its daring start.
Inspired Star Wars
Dune, the sandworms inspired the Sarlacc of Star Wars George Lucas never made a mystery of it: while writing the story of his famous space opera, he looked around and was inspired by its myths, from Kurosawa to Herbert, precisely. And in fact there are many similarities between Dune and the first Star Wars. Let's see some of them. Planet Arrakis is desert just like Tatooine, and what's more, very similar creatures live there: Dune has sandworms, Star Wars has Sarlacc. Both stories talk about spice, and although it is much more central to Dune, it is one of the most smuggled commodities in Star Wars. In both Herbert's and Lucas's universe there is a galactic emperor who acts as an antagonist and there is even something very similar to the Force in Dune as well: it is called Voice
and it is
a power that allows you to mentally control others. , just like Obi-Wan Kenobi does in Episode IV. Last but not least: when he conceived the look of Jabba the Hutt, Lucas was certainly inspired by the description of Leto II Atreides in the novel The Emperor-God of Dune.
Before The Throne of Spade
Dune, a scene from Villeneuve's new film Although they belong to very different genres - one is science fiction, the other is fantasy - Dune and Game of Thrones share some narrative elements that could easily win over opera fans still unfinished by George RR Martin. Even that of Dune, in fact, is a story that revolves around betrayals, wars and visceral twists, but also around predestined heroes who possess unique abilities of their kind. If in Game of Thrones it was mainly the houses of Stark and Lannister who waged a war on several fronts, in Dune it is the house of Atreides and that of the Harkonnen at the center of the battle for the conquest of the planet Arrakis. Herbert also outlined in detail the political and social balance of the universe he imagined: there is really a lot of information to absorb in order to better understand the pieces that form this science fiction mosaic, a bit like what happened in Game of Thrones with its multiple points. of sight. In fact, even the Dune saga does not focus on a single character, but explores the most varied perspectives.
One of the films most affected by COVID
Dune, the cast in a scene of the film Dune should have been released in theaters on November 20, 2020, only that the pandemic got a grip on us and it was postponed first to December 18, then even to September 2021. While we can already enjoy it at the cinema, in the United States they will have to wait until October 22, but they can also see it comfortably at home on HBO Max. Although Warner Bros. has already operated in the same way with films like Wonder Woman 1984, Denis Villeneuve has strongly criticized this choice, both because a film of this proportions should be watched on the big screen, and because piracy will surely end up hitting box office results. . We do not yet know if this disagreement will affect future collaborations with Warner Bros. as a success between the same major and Christopher Nolan, but certainly Villeneuve had many problems working on Dune: among other things, he said he had enormous difficulties in edit the film remotely, not being able to count on a collaboration in person.
The music of Dune
Dune, the composer Hans Zimmer Hans Zimmer has signed the soundtrack of Dune by Denis Villeneuve Zimmer. Perhaps not everyone knows that Zimmer has also composed the music for some video games, to be precise the main themes of titles such as Crysis 2, Skylanders: Spyro's Adventures and
Call of Duty
: Modern Warfare, but the very famous and prolific composer is also known for his close collaboration with Christopher Nolan, the director of blockbusters such as The Dark Knight trilogy, Interstellar and Inception. And in fact Zimmer gave up composing the soundtrack of Nolan's latest film, Tenet, just to dedicate himself body and soul to Dune, being a huge fan of Herbert's novel: for this reason, Zimmer claimed to have experimented with musical solutions. completely unpublished in order to give the film a distinctive trait. The composer also rearranged the song Eclipse by Pink Floyd that we can hear by watching the first trailer of the film: this is not a random choice, since the English band should have composed the music of Alejandro Jodorowsky's transposition that never materialized.
New games are on the way
Funcom's Conan Exiles will be the basis of the new Dune-inspired MMO In 2019 Legendary Entertainment and Herbert Properties LLC have signed an agreement and handed the license of Dune to Funcom to develop not one, but three games set in the Dune universe over the span of six years. Although nothing concrete has yet been seen, we know that the first of them will be a survival MMO inspired by the most successful title of the Norwegian company, namely Conan Exiles. Funcom Oslo has in fact
announced that it
is working on a much larger, more ambitious and articulated GaaS, taking advantage of everything it has learned over all these years. Following this agreement, Funcom acquired Swedish developer The Outsiders and opened a new office in Bucharest to redirect these resources on game development. In the meantime, Tencent, the very famous Chinese giant, has almost totally acquired Funcom, which now finds itself with an even greater amount of resources that would bode well for the success of the project, yet still without a launch window.
Have you noticed any errors?