Big Brain Academy: Challenge of Minds announced for Nintendo Switch, date and trailer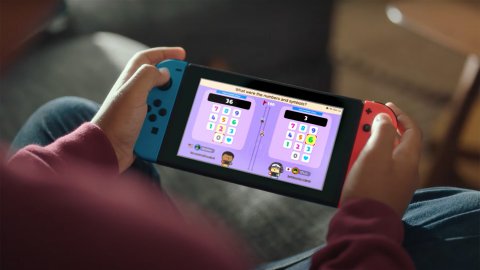 Big Brain Academy
Big Brain Academy: Challenge of Minds has been announced
for Nintendo Switch
, complete with release date and trailer: the game will be available starting December 3.
"Trust your wits and put yours into play mind with that of the other competitors in a series of fun activities that will test the intellectual abilities and reflexes of the whole family ", reads the official press release.
" With Prof. Bilancini (your illustrious guide in the game) always available to offer suggestions and the possibility for each player to set their own degree of difficulty, people of all ages and skill levels can compete against each other to test memory, analytical skills, perception and more. "
Big Brain Academy: Minds Challenge, a screenshot from the trailer In addition to having fun in multiplayer, Big Brain Academy: Minds Challenge also includes single player options in Individual mode, perfect for for example Daily exercises that help refine and improve the Brain Score. These activities are a fun way to start the day or relax in the evening. And thanks to the portable nature of Nintendo Switch, you can challenge yourself anytime, anywhere!
The main gameplay of Big Brain Academy: Minds Challenge consists of a series of various puzzles divided into five categories: Intuition, Memory, Analysis, Algebra and Perception. The game features a large assortment of activities and exercises that will challenge the brain in different ways and
that can be done
alone, with up to three other players locally or even against minds from around the world, via the Internet.
Below is an overview of the different game modes:
Party: Up to four players can compete "mind against mind" to earn more points by completing tasks quickly. By adjusting the difficulty from the easiest (for children) to the most difficult (Super elite), the exercises will change. And each player can set their own difficulty level to balance the playing field, so kids can even compete against their parents without fear of being left behind! Mental Stretching: Not coming out victorious in an intense multiplayer brain battle isn't the end of your synaptic story! In fact, in Mental Stretching mode, players can repeat their favorite activities several times to earn scores and medals. This is a great way to improve skills, and have a better chance of standing out the next time you compete with friends or family! Exam: In this mode, players are tested in a series of five activities. At the end, Prof. Bilancini presents the Cervellone Score. Aim for the highest score and you might improve your chances in the next brain challenge! Regular testing will earn in-game coins, which can be used to unlock costumes for your avatar. Brain testing is always more fun dressed up as an adorable kitty! Ghost Challenge: You can even challenge the game data - the Ghosts - of your family, or go online to fight the Ghosts of your friends or random players from around the world in Ghost Challenge mode. Upgrade your ranking to showcase your skills to people across the ... er ... globe!
Have you noticed any errors?
---
Nintendo's new Big Brain Academy is like Mario Party with brainteasers
© Nintendo
Nintendo sneakily announced Big Brain Academy: Brain vs. Brain, a new educational puzzle game for the Switch that sees the revival of a franchise that previously appeared on the DS handheld (and later ported to Wii U's Virtual Console). It'll release on December 3rd, 2021 for $29.99, and in it you'll race through puzzle mini games and challenges to flex your smarts.
In addition to single player modes, the game will support couch multiplayer and online play. Nintendo is even implementing a ghost data system, so you can test your skills against people who have gotten higher scores.
Big Brain Academy actually looks like a fun game to play with family, as it lets each player experience the game at their preferred difficulty level. Really, it's just nice to see these kinds of casual games continue to release on the Switch. Along with titles like Picross, Clubhouse Games, Ring Fit Adventure, Jump Rope Challenge, and others, Nintendo keeps proving that the Switch is a console fit for unique experiences, too, not just core games.