Bayonetta 3: the game is almost complete, the director talks about the announcement of the Switch game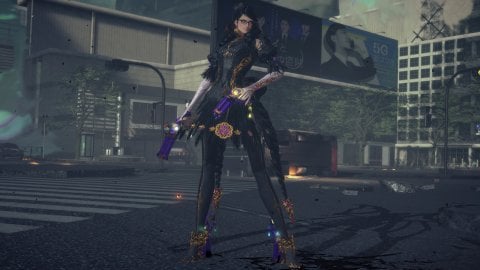 Bayonetta 3
The Bayonetta 3 director commented on the recent announcement and said the game is almost ready. Development is in the pipeline and the team is working on optimizing the experience and fixing any problems.
Here is his full statement: "Hi everyone! I'm Yusuke Miyata, the director of Bayonetta 3. . We have kept you
waiting for
a long time, but I am very happy that we finally managed to present you a
new trailer
.
This is my first time working on the Bayonetta series, but just like all of you, I am a huge fan and I have played non-stop the previous games. After being chosen as director, of course I have not only played the previous games again, but I have also read all the books related to Bayonetta from start to finish, before starting a deep discussion with Kamiya-san on every aspect of the game, from systems to environments, before I get to work.
One of the greatest attractions of Bayonetta's games is the mysterious and fascinating character of Bayonetta herself, as well as that of the characters. the only ones that surround it. I worked on the development of several characters, and I made the most of this experience to bring out the charm of Bayonetta and the gang.
I am also very attentive to the action, which is essential to the Bayonetta series. Kamiya-san almost literally talked to me about "action connected directly to the brain". Basically, this is the kind of satisfying action gameplay that comes with being able to control the character exactly the way you want, and the DNA of that action has been adequately conveyed to this game as well. Both as a developer and as a fan, we are all working on Bayonetta 3 with these 2 bewitching aspects of the series in mind, with the aim of exceeding all expectations.
So what do you think of the new trailer? We've put a lot of new elements into the fight. I'd like to talk a little bit about one of these, a new mechanic that allows you to control hellish demons, called "Demon Slave".
Unlike Climax Summons from previous games which automatically defeated enemies and returned to the Hell, this mechanic allows players to control demons throughout the game and unleash a series of intuitive actions. Each demon's abilities vary, and the types of abilities that are beneficial in a certain situation can change at any time. But how many are they? What else can be done? Well, there are many other things I would like to tell you, but for now I have to stop here. However, there is a lot of information hidden in the trailer that I didn't delve into here, so please watch it again until the ne
xt announcement
.
Bayonetta can use demons to fight against enemies We are in the home straight of development right now, we are working to make the core of the game even more fun and to test the game relentlessly. As the culmination of this beloved series by all of you, we are doing our utmost to make it a masterpiece worthy of the Bayonetta name, so please wait a little longer! "
Here is the gameplay trailer with year of release
unveiled at
Nintendo
Direct.
Source Did you notice any errors?
---
Bayonetta 3 Director Confirms The Studio Is Nearly Done
Yesterday fans were treated with a brand new gameplay trailer for Bayonetta 3. This has been a game we've been waiting on for years now. Unfortunately, nearly a decade has passed since we first received Bayonetta 2. Now it looks like we'll finally get a chance to dive into Bayonetta 3 sometime in 2022. With that said, the game director has published an online letter today. Essentially the director was alerting fans of the current development progress of Bayonetta 3. Likewise, new details are available for the Demon Slave mechanic.
Bayonetta fans will once again step into the iconic witch and deliver a slew of attacks against her enemies. This game had quite the anticipation built up, and hopefully, the studio delivers something special. While we got a sneak peek at the gameplay from yesterday's Nintendo Direct, today, the game director, Yusuke Miyata, wanted to ensure fans that the studio is nearly done. Currently, the development is on the final home stretch of development. However, Yusuke noted that they are constantly working to ensure the core game is even more fun. 
There was also a bit more insight into the game trailer. One of the new elements coming to Bayonetta 3 is the Demon Slave mechanic. This will allow players to control a demon and use its various abilities and powers against a target. Apparently, there will be multiple demons available with their unique powers, but we're not privy to the final details on just how many demonic alterations there are. 
"We're in the home stretch of development right now, working on making the core of the game even more fun and test playing nonstop. As the culmination of this series loved by all of you, we're giving our all to make it a masterpiece worth of the name Bayonetta so please wait and anticipate just a bit longer!"
Yusuke Miyata
Finally, the director alerts fans that this is his first time working with the game franchise. Still, Yusuke wants to ensure fans that he's still a massive fan despite not working on past installments. Before starting, Yusuke spent time replaying all the games and reading every book out there related to Bayonetta. We'll see how his take on Bayonetta holds up compared to previous installments when the game launches sometime next year.
Source