Apple, new AMD GPUs available for Mac Pro
Apple
AMD has announced three new W6000X series workstation graphics cards that will be offered exclusively for
Apple
's Mac Pro line computers. As such, they certainly will not end up in our buying guide for
the best video
cards, but they will certainly be quite interesting for professionals. The range consists of W6900X, W6800X and W6800X Duo (all based on the RDNA 2 architecture) with memory configurations up to 64GB (and 128GB for the Duo model). These new GPUs will give the Mac Pro a substantial graphics performance boost over the previous W5000X range, with performance nearly quadrupling the current Radeon Pro RX W5700X. For comparison, the low-end variant, the W6800X, offers a whopping 32TFLOPs compared to just 18.9TFLOPs on the W5700X.
Credit: Apple The W6800X will be the entry-level card in the W6000X range, with specs that look very similar to the Radeon RX 6800, but with a slightly lower clock rate. The W6800X features 60CUs for a total of 3840 Stream Processors and a peak clock of 2,087MHz. The card will rely on a 256-bit memory bus with 32GB of GDDR6 and 128MB of Infinity Cache. The W6900X is the mid-tier option with 80CU and 5120 Stream Processor, similar to the RX 6900 XT. The memory allocation remains the same, therefore equal to 32GB of GDDR6 running on a 256-bit bus and 128 MB of Infinity Cache. Finally, AMD's highest tier option is the W6800X Duo, featuring a dual-GPU configuration that operates on a single card. The W6800X Duo, as the name suggests, features two W6800X GPUs connected with AMD's Infinity Fabric interconnect. As a result, the number of Stream Processors and memory have been doubled to 120CU, 7680 Stream Processor, and 64GB of GDDR6 memory. But, due to the complexity of synchronizing two GPUs on a single card and the TDP of 400W, the clock rate has been slightly reduced to a peak 1,979 MHz.
Model CU Stream Processors Memory Interface Performance: Infinity Memory Cache GDDR6 TGP (Total Graphics Power) Radeon PRO W6900X 80 5120 256-bit 22 FP32 TFLOPs 128MB 32GB 300W Radeon PRO W6800X 60 3840 256-bit 16 FP32 TFLOPs 128MB 32GB 300W Radeon PRO W6800X Duo 120 7680 256-bit (for GPU) 30.2 FP32 TFLOPs 256MB (128MB per GPU) 64GB (32GB per GPU) 400W Since AMD's W6000X GPUs are exclusive to Mac Pro, they will be distributed on MPX modules. The latter have been designed to fit into the Mac Pro chassis and come with additional connectors on the PCB to allow for multi-GPU configurations and provide power for the different Thunderbolt 3 ports found on each W6000X series GPU. Speaking of multi-GPU configurations, the Mac Pro allows you to insert a maximum of two MPX W6000X modules in its case (also including the W6800X Duo), giving the possibility of having as many as four GPUs in your system. The cooling solution for each workstation GPU is also custom designed for Mac Pro: each MPX module is equipped with a matte black passive heat sink that uses chassis fans for cooling.
Credit: Apple The prices, as usual, are quite high. Installing a W6800X will cost you € 2,760 more than the base Radeon Pro 580X, € 6,440 for the W6900X and € 5,290 for the W6800X Duo.
The new MacBook Air with M1 chip is available on Amazon with shipping in one day at a discounted price, don't miss it!
---
Apple TV+ Hosts Ted Lasso 'Fan Experience' With Games, Performers, and Free Merchandise
Apple is today hosting the first of three 'Fan Experience' events to celebrate the second season of the hit Apple TV+ show 'Ted Lasso' (via The Drum).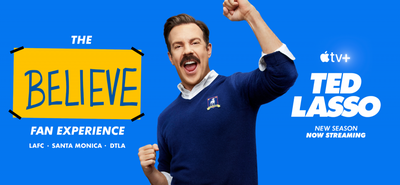 'The Believe Fan Experience' is a themed tailgate event centred around Ted Lasso. Fans of the show are invited to get their hands on official merchandise, take a ride on the double-decker 'Believe Bus,' play games such as soccer darts and participate in contests, watch freestyle soccer performers, and take photos with themed installations.
There will be free food, including Ted Lasso biscuits from the show, prizes, and a live DJ. The first 10,000 arrivals will receive a free 'Believe' rally towel.
The first event is being held today at the Banc of California Stadium, Los Angeles, between 4PM and 6PM. The Believe Fan Experience will also be available in Santa Monica on August 7 and Downtown Los Angeles on August 8.