UFL and Goals: the new soccer games that challenge FIFA 22 and eFootball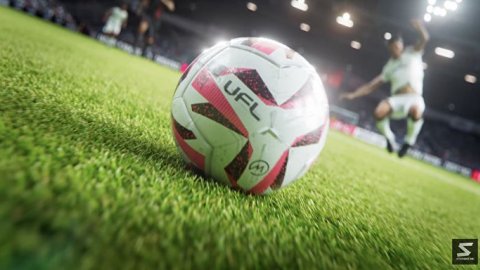 UFL and Goals
Yesterday there was a bit of confusion between Goals and UFL, two new
football<
/a> games that
, each in their own way, want to try to undermine the almost absolute domination of
FIFA 22 and
eFootball.
It is not every day that two "triple A" experiences are announced that want to upset the world of virtual football in a few hours and for a while we thought that one was the other (and vice versa) . But
is not so
.
UFL and Goals, the new soccer games that challenge FIFA and eFootball, are two different things, with different ambitions and markets in mind, but a common goal: to offer a fresh experience and out of what they are have been the patterns perpetrated so far by the genre. Let's find out the similarities and differences between these two games.
UFL
The UFL logo Presented during the opening conference of Gamescom 2021, UFL is the project that apparently should approach more to the economic model and structure of FIFA 22, but above all of eFootball and its innovative free-to-play model. In development for four years at Strikerz Inc., UFL will also be distributed free of charge and will regularly get new features and updates without the need to buy content or pay annual subscriptions.
Strikerz Inc. claims in the press release that "the game is designed to be a fair experience that involves a skill-first approach and zero pay-to-win options". A statement that seems like a dig at FIFA Ultimate Team, a mode in which it is important not only to be good, but also to have the best cards on the market.
"We are football fans and passionate players - we have been playing football video games for years and we know exactly what people want to see in a simulator," said Eugene Nashilov, CEO of Strikerz Inc. "We want to reinvent football
video games from
scratch, offering players around the world a revolutionary, exciting and fair to play experience. " Unfortunately, neither the game gameplay nor other videos have been shown that can confirm the validity of these statements or not, but the ambitions seem decidedly high.
As for the licenses, another very important battlefield on which market dominance is being fought, UFL will launch with 5,000 licensed real players who can be recruited and used in your own custom club. As for the clubs, the only one shown so far is West Ham Utd., While other licenses will be discussed with individual teams. To keep the game always up-to-date and interesting, the development team thinks of a fantasy football-style update campaign, with the strength of the players that will vary on a weekly basis, taking advantage of the data offered by the company InStat, which "will provide detailed information and updated statistics. for every player ".
UFL will be based on the Unreal Engine, just like eFootball and will arrive on" all major consoles ". All very ambitious on paper, therefore, but it is not yet possible to judge an experience of this kind, based on the gameplay, without first seeing a movie and testing the game dynamics and the sensations of the pad in hand.
Goals
The Goals logo is one of the few things available in the game To take advantage of the tow of UFL and eFootball, both present
at gamescom 2021
was Goals, a project that promises to be quite ambitious even if in an embryonic state. The development studio, in fact, is still looking for several key figures such as game designers, concept artists, character artists and NFT engineers. This is because the game will be based on a model called play to earn. By playing, in fact, you will get NFT (Non Fungible Token), i.e. the ownership of some digital assets that can then be resold for other NFTs and possibly even cryptocurrencies or real money. In a similar way to Sorare, a kind of Fantasy Football in which the players are unique NFTs to buy with real money.
In this case, in addition to the trading of cards, there will also be the possibility of going directly onto the pitch with a game that promises to exceed the limits of FIFA and PES. Two games that, according to the development team, create dissatisfaction in the players, with strange gameplay choices and often suspicious artificial intelligence behavior. The Goals team says they have played over 5,000 FUT matches and for this reason they know where to go to work to improve the game. And moreover, he also involved in the project Kurt0411, controversial FIFA pro-player banned for complaining about the game during an official tournament.
Again all statements were not accompanied by videos or demonstration demos, leaving on paper, good intentions and great ambitions. Only a deeper look will allow us to understand if Goals will really be able to dent the dominance of FUT.
UFL and Goals are two very ambitious projects on paper. Both aim to overcome the gameplay limits of FIFA and eFootball, to provide a completely free-to-play environment capable of rewarding the skill of the players and not those who spend the most. Goals also wants to create an economic system based on NFTs capable not only of not spending a single euro, but also of compensating the players of the time spent playing. All very nice, too bad that, in addition to a skimpy UFL trailer, nothing has been seen of these two projects that will have to conquer the general public pad in hand, not on paper or to the sound of press releases.
CERTAINTY
Interesting paper projects Will the FIFA / PES duopoly break? Free-to-play and skill based DOUBTS Where are the games? Have you noticed any errors?