Seagate FireCuda 530: technical specifications and features of the perfect SSD for PS5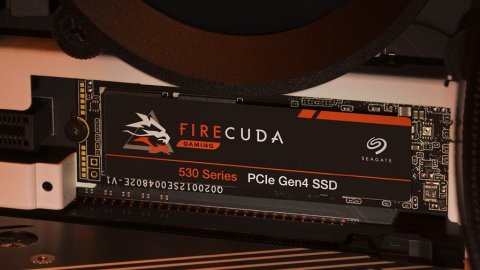 Seagate FireCuda 530
Quite recently Seagate unveiled the FireCuda 530, the fastest PCIe Gen4 NVMe SSD the company has ever produced - a device designed for gaming and capable of delivering astounding performance, thanks to a read speed of up to 7,000MB / s.
Revealed in detail during the SG21 virtual event, FireCuda 530 aims to become a real reference point in the solid state disk market thanks to the highest level components, which includes a control board Seagate-validated E18 and the latest 3D TLC NAND memory.
And as if that weren't enough, the Seagate
FireCuda 530 SSD
is just perfect for
PS5
, as well as PC.
Technical specifications
Seagate FireCuda 530 connected to a motherboard As mentioned in the opening, the FireCuda 530 is a solid state drive capable of offering the highest performance within the PC storage product line of Sea gate. Sequential read speeds of up to 7,000MB / s and the PCIe Gen4 interface provide users with up to two times the rate of PCIe Gen3 SSDs and up to twelve times that of SATA-based SSDs.
Performance strictly controlled by the E18 board validated by Seagate and by the 3D TLC NAND memories, which we can eventually decide to keep cool by applying an optional minimal mold heatsink, designed by EKWB. Made entirely of aluminum, the cover features cooling fins and an elegant finish to combine aesthetics and reliability.
Seagate FireCuda 530 data sheet
Format: Double-sided M.2 2280 Interface: 4 PCIe Gen4 ports, NVMe 1.3 Maximum sequential read speed: 7,300 MB / s Maximum sequential write speed: 6,900 MB / s Heatsink: yes, optional Capacity: 500 GB, 1 TB, 2 TB, 4 TB Price: starting at € 154.90 on Amazon Limited warranty: 5 years
The words of Seagate
Seagate FireCuda 530 mounted on a Gaming PC "This is Seagate's fastest and most powerful gaming SSD and we're introducing it at our first virtual gaming event to break new ground," said Jeff Fochtman, Seagate Technology's Senior Vice President of Marketing. "From the FireCuda 530, to our list of partners and guests at the SG21 event, we are here to take it to the next level."
"We took on an exciting challenge with designing a heat sink customized, with the aim of offering both design and function. We are talking about a low profile product, content for machines with little internal space, but which must also guarantee thermal management, while maintaining the elegant design for which both the line are known. Seagate FireCuda that EKWB, "said Kat Silberstein, CEO, North and South America, of EKWB. "The open and collaborative spirit of Seagate and EK is what made the FireCuda 530 drive stand out."
Capacity, reliability and price
Seagate FireCuda 530, the Seagate box The FireCuda 530 is available in capacities up to 4TB and includes three years of Rescue Data Recovery Services for data recovery, as well as a five-year limited warranty. The package also contains useful tools such as SeaTools and DiscWizard to check the integrity of the drive and its performance.
The reliability of the device is guaranteed by the accurate tests carried out by the company, which estimate a duration equal to 1.8 million hours of MTBF and up to 5,100 TB of data write. This means that users can rewrite 70% of the drive capacity every day for five years before running into any problems.
Available starting this summer, the Seagate FireCuda is priced at 154.90 € for the 500 GB version, € 269.90 for the 1 TB version, € 567.90 for the 2 TB version and € 1,109.90 for the 4 TB version. The variant equipped with a color cooler costs € 179.90 (500 GB), € 304.90 (1 TB), € 639.90 (2TB) or € 1,179.90 (4 TB). All links are from Amazon.
Have you noticed any errors?
---
Seagate FireCuda 530 2TB SSD Review - The Throughput Leader
Introduction & Drive Details
Seagate's newly launched FireCuda 530 series is showing itself to deliver unprecedented throughput at every capacity point. Today we have in hand what is likely to be the fastest capacity point of the FireCuda 530 Series. As fast as the 1TB model is, the 2TB model is even faster and presented us with the following numbers when we benched it on our RYZEN 5900X system:
VIEW GALLERY - 33 IMAGES
This is the first time we can get those kinds of sequential speeds while running as our 'C' drive. We've done it before, but only with empty secondary drives. As we see it, this is quite an accomplishment for Seagate's latest and greatest. It could even be said that this drive at this capacity point is currently the world's fastest flash-based SSD in terms of overall throughput. Impressive.
Seagate's FireCuda 530 series has caused quite a buzz in the PC enthusiast world, but it goes further than bleeding-edge PC performance. PlayStation 5 enthusiasts are also taking notice of Seagate's fastest SSD ever due to its class-leading sequential read speeds. Now you could take the drive we are testing today, stick an aftermarket heat sink on it and start shredding on your expansion-enabled PS5, but we recommend you grab the forthcoming FireCuda 530 versions with an integrated heat sink instead.
Drive Details
We previously noted the extremely high endurance rating for the 1TB model, but wow, look at what it is for the 2TB model. With more than 2.5 petabytes of rated endurance, it's going to be hard to wear this thing out that's for sure.
Jon's Test System SpecificationsSynthetic Benchmarks: CDM, Anvil, ATTOCrystalDiskMark
As noted on the benchmark screenshot above, the 2TB FireCuda 530 is the world's first retail SSD capable of delivering 7,000 MB/s read AND 7,000 MB/s writes. An amazing feat and serves to cement the fact that Seagate's 2TB FireCuda 530 is indeed the current flash-based throughput leader.
Anvil's Storage Utilities
We've always said that our primary focus when looking at Anvil results, or any synthetic results for that matter, is read performance. After all, host reads are 80% of typical consumer data transactions, and as such, it could be said that read performance is 4X more important than programming or writes. With this in mind, we've decided to no longer chart write scoring or total score. We find write scoring, at least for this test, to be irrelevant, right up there with write saturation testing on consumer SSDs.
Overall read performance by E18 powered SSDs with 96Layer flash has never been that great. But this is a new day, and as our chart shows, 176Layer flash is bringing with it overall read performance that is good as it gets. Wow.
ATTO
Chalk up a new lab record for sequential 128K write performance as measured by version 4 of ATTO disk benchmark. The top eight spots on our write chart have one thing in common; a Phison E18 controller is at the helm.
We find the same common denominator when we examine the top eight spots on our read chart as well. E18 powered domination.
Real-World Testing: Transfers, Gaming, PCM10Transfer Rates
The 2TB FireCuda 530 dishes out a new lab record for this particular hardware/software combination by beating out the very powerful WD Black SN850.
Serving data to the host is something Seagate's FireCuda 530 series does as good as it gets. Impressive.
Game Level Loading
Gaming is a performance metric that matters to the majority of DIY consumers, especially to the enthusiast crowd that TweakTown caters to. This is where the 2TB Seagate FireCuda has no equal in terms of flash-based performance. As we see it, our test subject is THE gaming leader. PS5 lovers, take note.
PCM10 Storage Tests
PCMark 10 Storage Test is the most advanced and most accurate real-world consumer storage test ever made. There are four different tests you can choose from; we run two of them.
The Full System Drive Benchmark and the Quick System Drive Benchmark. The Full System Drive Benchmark writes 204 GB of data over the duration of the test. The Quick System Drive Benchmark writes 23 GB of data over the duration of the test. These tests directly correlate with mainstream user experience.
PCMark 10 Full System Drive Benchmark
This particular test writes over 204GB data and covers a broad range of common consumer tasks, including booting Windows 10, file transfers, Adobe and Office applications, and startup times for games including Battlefield V, COD Black Ops 4, and Overwatch. Unlike synthetic numbers, this is comprehensive real-world data which is why we use it to rank SSDs in terms of user experience.
Two of the top three spots on our chart are populated with FireCuda 530 SSDs. This really speaks to the kind of overall user experience Seagate's newest can deliver. Elite performance.
PCMark 10 Quick System Drive Benchmark
Anytime a drive scores higher than 3,500 points on this test, we consider it to be elite. Elite performance where it matters most is what the FireCuda 530 Series is all about.
Final Thoughts
It wasn't hard to imagine the 2TB FireCuda would rip through our benchmarks at a record-setting pace. After all, it was just a few days ago that its smaller 1TB sibling lit up our charts, and the 2TB model we tested today is known to be faster. The 2TB FireCuda 530, in our opinion, clearly established that it is without question the current overall throughput leader. No other flash-based consumer SSD can deliver read/write throughput exceeding 7GB/s. Then to do so while running as our OS disk with 150GB data is unprecedented.
We rank SSDs in terms of overall user experience (performance where it matters most) as expressed by PCMark 10 storage tests. We consider a user experience score of over 7K to verify an SSD as TweakTown Elite. To date, only seven flash-based SSDs have attained this status, and two of them are Seagate FireCuda 530's.
In every way we tested it, the Seagate FireCuda 530 delivered chart-topping results, but some results stand out more than others. If we had to choose one performance over all the rest, it would have to be our game test where the 2TB FireCuda 530 laid waste to the competition. We believe it to be the best flash-based gaming SSD money can buy. That alone makes it worthy of our highest award but wait; there is more.
TweakTown elite is a special status we bestow upon an SSD that can score 7,000 points or higher on our user experience ranking. The 2TB FireCuda 530 scored 7,580, making it TweakTown elite and worthy of our highest award.
Pros
Sequential Speeds
Gaming
User Experience
ConsRight of Reply
We openly invite the companies who provide us with review samples / who are mentioned or discussed to express their opinion. If any company representative wishes to respond, we will publish the response here. Please contact us if you wish to respond.