NVIDIA Reflex: builds and tips to make the most of anti-latency technology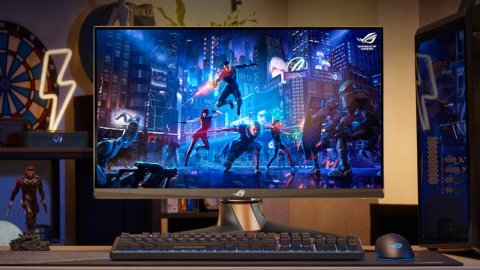 NVIDIA Reflex
Let's go back to talking about
NVIDIA Reflex technology
on our pages, offering you a series of explanations to fully understand how this useful technology works and what it is for.
We did it with a series of tests based on
Overwatch
and Escape from Tarkov , among the latest video games to have benefited from the implementation of NVIDIA technology. And using a build in our possession combined with an ASUS ROG Strix GeForce RTX 3060 OC Edition 12GB and an ASUS ROG SWIFT 360Hz PG259QNR monitor with NVIDIA Latency Analyzer module, a useful tool
for those who
want to detect the actual response times of the system and attempt to gnaw until the last millisecond of latency to have no obstacles in the way to victory or no excuse in case of defeat.
At the same time we have dedicated a space to a recommended configuration ASUS TUF which offers a system ready for gaming in 1080p with high refresh and for NVIDIA Reflex, all packaged in a single offer with performances very similar to the build used for our tests.
NVIDIA Reflex: how does it work? What is it for?
Extreme 360 ​​Hz refresh and NVIDIA Reflex Latency Analyzer module to better calibrate the system and achieve lightning-fast response times For a long time, looking at the response times
in video games
that suffer the most, such as competitive first-person shooters, we focused on the latency of the connections, which until a few years ago were also problematic in big cities. However, it is for all to see how things have improved on this front and the interest of players has begun to shift towards various factors that can contribute to system latency.
---
AGON by AOC Announces AGON PRO AG254FG with 360 Hz and NVIDIA Reflex
The world's number one gaming monitor and IT accessories brand AGON by AOC today launches an entirely new product category for the most demanding and competitive gamers and esports players: AGON PRO. The first model launched in the AGON PRO category brings cutting-edge technologies to the gamers that require legendary specs. The 24.5″ (62.2 cm) AGON PRO AG254FG employs a fast IPS panel with Full HD resolution and a 360 Hz refresh rate for unbeatable gaming performance, combined with a 1 ms GtG response time and NVIDIA G-Sync with NVIDIA Reflex Latency Analyzer to minimise system latency.
"The esports scene is a very tough environment, and the esports athletes and enthusiasts require the best gear they can possibly get. Through co-operating with legendary teams such as G2 Esports, we know what professionals want and with their needs in mind we brought AGON PRO to life," says Stefan Sommer, Head of Global Marketing at AOC.
True mastery is unbeatableThe 24.5″ AGON PRO AG254FG sports a powerful design for the best gamers out there and was bestowed the "Red Dot design award". The 3-side frameless frontal design is deliberately minimal to reduce distractions and a shadow shield increases visibility when the stage lights shine bright during tournaments. On the backside, the monitor features strong lines and striking accents of the AGON Light FX RGB lighting, which provides 14 lighting modes and 10.000s of RGB light combinations that can be customised with the special AOC software, G-Menu. The AGON LED logo projection on the front also increases the flair for gamers to show their unique gaming style.
The fast IPS panel of the AG254FG comes with exceptional features: it offers a 360 Hz refresh rate, and the 1 ms GtG response time ensures the visuals are displayed without artefacts such as ghosting. The Full HD resolution on this 24.5″ monitor results in the crisp, sharp visuals esports gamers love, and enables the users' GPU to show its full potential in terms of speed and framerate. By employing an IPS panel, this esports-grade monitor supports 110% sRGB coverage2 for truly vivid and natural colour reproduction, and offers wide viewing angles of 178°/178°. Thanks to the VESA DisplayHDR 400 certification, the display can also decode and correctly represent HDR data for a lifelike dynamic range.
Furthermore, the AG254FG has a native NVIDIA G-Sync processor, with a variable refresh rate range of 1-360 Hz, eliminating stutter and tearing by matching the refresh rate of the monitor with the GPU's framerate. Also if motion blur is a problem, NVIDIA Ultra Low Motion Blur technology uses backlight strobing to reduce motion blur to give you super smooth moving visuals.
As a first in AGON by AOC monitors, the AGON PRO AG254FG comes with the NVIDIA Reflex technology to reduce system latency to unbelievably low levels. By integrating the NVIDIA Reflex technology, game developers can eliminate the GPU render queue and reduce CPU backpressure in GPU intensive scenes. Additionally, the built-in NVIDIA Reflex Latency Analyzer can measure the exact time between a click from the mouse and changing pixels on the screen, which was previously only possible with high-speed cameras and special equipment.
Optimal posture is crucial for the comfort and performance during gameplay. The AG254FG facilitates this with an ergonomic, height, swivel, pivot and tilt adjustable stand. The 4-port USB hub enables gamers to connect their mouse and keyboard directly to the monitor, while the 5 W stereo speakers with DTS sound offer punchy sound for daily use when headsets are not required.
To adjust the monitor to their preferences, users can either use the included wired remote, the QuickSwitch, to flick between various settings, or use the AOC G-Menu software on their PCs. Additional gaming features include the Dialpoint (crosshair overlay) to help players improve their aim, Frame Counter to show frames per second information on any of the four corners, the AOC Shadow Control feature to lighten dark areas without affecting the rest of the screen and vice versa, the AOC Game Color setting to change saturation levels, and 6 gaming modes for different game genres (3 of them user customisable).
The first AGON PRO model, the 24.5″ AGON PRO AG254FG will be available from September 2021 at an RRP of £699.99.