Kingdom Hearts 3: the best (and craziest) Mods between Donald Duck and Peter Griffin clones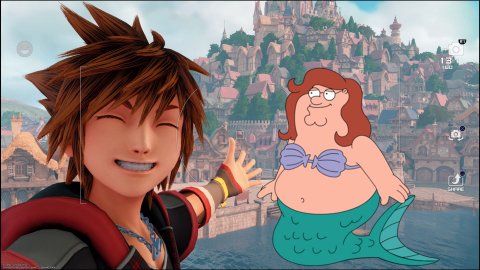 Kingdom Hearts 3
The Kingdom Hearts series has been available on PC for a few months now. For the first time in nearly 20 years, PC gamers have finally been able to get their hands on the Square Enix saga born in 2002 on
PS2
and have had a single obsession since then. No, don't try to find out how Sora's adventure will continue; nor to reveal possible connections with new worlds. To keep the minds of pc gamers busy from March to today was just one thing: creating mods.
And of course we have collected some for you: so here are some of the best, or craziest, mods of Kingdom Hearts 3.
Family Guy Main Menu
Kingdom Hearts 3 and Paint used to their full potential Tired of seeing Sora, Donald and Goofy every time you start the game? Then the first mod on our list is the one for you! It allows you to replace the main menu of Kingdom Hearts 3 with the image and logo of Family Guy. And it does it in a professional way to say the least! Why exactly Family Guy you say? Well, because so have decided the manatees who choose the plots of our lives, of course.
Yu-Gi-Yo Cards
Kingdom Hearts X Yu-Gi-OH would be a fantastic cross -over Do you rather believe in the heart of the cards? This is fine too, because for you new Yugi Muto there is a perfect mod to apply to the clash with Luxord. It replaces the character's cards with Yu-Gi-Oh cards.
Ah, obviously if you prefer other cards don't worry: there are dozens of variations, from Pokémon cards to Uno cards.
Infiniti Donald
Toh, a Cyclops Donald in Kingdom Hearts ... I must have drunk too much Ok, this is a bit masochistic, but if you've always dreamed of having an army (one flock?) of Donald Duck then your wishes can come true with this mod. Look at the thanks of this flock of ducks in BobJerry's video and try to replicate it in your rescue. To do this you can also use Luseu's Tres Mod Menu, which allows you to duplicate any character in the game. And who knows, maybe some of these birds will finally decide to heal Sora.
New skills and improved movements for Sora
In this Kingdom Hearts mod, Sora can acquire new powers Let's become a moment more serious with Kristian112's mod: this allows Sora to acquire new skills when he levels up, starting from level 50 to 99. An interesting addition, which increases the arsenal of the protagonist with different skills depending on the chosen power for your alter ego.
Kingdom Hearts, Sora moves faster Speaking of Sora's abilities, let's move from the mod dedicated to skills to one dedicated to Sora's movements: animation speed, stop, skill animations: in short, there are adjustments for a bit of everything, with the aim of making Sora's movements more responsive and, in general, cleaner.
Hyrule's Light
Kingdom Hearts: Master Sword Keyblade! Sora's keyblade was undoubtedly one of the most customized elements from the community, but in the heap we decided to choose the Soaku mod for two simple reasons: it is tied to
The Legend of Zelda
and has Triforce effects during use! I would say that you don't need to add anything else, it doesn't matter if it has some small glitches.
No initial screens
Let's skip a few screenshots of Kingdom Hearts Another rather simple mod, the one created by Chillaxel there allows you to skip a few home screens (Disney, Square Enix and Pixar). Nothing more, nothing less.
Sora from Kingdom Hearts 2
Sora from Kingdom Hearts 2 Other type very popular mod, the one that replaces the model of Sora with that of other characters is always super popular. As nostalgic we have chosen the one that makes us return to play the role of the Sora of Kingdom Hearts 2, complete with animations and support for the cutscenes.
If you want
, however, you can choose from dozens of characters. Cloud included.
Expand the boundaries
Golden hour: selfino for Instagram? Although it is a work in progress that has not been updated for a while now, the Zadyan mod is one of the most interesting present on Nexus Mod. It allows you to expand the boundaries provided for some places, allowing the player to have some of freedom of extra exploration. On the other h
and it is
a shame to have such beautiful worlds and so many limits to wander around.
Kingdom Hearts III Re: Style
The mod even has its own screen Created by TruebladeModder, the mod Re : Style changes the face of Kingdom Hearts 3 gameplay, with new combo and cancel animations that offer more freedom in combat.
These were 10 of the mods that intrigued us the most among the hundreds made so far for Kingdom Hearts III. What do you think? And what other mods have you tried so far? Tell us yours in the comments below.
Have you noticed any errors?