Gundam Breaker Battlogue: teaser and premiere date
Gundam Breaker Battlogue
The official website of the Gundam Breaker Battlogue project has unveiled the promotional video, the cast, the staff and the premiere of the first part of the anime, consisting of six episodes, which will be in October 2021, on the Gundam YouTube channel in Japan and on Gundam .info outside Japan.
Similar to Gundam Build Fighters and Gundam Build Divers, Gundam Breaker Battlogue will not feature mobile suit battles, but virtual duels using modified versions of real Gundam plastic model kits, commonly known as "Gunpla".
Here is the key visual:
As for the staff, Masami Obari (Gundam Build Fighters: Battlogue, Fatal Fury: The Motion Picture) is directing the anime at Sunrise, credited for planning and production. Yūichirō Kitaoka and Sо̄ Mayumi are writing the script. Kenichi Ohnuki (Golden Kamuy, Digimon Universe: Appli Monsters) and Shuri Toida (Gundam Build Divers Re: RISE) are designing the characters. Yuriko Chiba is credited as the character designer of Gundam Breaker 3, and Taiki is credited as the character designer of Gundam Breaker Mobile. Mechanical designers on the project include: Kunio Okawara, Kanetake Ebikawa, Kyōtarō Andō (Studio GS), Kyoryu Kuramo, Kyoshi Takigawa and Naohiro Washio.
Shinya Kusumegi (Gundam Build Divers Re: RISE) is the lead animator of the mecha. Kenta Masuda (Absolute Duo) is the artistic director. Hiroyasu Kanemitsu is responsible for the color design. Yūki Murozono is the director of the CGI, Daichi Nogami (Gundam Build Fighters) is the director of photography and Yukiko Nojiri is the editor. Jin Aketagawa (Mobile Suit Gundam: Iron-Blooded Orphans) is the sound director.
The cast sees Yuka Iguchi as Misa Satsukino and Kensho Ono as Ryūsei Fudо̄:
Rie Takahashi is Sana Miyama, Yūki Ono is Toma Aizen and Tomokazu Sugita is Kadomatsu:
Mechas include Gundam Helios, Blazing Gundam and Gundam Perfect Strike Freedom:
We have then Gundam Live Lance, Heaven Gundam 00 Command Qan [T] and Gundam Barbataurus:
The trailer, which you can watch below, shows the two new Gundams used by the new heroes of the series, the first of which is the Gundam Helios, which was born from a combination of Destiny and Freedom Gundam from the Mobile Suit Gundam SEED series, as well as parts of the classic 90s mobile suits such as the F91 Gundam and the Gundam Double X. series is the Blazing Gundam, which is a heavily modified version of Gundam's Shining Gundam, focused on close combat. The trailer also introduces a new jet-black version of Gundam Barbatos from Mobile Suit Gundam: Iron-Blooded Orphans.
Retrieve the Mobile Suit Gundam Thunderbolt The Movie - December Sky DVD available on Amazon!
---
Why We're Excited for Gundam Breaker Battlogue this October
Why We're Excited for Gundam Breaker Battlogue this October
Video game series Gundam Breaker is making its way to anime, and we can't wait! The upcoming six-episode ONA, Gundam Breaker Battlogue, brings us more Gunpla action. But this isn't just another round of Gundam Build Fighters. There's even more we're excited for!
If you're not caught up to the news, read on — and find out why we're pretty sure this is going to be a hit.
Kitbashing: The Anime
So what exactly is Gundam Breaker about? Simple: kitbashing.
Just as Gundam Build Fighters brought actual Gundam kits to the forefront, this lets modified kits take the spotlights. The stars of the games combine pieces from multiple kits to create their ideal unit. In other words, each 'bot is both recognizable and unique. And considering how much kitbashing is a part of the Gunpla community, it's a great way to highlight it. Speaking of which…
Exclusive Mix-and-Match Kits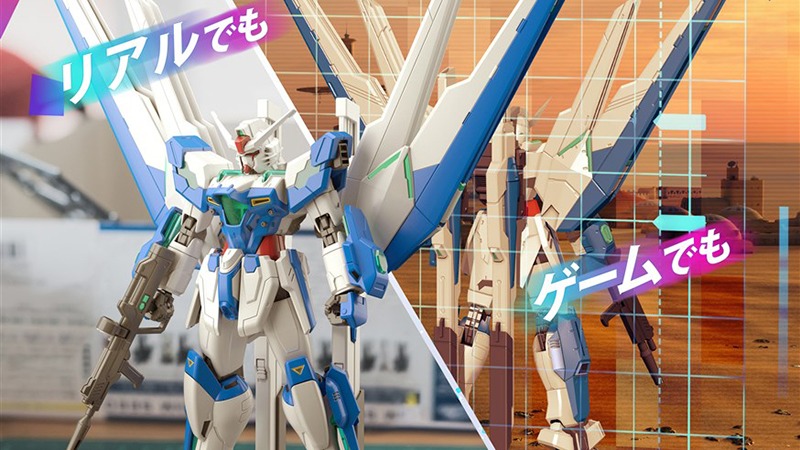 It wouldn't be Gundam if you couldn't buy the robots as small plastic kits, right? Of course right. And Gundam Breaker is no different. Sunrise has confirmed that the unique robots of the anime will be available as kits. Not only that, they'll be optimized for mix-and-matching. Meaning that you can build your perfect Gundam up from the show mechs!
As an added bonus, it sounds like North America will be getting some exclusive releases. The show is going worldwide when it premieres, and it sounds like we'll be benefiting pretty well here in the U.S.! We're not sure what specifically is coming our way other than the already-announced units, but we have a feeling it's worth waiting for.
Masami Obari Directs
If you're a mecha anime fan, you'll be very happy to know that Masami Obari is at the wheel for Gundam Breaker Battlogue. If you're not familiar with his work, suffice to say… he's the guy for the job. His giant robot pedigree is second to none. He's also directed battlogue ONAs for Gundam Build Fighters and Gundam Build Divers.
That means we can expect awesome-looking robots and high-energy action, bare minimum. Obari's shows are always full of big heavy classic robot fights. So we can't wait to see how he handles this particular set of kitbashed Gunpla.
Gundam Breaker Battlogue premieres October 2021, and will be viewable online worldwide. Will you be watching? Better yet, will you be buying one of their special model kits? We sure as heck will.